Chikumbo conquers Leisure course as Nduati takes home the prize at Thika Sports Club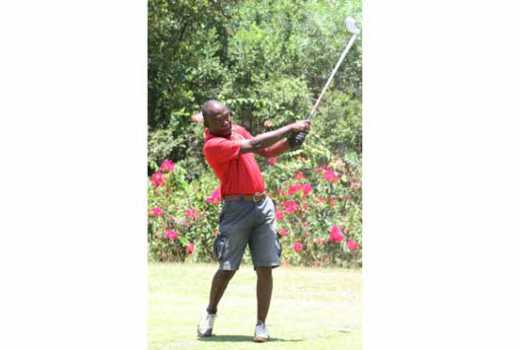 Home player Ali Mwinyi Chikumbo was in his best form as he conquered the challenging Diani par-72 Leisure Lodge course to claim the Mug of Mugs trophy at the weekend.
The handicap 8 golfer posted a sterling 69 nett to emerge the overall winner in the day-long 18-hole event sponsored by the club.
His win came calling early in the front nine when he sank a rare birdie on the shortest par-three third hole.
On both nines, the golfer added 12 level pars despite playing mixed bogey shots on other holes to claim the lead.
"I have been preparing for this event and this win has given me a good start to the year," said Chikumbo.
Club mate Joe Carvalho (handicap 15) was the runner-up on 72 nett while handicap 7 Ronald Omariba was third on 76 nett.
At the par-72 Thika Sports Club course, handicap 5 Paul Nduati won the 2018 Retirement Benefits Authority event on a countback score of 38 points after tying with handicap 16 Anthony Kabucho, who claimed the Men's prize.
Mariah Muthee, playing off handicap 25, was the Lady winner on 34 points, while Nakuru's handicap 21 Steven Kiano, on 35 points, was the Guest winner.
Meanwhile, Limuru's John Karichu battled Nyali's Daniel Nduva to claim the 2018 Sigona Bowl Championships at the par-72 Sigona Golf Club.
Karichu tied with Nduva on a round total of 221 gross after the two-day, three-round event but recovered in good time to claim victory at the second play-off hole.
Round one leader Dennis Sakwa from Royal Nairobi Club finished third on 223 gross, while 2017 Kenya Amateur Golf champion (KAGC) Edwin Mundanyi from Vet Lab Sports Club tied in fourth spot with Royal's Jay Sandhu on 224 gross.
Other winners were Mike Kisia (Vet Lab), Francis Kimani (Limuru), Samuel Njoroge (Railways), Robinson Owiti (Vet Lab) and Peter Rimui (Thika).
This is the first of the 20 KAGC series organised by the Kenya Golf Union and being played around the country.