Golf: Ngige just can't stop winning as Mwaura calls shots in Gatundu tournament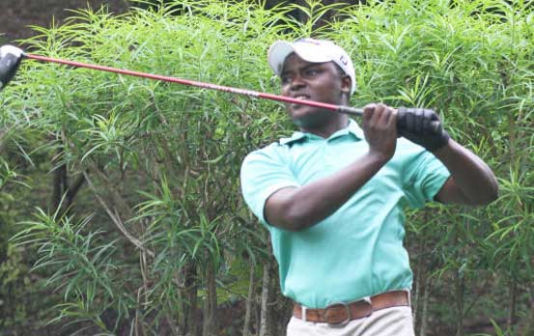 Diani Beach Masters 2017 professional champion Simon Ngige has bagged yet another accolade.
Ngige floored fellow golfers to bag the 2017 Captain's prize at the par 72 Thika Sports Club on Saturday.
The Thika Club professional was relaxed and felt obviously at home as he posted a two under par 70 gross to emerge the overall winner in the day-long tournament.
In the Amateur's stableford category, handicap 12 H.S.Rayat emerged the overall winner by posting 40 points after playing a 22 and 18 points in both nines to beat a team of 198 players.
John Muriithi, playing off handicap 16, returned a 22 and 17 in both nines for 39 points, which were enough to grant him the Men winner slot.
Handicap 21 Eunice Mwangi was the Lady winner on 37 points (19-18), while handicap 22 G.Mulandi, who had a score of 27 points (10-17), was the sponsor winner.
Nakuru's E.S.Kim, playing off handicap 28, was the guest winner on 41 points while handicap 02 Peter Rimui played 78 gross to win the gross title.
At the par 71 Muthaiga course, Eugene Ngigi shot 37 points to win the overall title of the 2017 Total Kenya golf tournament on Saturday.
He was one point better than Brigadier Francis Ogola, who was the men winner.
Paul Gondi posted 34 points to bag the senior winner prize and Omar Lewa, on 37 points, was the guest winner.
Rose Koome, on 31 points, won the Ladies' prize while Zubair Khan, on 34 points, was the junior winner. Martin Mutuma was the Staff winner with 35 points.
At the par 72 Ruiru Sports Club, handicap 18 Thomas Mwaura emerged the overall winner on 36 points (19-17) during the 2017 Gatundu golf day tournament on Saturday.