Local golfers welcome newly launched Emrok series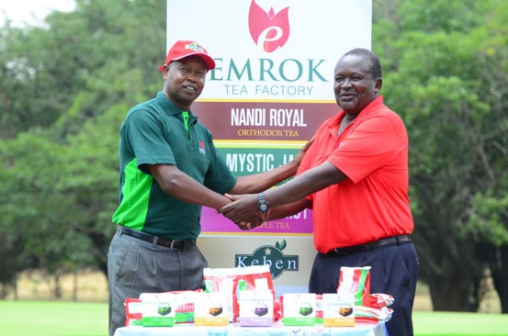 A golf initiative geared towards promoting good performance and excellence in the pitch has been launched.
The inaugural Emrok Golf series will now see golfers rewarded for skilful play and better scores on the course.
The initiative supported by Emrok Tea Factory has already attracted 37 local professionals and six amateurs who have registered for the first leg slated for March 6-7, 2017 at Vet Lab Golf Club in Nairobi with a Sh200,000 prize tag.
The players will compete in the 36-hole competition which they would also use as a build-up toward the Barclays Kenya Open Golf Championships slated for March 23-26, 2017 at Muthaiga Golf Club.
"Just like in athletics where athletes are promised incentives for winning medals, we have decided to start a similar thing in golf to enable our players to always aim for good scores so that they can be rewarded," said Emrok Chief Executive Officcer Robert Keter, a former 400m national champion.
While hailing the contest, tournament director Elisha Kasuku said the series will not only encourage golfers to participate but to cultivate a spirit of competition among themselves.
"This is not about making the cut. The cash prizes will only be shared among any player who posts a score of two over and better. It will not be a matter of shooting high scores and still winning prizes, that would not help our sport," said Kasuku.
Kasuku said the series is open to national team amateur players and top junior golfers, who were also eligible for a portion of the of the prize.
"We will also open the series for the national team amateurs who are currently preparing for the Africa Zone VI competition and the top juniors, so that they play against the best and prepare them to face the best golfers outside there. They will also be eligible for the purse, but we will fete them in form of shopping vouchers," Kasuku said.
Kibet explained the prize money will be increasing as the series progress.
"If no one wins what is on offer in our first leg at Vet Lab, we will use the purse to award the players who will make the cut at the Kenya Open," said Kibet.
Kibet added: "Emrok started production of tea in 2002 and we want to promote our golf and possibly athletics in future. What I believe in golf is that if a player cannot play under at this level, then it will be close to impossible to play under in any international competition."
"We will go round the country with the series and depending on how our business is we may consider starting a Sunshine Tour in the country to help our professionals improve their game."