Tiger Woods returns with more curiosity than expectations
GOLF By AFP | January 27th 2017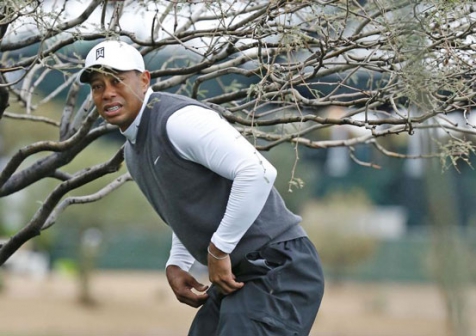 With the Pacific Ocean behind him, Tiger Woods drew back his driver and sent it soaring across the blue sky on Wednesday at Torrey Pines.
Watching from 50 yards away was Jay Monahan, the new commissioner of the PGA Tour.
"That's a nice sight, isn't it? Monahan said.
He wasn't referring to the sun shining down on the rugged coastline. His eyes were fixed on Woods, in perfect balance on the 17th tee of the North Course.
This will be the ninth time that Woods returns to the PGA Tour following a lengthy layoff — more times than all but three players at Torrey Pines have PGA Tour victories — and this one brings as much curiosity as excitement at the Farmers Insurance Open.
Not even Woods knows what to expect.
"We all know I haven't played a full schedule in a very long time, so this is an unknown," Woods said. "I've been away from it for so long. I've played one tournament in that 15-month span and I haven't played a full-field event. I haven't got into the rhythm of playing weeks on end in a season."
Woods last played a PGA Tour event at the Wyndham Championship in August 2015 in a last-minute effort to qualify for the tour's postseason. He tied for 10th, and then had two more back surgeries a few months apart that sent him to the sidelines for an entire season.
He returned at his Hero World Challenge in early December, an unofficial event with an 18-man field and no cut. Woods finished 15th, though it was considered a success because of his 24 birdies, no issues with his back and no stress on his swing.
This one counts, and it won't be long before Woods is measured against the rest of the field.
He will play the opening two rounds with Jason Day (No. 1 in the world) and Dustin Johnson (PGA Tour player of the year). Both are among the biggest hitters in golf, playing a style that Woods once had.
That brought the biggest smile to his face.
"That's two guys that are the best in the world and they're up there and playing some unbelievable golf and they're good friends of mine," Woods said. "I couldn't have asked for a better pairing. ... Those guys will bomb it out there. That's fine. I'll just play my game and the name of the game is low score. It's not a long drive contest."
Woods has never waited this long to return to a full field of PGA Tour competition. This is twice as long as he sat out after reconstructive surgery on his left knee following his 2008 U.S. Open victory at Torrey Pines. That was one of his eight pro victories on the public course along the Pacific bluffs. Woods has performed better at Torrey than any other PGA Tour course.
THE STARS AND FLOPS after group matches
In a disappointing campaign for the hosts, the performance of Bouanga stood out. The 22-year-old French-born winger, whose father is from Gabon, set up Pierre-Emerick Aubameyang's goal in the opening draw with Guinea-Bissau.