Wisdom Naya: Footballer has lost a leg but that won't stop him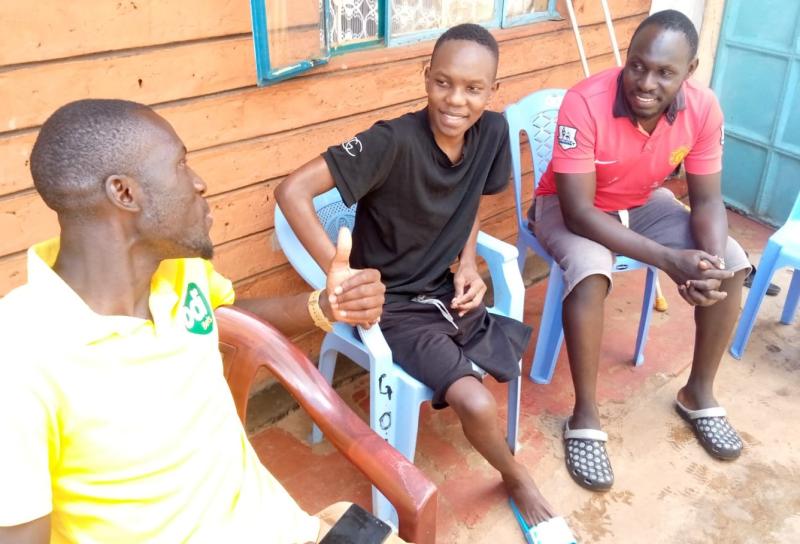 In 2018, Wisdom Naya, a 15-year-old student at St. Anthony's Boys Kitale, was one of the star attractions as he inspired the Kenyan secondary schools football giants to Copa Coca-Cola African Cup of Nations title triumph in Nakuru.
Naya was the talk of the tournament as he displayed his great skills on the pitch.
The Solidary Boys went on to carry the trophy after beating Nigeria 4-3 on penalties in the competition which a number of football coaches came to scout for talent.
After his exploits in the tournament, Naya joined FKF Premier League side Sofapaka as a midfielder with aspirations to scale his career and grace the international scene.
But as fate would have it, Naya, 19, sustained an injury while training and hoped that the little pain he felt would ease over a short period of time.
However, this was not to be as the growth on his knee kept soaring with increasing pain that in the company of his parents, he sought medical attention at the Kitale District Hospital.
Medics at the facility established that Naya had a rare type of cancer and advised the family to seek treatment at the Moi Teaching and Referral Hospital in Eldoret.
Here, the promising footballer was put under chemotherapy sessions.
Naya's father, Edward Onyango says doctors pointed out that the chemotherapy sessions would help reduce the swelling on the knee before undergoing surgery.
"He however had to skip the sixth session that was meant to be the last when doctors realized that instead of improving, the swelling was in fact soaring and they suggested that the leg should be amputated," explained Onyango.
This was a rude shock to the young footballer and his family who had hoped that the leg would be treated and allow Naya to continue doing what he loved most playing football.
The family then decided to seek divergent doctors' opinions in other medical facilities.
They visited a Nairobi hospital and there was no likelihood that the condition could be reversed but with determination, the family took him to Mediheal Hospital in Eldoret.
Naya was later referred to Kenyatta National Hospital with medics saying the condition was technical to operate as they also recommended for amputation.
This killed their spirits and their hearts sank as their pockets had also drowned due to high medical expenses and travel costs involved.
Still unbowed, Naya was taken back to Mediheal Hospital where a doctor at the facility linked the family to Spash Hospital in India.
"I still want to play football since it is my passion from childhood and it flows through my blood. Despite the pain, I still hope that one day I will return on the pitch," said Naya.
And out of the family's resilience, his father says they still believe and hope that after Naya gets an artificial limb, something they are still grappling with the finances to acquire, he could still return to the pitch but this time as an amputee footballer.
Naya's fate drew the attention of many, including former Prime Minister Raila Odinga who donated Sh 500,000 towards his medical support. Deputy President William Ruto, Amani National Congress leader Musalia Mudavadi, Saboti MP Caleb Amisi and Tuwan MCA Benard Wambua are also among the leaders who came to his aid.
On December 14 2021, Onyango flew to India with Naya where he had a month-long treatment session but his leg had to be amputated at last.