Broadcast firm StarTimes pulls out of FKF sponsorship
FOOTBALL By Mike Kihaki | November 25th 2021 | 3 min read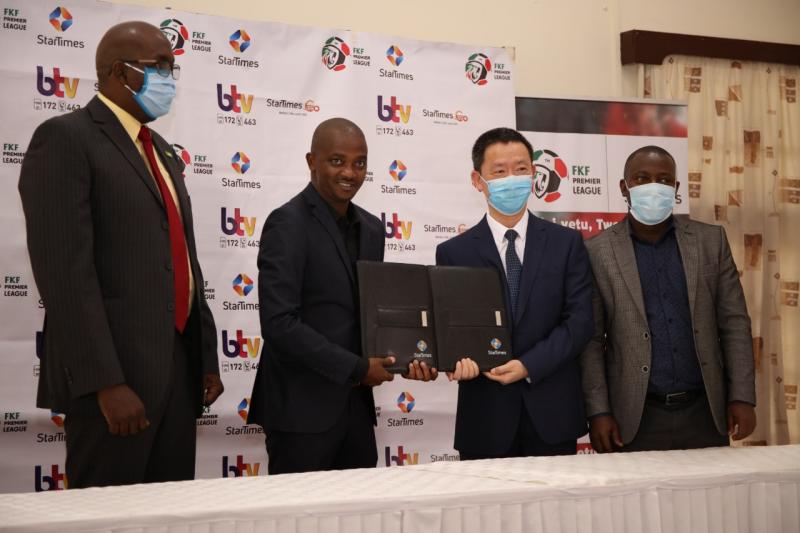 Broadcast firm StarTimes has terminated its broadcast deal with the FKF Premier League (FKF) effectively immediately.
The broadcaster said in a press statement that the move was taken after the federation had poorly executed their agreement. This comes barely a year after StarTimes entered a partnership with FKF to broadcast Kenya Premier League matches.
The sponsorship would see StarTimes transmit topflight matches, 30 National Super League fixtures as well as Harambee Stars friendly matches.
"The media and commercial rights agreement was therefore a culmination of our commitment as a brand to support the development of Kenyan football in our appreciation that a strong domestic league is always a foundation to build a strong national team which would be the pride of the nation," read the statement.
According to the pay-TV company, the effort was geared towards football development as seen through various legend tours aimed at instilling technical and professional soccer skills to targeted beneficiaries.
"We have honored our part of contractual obligations including but not limited to the timely disbursement of copyright fees. However, after a careful review of the contract performance which is now in its second season, we regret to announce that we have taken the painful decision to withdraw our media and commercial rights sponsorship with the now disbanded Football Kenya Federation," added the statement.
Furthermore, the channel said FKF has failed to execute the agreement as stated occasioned by different acts of commission or omission. However, the broadcaster has decided to pull out of the deal citing an array of reasons.
Key among other reasons mentioned include failure to deliver a number of scheduled broadcast fixtures, frequent changes to confirmed fixtures, persistent stakeholder wrangling within the football fraternity, failure to honor agreed contract deliverables and constantly putting the Star-Times brand into disrepute.
"We have had to work with an unstable fixture that has constantly changed, at times on short notice. This has led to lack of cohesion and promotion of wrong fixtures which ultimately translated to limited awareness of broadcasted matches," said the statement.
The Pay- TV said that being a subscription broadcaster who leverages on content popularity, the constant confrontation has led to limited uptake and viewership of the property as seen through monitored performance on its platform.
In addition, failure to honor agreed contract deliverables was seen in various forms including but not limited to failure to broadcast the weekly free to air (FTA) fixtures, providing the weekly magazine shows and acknowledging the media sponsor as the official broadcast partner across agreed platforms.
On the other hand failure and/or delayed delivery of scheduled fixtures have exposed the brand to constant subscriber backlash. These among others have combined to make it almost impossible to have a return on investment through the sponsorship of the said property.
To this end, the channel will however not come in future endeavors. "This doesn't mean that StarTimes is moving away from sponsorships of this nature. We wish to assure Kenyans that as and when attractive opportunities that touch on sports development arise, we will be open to consider mutually beneficial partnerships which do not endanger our brand reputation or business objectives."
StarTimes is a Chinese electronics and media company with a strong presence in Sub-Saharan Africa. StarTimes offers digital terrestrial television and satellite television services to consumers, and provides technologies to countries and broadcasters that are switching from analog to dig