Besieged FKF digs in for a fight, ropes in FIFA and blasts Sports PS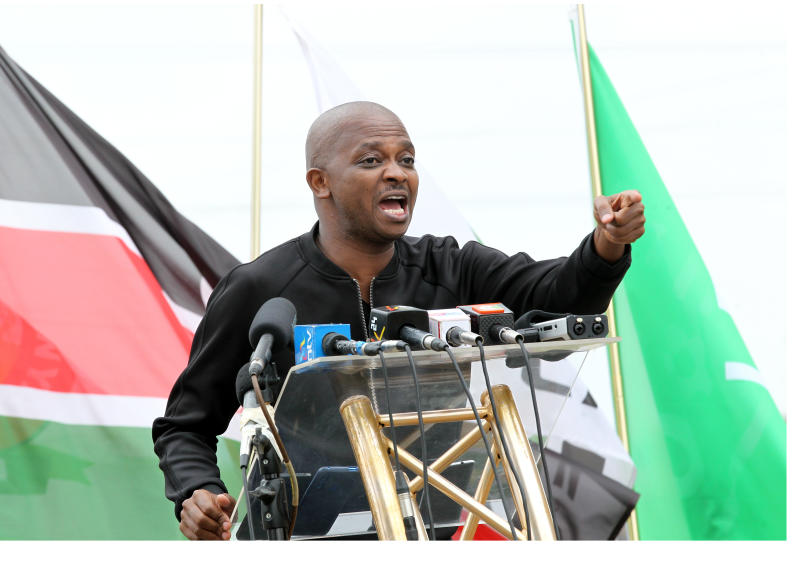 Buckle up, Ladies and Gentlemen. For, Kenyan football is on the cusp of a seismic revelation.
Besieged Football Kenya Federation (FKF) has dug in for a fight after the Sports Ministry asked for 34 documents by laying on the table its own demands.
FKF also roped in the world football governing body, Fifa, whose officials Solomon Mudege, Sarah Mukuna and Abigail Hailemichael arrived in the country on Tuesday.
Curiously, FKF have only let select media to interact with the Fifa officials, who interestingly waded into the Government's probe on the Sh244million AFCON funds, which they said the world governing body had found no formal complaints.
Emboldened by the Fifa officials' pronouncement, under fire FKF President Nick Mwendwa used the opportunity to blast the Principal Secretary in the Ministry of Sports, Joe Okudo, even branding him a 'liar'.
"Okudo is a liar and is definitely looking for a political clout at the expense of our football," Mwendwa told People Sport following Okudo's briefing to the Parliament Accounts Committee on Tuesday to the effect that the Government had Fifa's backing to audit FKF.
"Fifa are here and you have heard for yourselves. They have not engaged the Sports Ministry on anything as the PS told the parliamentary committee, so what does that explain?" People Sport quoted Mwendwa as saying.
As FKF bears its fangs, a whistle-blower and journalist Milton Nyakundi wrote that bar any cover up, the country is on the brink of a riveting story of plunder at Football Kenya Federation (FKF) whose plot could easily compare with the all-time classic movie - the Great Bookie Robbery.
"The evidence of plunder at FKF stinks to the high heavens. I have shared the same with authorities," said Nyakundi, who last week recorded a statement with the Kenya Police after he was accosted by unidentified goons when he addressed the media on the issue.
The journalist who said he had taken the unprecedented decision to agitate for investigations said there was evidence FKF's National Executive Committee members and select branch officials were complicit in the plunder and hence the deafening silence.
"Fifa or any individuals purportedly acting on behalf of the world governing body should not attempt to shield or cover up the plunder at the FKF in any way whatsoever in an attempt to sanitise individuals culpable of the mess at Kandanda House," Nyakundi said.
Former FKF presidential aspirant Twaha Mbarak questioned why Fifa officials would comment on Sh244.59million, which was advanced by the Kenyan government.
"I am reading a sinister motive to cover up something. Fifa should be commenting on Sh135million which they advanced to FKF for an OB van that has not been delivered. It should worry Fifa that the company which was to supply the OB van has since been dissolved and money advanced to FKF on behalf of Kenyans without a trace," Twaha said.
Among the issues the Ministry of Sports hopes to unravel in the audit is how Sh106million of the Sh244.59million it advanced to FKF for the2019 Africa Cup of Nations (AFCON) campaign was paid to Cameroon-born Belgian football agent Joe Kamga.
The raft of documents the Ministry of Sports has demanded from FKF will shade light on whether the football body spent the money in accordance with the Public Finance Management Act, 2012, the Public Procurement and Asset Disposal Act, 2015 and the Salaries and Remuneration Commission Act.
List of documents Sports Ministry wants from FKF
1. Current FKF Constitution
2. Fifa and CAF Statutes
3. FKF Registration Certificate(s)
4. Licences for Referees, Coaches and Athletes
5. List of registered Sports Organisations (County Football Sports Associations and Clubs including Premier League, Nationwide and Super League) affiliated to FKF-and their registration certificates.
6. List of registered Members, National Officials/Governing Council Members, Athletes and Technical Officials
7. Identification documents i.e Identity Cards and phones numbers of Staff, Members, National Officials/Governing Council Members, Athletes and Technical Officials.
8. Contracts of engagement of coaches, Referees and Staff
9. Master Payroll
10. Proposals and Requests for funding
11. List of all Projects undertaken and the respective project implementation status.
12. Records including but not limited to contracts relating to funding of FKF by the Government, FIFA, CAF, Odibet, Multi-choice amongst other donors.
13. Grants and Donations, both development and Recurrent, from Government, Non-Government Organisations and Individuals
14. Grants and Donations from International organisations like multi-choice, FIFA, Odibet and CAF.
15. Exchequer Releases
16. Expenditure returns and Reports relating to funds received from the Government, various organisations and Individuals.
17. Internal and External Audits reports
18. Approved budgets
19. List of bank accounts held by FKF
20. Authorised signatories to FKF Bank accounts and the mandate
21. Bank Statements
22. Bank Reconciliation statements
23. Cheque Counterfoils
24. Cashbooks
25. Payment vouchers properly grouped as per the voted provisions
26. Imprest files and registers
27. Asset register
28. Strategic Plan
29. Procurement plans
30. Tender documents including but not limited to BQs, registers, list of prequalified tenderers and minutes relating to procurement
31. Annual financial statements
32. Annual inter-entity reconciliations
33. Annual returns and
34. Documents relating to Internal reporting mechanism (Finance, FKF Organisation Structure)