EACC indicts county over irregular procurement for Dandora stadium project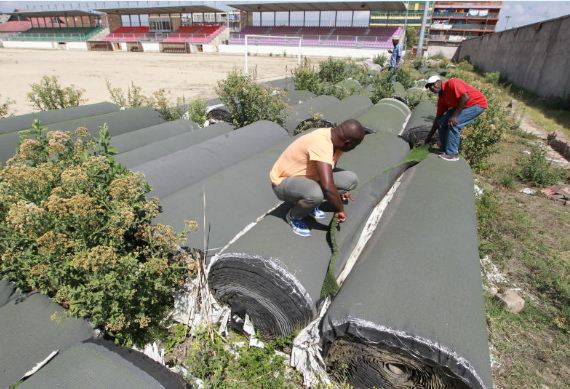 The anti-graft agency has flagged irregularities in the procurement for the construction of Dandora stadium.
The Ethics and Anti-Corruption Commission (EACC) told a Senate committee that preliminary findings revealed flaws in the tendering process of the multi-million shillings project.
"The investigation has established a number of irregularities in the procurement process in relation to the contract discharge and administration phase," said EACC Chief Executive Officer Twalib Mbarak.
Maj (Rtd) Mbarak tabled the document before the Senate Labour and Social Welfare Committee that has been investigating the delays to open the ground for public use.
The stadium was scheduled to be complete last year but a stand-off between the Nairobi county government and the contractor, Scanjet Construction Company, affected the project.
The firm was constructing the stadium at a cost of Sh350 million.
EACC opened investigations into the tendering process and irregular payment of Sh196 million for the project after it was flagged by the Public Procurement Regulatory Authority (PPRA).
PPRA flagged irregularities in the awarding of the tender, alteration of contract specifications, suspected irregular payments and forgery of documents while also questioning the standard of the work.
The authority criticised the county government for paying the contractor despite warnings from technical evaluators regarding the quality of the works.
PPRA undertook a review following complaints regarding tender no NCC/ED/T/193/2017-2018 for proposed construction and completion of stadia within the county.
EACC has been investigating the allegations in the procurement process for the construction of the Dandora stadium since 2019.
The stadium was among four stadia that the county, then under the leadership of former Nairobi Governor Mike Sonko, earmarked for construction at a cost of Sh1.03 billion.
The other three are Kawangware (Sh250 million), Ziwani (Sh186.6 million) and Kihumbuini (Sh250 million), but the construction is yet to take off.
"So far, the county government of Nairobi has made payments of Sh137.52 million to the contractor in four instalments," Mbarak said.
EACC said the county and the contractor changed the terms of the contract midway.
"The dispute occasioned by the contractor's deviation from reinforced concrete terraces to steel as evidenced in the various correspondences between the county and the contractor," Mbarak said.
He told the committee chaired by Nairobi Senator Johnson Sakaja that the commission will forward the investigation file for action soon.
The EACC boss revealed that the investigation was slowed down by the effects of Covid-19 that forced them to scale down operations as well public and private companies involved.
"The commission is progressing this investigation as a priority due to the public interest and the amounts involved," Mbarak told the committee.