Tusker facing mission impossible away to Zamalek SC tonight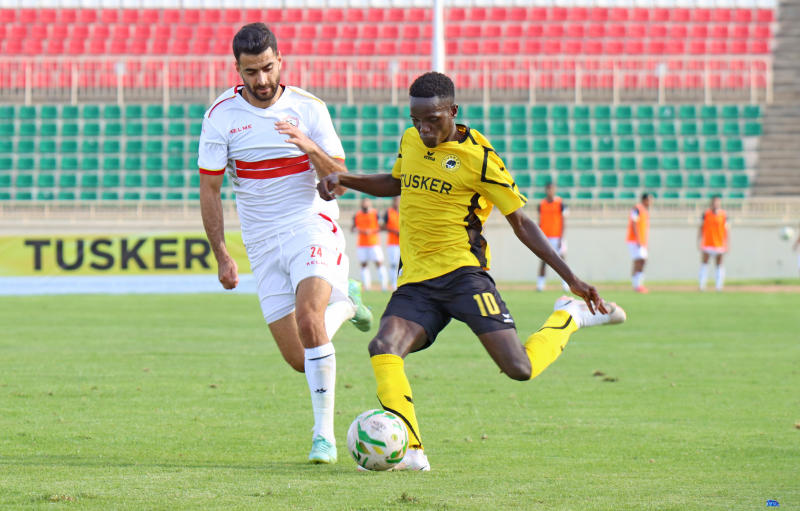 Tusker will have to make the seemingly impossible possible when they clash with Egyptian giants Zamalek SC in the return leg of the CAF Champions League second preliminary round match at the Borg El Arab Stadium, Alexandria tonight (8pm).
The Kenyan champions suffered a 1-0 defeat in the first leg in Nairobi last weekend and will need to beat the White Knights with at least two clear goals to progress to the group stages of the elite African club competition.
But having edged out star-studded Arta Solar 7 of Djibouti 4-1 on aggregate in the preliminary round, Kenyan international and Tusker captain Eugene Asike believes the brewers are capable of achieving the desired result in North Africa.
"We picked up some good lessons from the first leg and identified all the mistakes we did as a team. I believe when we go out to face Zamalek on Friday, we will give a better performance than in our last game," said Asike.
However, to upset their hosts, the central defender has urge his teammates to be clinical upfront.
"I feel we didn't utilize the few chances we got at home and in a game of this magnitude you must make good use of any chance you get. We have been working on how we can create more chances and score more goals in the upcoming game," said the FKF Premier League defender of the year.
"All the same, we just need to focus on the positives as we face Zamalek in Alexandria. I'm confident we can get a victory in Egypt."
Just like Asike, Boniface Muchiri is upbeat about their chances in Egypt, but the Harambee Stars midfielder insists that they must take the game to Zamalek from the first whistle.
"We are really motivated and determined ahead of the return leg. We have a mission to accomplish; we really want to give a good performance on Friday and hopefully get positive results," said Muchiri.
"The first leg was really tough but I believe if we play our hearts out in Egypt we will get good results. We hope to make the right decisions, play simple football and follow coach's instructions. We are going to fight as a team until the 90th minute so that we can get positive results and play in the group stages."
Despite his side holding an advantage ahead of the second leg, Zamalek coach Patrice Carteron warned his troops against complacency.
"This game is not yet over and we have to remain focused. We need to play better at home and get the win. Tusker is a very good side and they showed that. They are very organized on and off the ball and we need to be at our best and very cautious," Carteron told Cafonline.