Why Pele will always score a special goal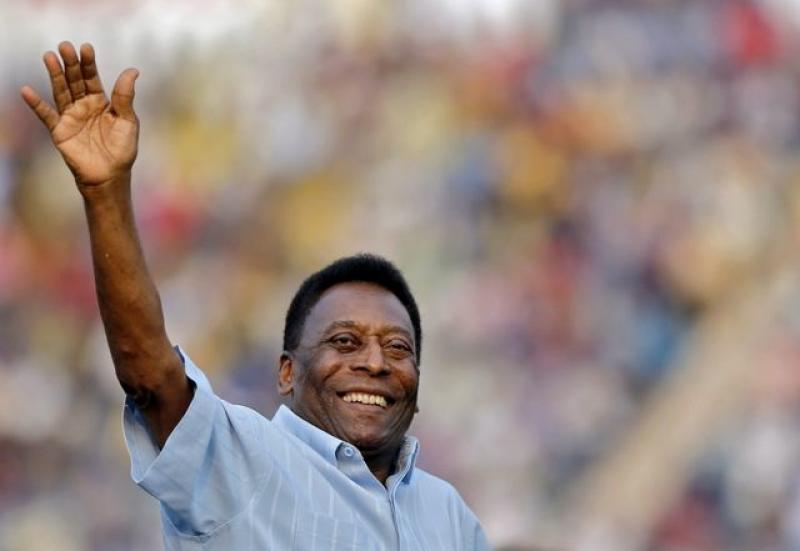 Brazilian football legend Pelé turns 81 tomorrow. Born in a city called Três Corações (three hearts), Pelé has long held a special place in the hearts of millions of Brazilians and football fans around the world.
When he is facing one of the biggest challenges of his life due to health issues, I wish to pay a tribute to the 'King of Football'. This is a message of hope in his full recovery, undoubtedly shared by thousands of readers of The Standard.
In the distant February 1976, at the age of 35, Pelé was in Nairobi conducting a youth clinic at Jamhuri Park. A short video and photos of his visit to Kenya show him still at the height of form, moving with mastery and displaying a refined touch of the ball. His joyful enthusiasm as he interacted with dozens of young athletes is evident. Around the lawn, hundreds of spectators are ecstatic at Pelé's presence.
If indeed football is people's secular religion, Pelé is their deity. With few exceptions, we are living beings looking for ordinary things: happiness, peace, love, and, of course, a joyous celebration of a goal.
Pelé has given all of us ordinary humans this emotion more than a thousand times. Furthermore, he won three World Cups, the first when he was only 17.
Regarded by Franz Beckenbauer as the greatest player of all time, Pelé was considered by Ferenc Puskas, the Hungarian star of the '50s and '60s, as someone who "was not from this world".
Those who doubt that claim should watch the latest documentary on Pelé released by a major streaming platform in February. Perhaps tired of hearing my stories of how Pelé, at the height of his power, used to tear apart the best defenders in the world, my teenage son recently decided to do just that.
I wondered how he would react to the blurry technicolor footage of Brazil's legend since he was born and raised in a new world where real and virtual images are mingled. To my relief, after watching it, my son asked me if "all that was real". There could be no more extraordinary declaration of awe at the magic of the Afro-Brazilian football giant.
A famous poet wrote that in Brazil football is a function of the soul that gets entangled in all the branches of the great psychic tree: love, hate, fear, bravery, solidarity, pity, sadism, the aesthetic sense, the feeling of loneliness, and death.
Before being recognised as one of the most celebrated football schools globally, the Brazilian national team had to overcome the traumatic defeat in the 1950 World Cup held in Brazil. That "national tragedy" would serve as an inspiration to a 10-year-old child named Edson Arantes do Nascimento, Pelé's full name. Legend tells that the boy promised his father that he would bring the World Cup to Brazil one day.
Born into a modest family, Pelé was scouted playing with friends on a humble lowland field. At 15, he ended up at Santos Futebol Clube and scored four goals on his debut against the most popular team in the state of São Paulo. In the following year, Pelé would be called up to the national squad. Two years after arriving at Santos, he took over the starting position at Brazil's national team during the World Cup held in Sweden in 1958.
Symbolic gesture
Brazil won the final match against the host country, and the teenager scored two of Brazil's five goals. In 1961, the government officially declared him a national treasure, a symbolic gesture to prevent his transfer to a foreign club. This was the beginning of an extraordinary career that would reach its peak in the 1970 World Cup, ending with an unforgettable final against Italy, defeated 4-1.
For many, the squad led by Pelé was the greatest football team in the history of the World Cups. In 1999, he was named the athlete of the century by the International Olympic Committee. For all objective sporting parameters, Pelé is a living legend. He scored 1,282 goals in 1,363 games along with his career and 92 hat tricks, four goals on 31 occasions, five goals on six occasions, and eight in a single match. Pelé's unique individual talent, which overcame barriers of all kinds (including social, economic, and racial), is unquestionable. He transformed order into creative chaos and helped make Brazilian football an example of world virtue and admiration. We owe him and many other iconic giants as Garrincha, Rivelino, Sócrates, Zico, Romário, Ronaldinho, Ronaldo, and Neymar the secrets of the beautiful game, still alive on the humble pitches of the peripheries of Brazilian cities.
Brazil often escapes the opposite side of the coin, constructing practices that smear more obvious barriers, and thus, at the same time, distinguish us and include us in the world - always in the condition of Brazilians.
In the last 63 years, no one has translated our extraordinary virtues and contradictions better than Pelé, who represents the synthesis of the most beautiful that Brazil produced in the second half of the 20th century.
Andy Warhol said Pelé was one of the few human beings who contradicted his thesis. "Instead of 15 minutes of fame, he will have 15 centuries", said the American artist who created Pop Art. Long live the King of football.
-The writer is ambassador-designate of Brazil to Kenya