Starlets confident of big win against South Sudan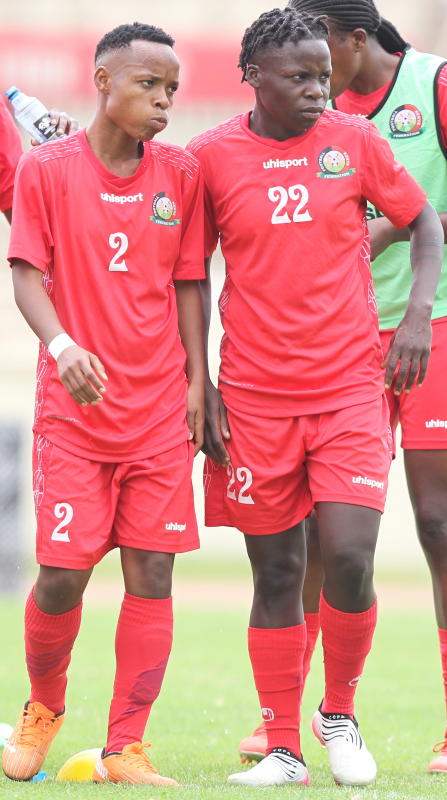 Newly appointed Harambee Starlets captain Corazone Aquino has promised Kenyans to expect a big win from them against South Sudan in today's the first leg of the 2022 Africa Women Cup of Nations (AWCON) Qualifiers at Nyayo National Stadium.
The Gaspo midfielder says they are not under any pressure to perform against the South Sudanese who are fresh from the COSAFA women championships in South Africa.
"We've been having good preparations. The coaches have done their part. It's now for us to deliver," she told Standard Sports during yesterday's training at Nyayo Stadium.
"We are going to implement the skills we've learnt on the pitch during the encounter."
Despite the high level of confidence, Aquino said they are taking their opponents seriously since they have never met them before.
She also called on Kenyans to give the team moral support even though the match will be played behind closed doors due to the Covid-19 protocols.
Her sentiments were echoed by Thika Queens striker Mwanahalima Adam who said the morale in Starlets camp is encouraging.
"The technical bench have done their part, it's now for us to decide if we want to win the match or not," Adam said.
"This is going to be a serious game and we are not going to let Kenyans down, we are promising the nation victory," she said.
Starlets coach Charles Okere said his charges are ready for the encounter.
"I have a very lean squad but we are ready to face our opponents," said Okere.
"I believe the squad I will field in the game will be up to the task."
But for South Sudan coach Shilene Booysen whose side flew straight from South Africa to Nairobi where they have been camping for the past nine days, the Bright Starlets have what it takes to upset their hosts.
"We are not under pressure. The federation has been clear that first we needed a ranking which we got when we played in COSAFA. Now we need to build a team that will compete in CECAFA and Africa in two years-time. We are making the right strides on that a win over Kenya will help our course," said Booysen.
"We know the pedigree that Kenya has. They are currently CECAFA Champions so we are not here to take this game lightly. The girls are still learning and they want to progress but in the process there's desire to win and that is what the girls have brought to Kenya."
The return leg will be held on Sunday at the same venue.