Harambee Stars coach Engin Firat issues war cry ahead of Mali clash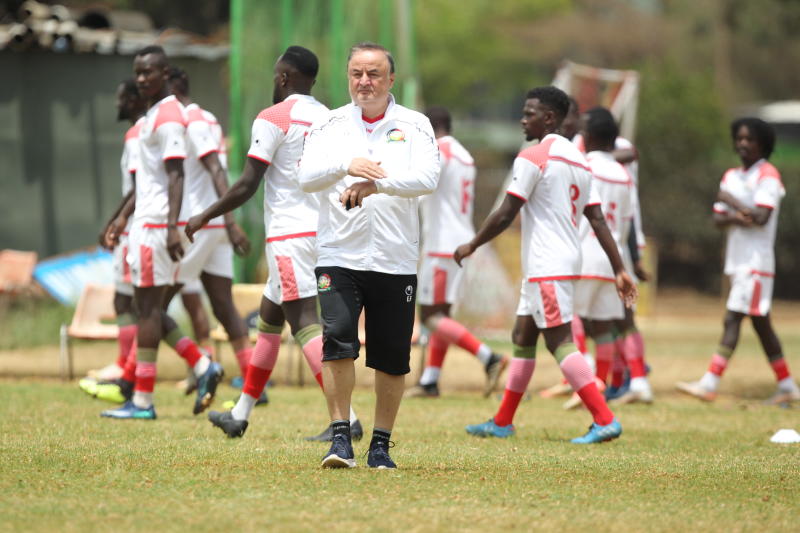 Harambee Stars head coach Engin Firat is out to get good result against Mali in their two-legged 2022 FIFA World Cup Qualifiers.
The newly-appointed Stars coach will make his debut against the Group E leaders on October 7 in Morocco before flying back to Nairobi for the return leg encounter on October 10.
The 51-year German-Turkish coach, who was handed a two-month contract by Football Kenya Federation two weeks ago, said he's selected the 34 players purely based on merit and not favourism.
The squad will be trimmed down to 24 players tomorrow before departing for Morocco on Monday.
"I'm not going to Morocco to lose, I'm going to get the desired results," Firat told Standard Sports during yesterday's training at Utalii Grounds.
"We will show character in our game with Mali. I want people to see our boys battle to the last minute in the encounter. We will display our tactical strategy in the match."
With Firat having conducted the training sessions for only two days, he admitted his charges are not physically ready for the match going by his general assessment of the squad.
But in order to counter the problem, the former Moldova coach is trying his best to ensure his squad composed of young and experienced players gel.
"It's the reality on the ground. I have to find away to put all these combination together to get the desired results against Mali. I will try to solve this issue tactically," he said.
Some of the experienced players in the team include Simba SC defender Joash Onyango, Abud Omar (AEL Larisa, Greece) and David 'Calabar' Owino (Napsa, Zambia).
"We will play in the evening, under floodlights. Players like Omar and Owino are used to such kind of matches and that's why I feel their skills and experience is needed in the team. This is the only way to have the result that I want," he said.
Though Firat is on a short term contract, he insists his target is to build a team for the future.
"As you can see I have given young players like Erick Zakayo (Tusker) and Phillip Mayaka (Colorado Rapids) a chance. This is because they are the future of Kenyan football," he said.
While defending his selection, Firat said he fears no one and has no any connection with the players.
"I only look for quality and talent, that's what I'm allowing in the national team.
"I don't care how old the players are, they can be 17 or 35 years. I just look for quality and talent because it's about the future of this country."
Firat said he overlooked Barnsley FC defender Clarke Oduor because the left back has not shown interest to play for the country. He further made it clear that Marumo Gallant FC (South Africa) striker Ovella Ochieng is not in his immediate plan for Mali.
"Mayaka is more ready to play than Oduor and Ovella," he said.
"Ovella has been out of the national team for long. He's really doing well with his training in South Africa but I don't think I will use him because of the demands put across by his club."