Tusker shift focus to Caf Champions League date with Alex Song's Arta Solar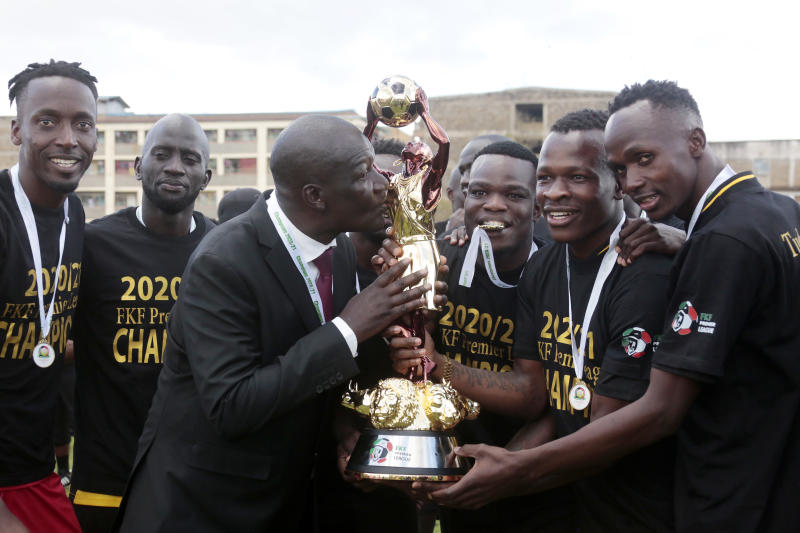 Tusker were on Sunday crowned the 2021 FKF Premier League champions, bringing to a halt Gor Mahia's five-year dominance in the competition.
The brewers finished top with 65 points with their closest rivals KCB coming second with 62 points as Bandari and AFC Leopards closed the top four.
In the process, Tusker under the tutelage of veteran coach Robert Matano dethroned record Kenyan champion Gor from the top seat which the Green Army have been holding since 2017.
In spite the glamour and glory, Tusker chairman Dan Aduda said the triumph is behind them as they shift their focus to the Caf Champions League.
"I'm really proud of our players and the technical bench for the job well-done However, the FKF Premier League title triumph is now behind us, the big task started after the coronation on Sunday. Our focus now is to perform better in the Champions League," said Aduda.
Tusker are set to play Djiboutian Arta Solar boasting of former Arsenal midfielder Alex Song in the preliminary round of the Champions League next month on September 10.
According to Aduda, they will beef up the team ahead of their Champions League return.
"Of course we will be beefing up the squad. We are finalizing on some of the transfers and "we will announce them soon," added the chairman.
The first leg of Champions League preliminary round will be played in between September 10-12 with the second leg planned for September 17-19.