BCLB boss Mbugi urges betting firms to continue funding sports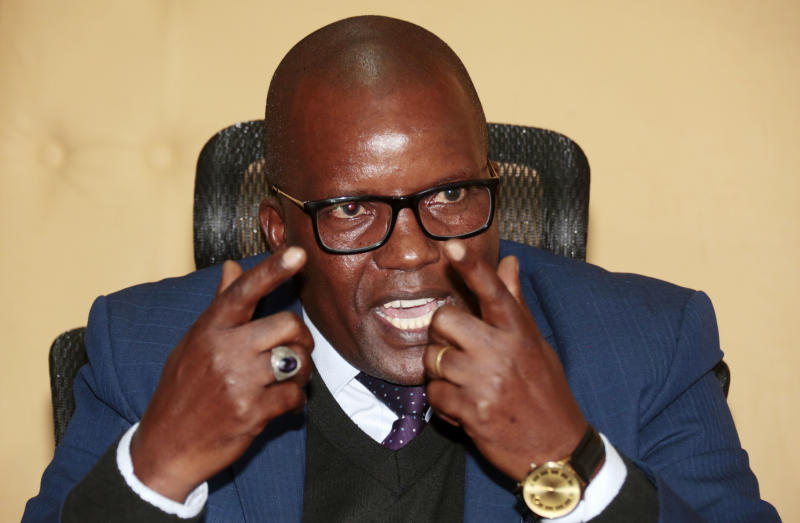 Betting Control and Licensing Board (BCLB) Chief Executive Officer Peter Mbugi has hit out at some betting firms that have threatened to withdraw their sponsorship on Kenyan sports following the government's plans to reintroduce the 20 per cent excise tax bill on betting stakes.
This comes barely two weeks after the National Treasury and Planning Cabinet Secretary Ukur Yatani made the announcement during the 2021/2022 budget reading.
While Football Kenya Federation president Nick Mwendwa together with Gor Mahia chairman Ambrose Rachier and his AFC Leopards counterpart Dan Shikanda whose clubs are sponsored by betting firms have opposed the proposed reintroduction of the tax, the BCLB boss says the operators are not being sincere with the public.
"In today's world, betting firms are the ones supporting football. But if we tax them more and some of them pull out, where will we turn to?" asked Mwendwa a few days after Yatani read the budget.
"Some of the firms have already made it clear that if the tax proposal is approved, they will terminate their sponsorships."
But according to Mbugi whose body generated in excess of Sh140 million from gaming licences and fees with about Sh6 billion coming from taxes last year, the move to reintroduce the tax is one of the measures to curb the betting craze in the country.
"The per cent excise tax on betting stakes is not a new thing in the gaming industry, it's just a reintroduction. But it shouldn't affect the collaboration that the operators had with teams in this country. Basically, their businesses will not close," Mbugi told Standard Sports.
"Even if it reduces the amount of profits that the companies will have, then that's fine they can still share the little they have with the clubs. But the clubs should also not entirely rely on this external support, they should try and find out what they can do for themselves. For example, if we say today there is no gaming in this country, will you tell me that sports will end? When we have a reliable source of revenue, sometimes we tend to think outside the box.
He continued: "Despite them being sponsors of these clubs, they don't give our players substantial amounts that make them happy. For any operator to say that now that the government has reintroduced the per cent excise duty they are not going to support the clubs, that's not being sincere because at the end of the day they will still make money.
"You can talk about reduction of support but you cannot talk about stopping to support the clubs because that's part of their corporate social responsibility programs. These are the people who are giving them the money, they are just returning it to them. They should not use that as an excuse."
And even as he revealed that the board is planning to review the advertising guidelines in the media, he urged Kenyans to exercise responsible gambling.
"The board has been looking at the issue of advertising and hopefully with the new licensing which starts in July we might have new conditions for advertising. But the issue of safeguarding the young generation will be taken into consideration. But there will be some leeway for purposes of advertising," said Mbugi.
"Betting should never be a priority for anybody. Two years ago, there was a crisis in this country relating to gambling. Gaming should be for entertainment, but not a source of livelihood. So, Kenyans shouldn't bet their lives, it's not worth it because the level of losing is equal to the level of winning. If you have to bet, just bet with what remains from meeting all your basic requirements.
"We hope the parliament will discuss and pass the new rule on penalties."