Restoring the glamour of playing for Kenya Defence Forces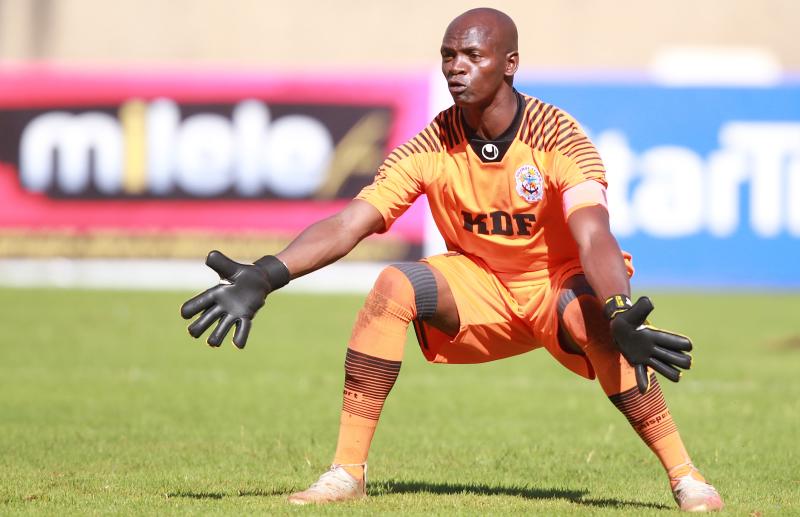 For many years, the Kenya Defence Forces (KDF) clubs have produced some of the best players for the national football teams; Harambee Stars and Starlets.
From former Kenyan international players Major Joe Birgen, Sergeant Major Warrant Officer One Elijah Koranga , Ambrose 'Golden boy' Ayoyi, Washingtone Muhanji, Benjamin Nyangweso, Dunstan Nyaudo, Tom Ogweno, Sammy Simiyu, Francis Onyiso, Francis Ochieng, Mulinge Ndeto, Stephen Ocholla and Stephen Waruru, the list of KDF heroes is endless.
Known for their physicality, technical prowess and never-say-die attitude, most of these players were a joy to watch whether they were on a national team duty or with their respective Disciplined Forces clubs.
Save for the job security that comes with playing for KDF, it has always been a pride and honour for those talented athletes turning out for the military teams.
And while some former footballers like Birgen and Koranga have risen through the ranks to senior levels in the military, the likes of Warrant Officer Two Dunstan Nyaudo (Technical Director), Sergeant Benjamin Nyangweso (Head coach), Sergeant Francis Onyiso (Goalkeeper trainer) and Corporal Mulinge Ndeto (Assistant coach) have perfectly transitioned to coaching and football management.
Goalkeeper James Saruni and defender Harun Mwale are the latest soldiers after the duo of Timothy Odhiambo and Oscar Wamalwa to be involved with the national team. Saruni and Mwale were part of Jacob 'Ghost' Mulee's squad that recently played against Egypt (1-1) and Togo (1-2) in their last two fixtures of the 2021 Africa Nations Cup qualifiers.
Youthful Odhiambo is keenly following in the footsteps of his predecessors Muhanji, Onyiso, Jacktone Odhiambo, Francis Ochieng and James Saruni's footsteps as he tries to maintain Ulinzi's legacy of producing top keepers in the country.
Take a quick survey and help us improve our website
Take a survey
But unlike the previous years where Ulinzi players were regulars in the national team starting lineup, the pair (Odhiambo and Wamalwa) was nowhere close to the match day squad.
However, apart from shaping and nurturing great custodians, the soldiers have also churned out some of the deadliest strikers in the Kenyan football history with the quartet of Nyangweso (1994-24 goals), Stephen Waruru (2011-12 goals), John Makwata (2016-15 goals) and Enosh Ochieng (2018/19-20 goals) winning KPL golden-boots.
Crucially, KDF's management seems to have bought into its potential success, going by Ulinzi Stars' achievements of winning four Kenyan Premier League titles, Top 8 Cup and several Military Games trophies a decade ago.
Though KDF clubs like Waterworks, Scarlet (Third Battalion of the Kenya Rifles-Nakuru), Kahawa United (Kahawa Barracks), Silver Strikers (12th Engineers, Thika), Spitfire (Kenya Air Force, Nairobi) and Kenya Kenya Navy (Mombasa), the soldiers kept their fans entertained in the 80s and 90s.
It is after the formation of Ulinzi Stars in 1995 that the Disciplined Forces started becoming a force to reckon with in Kenyan football.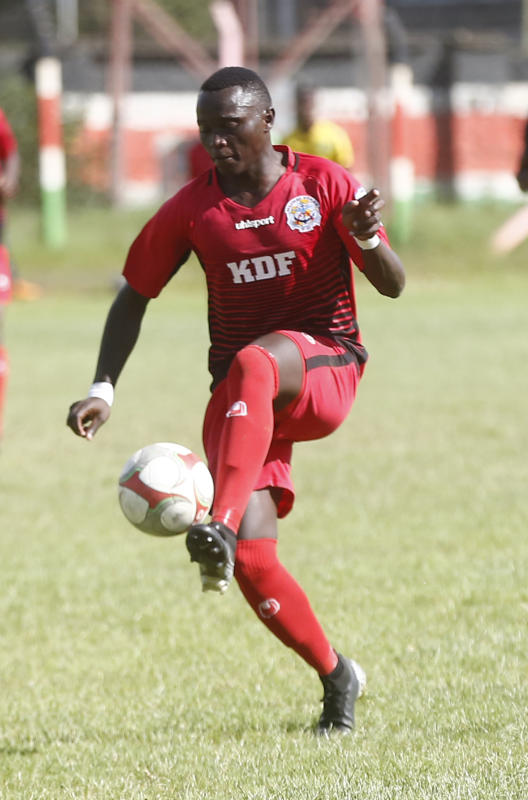 Ulinzi, which doubles up as the national military football team comprising players from the Army, the Navy and the Air Force, was born after the six clubs had folded up.
The decision to form one strong KDF team paid off as Ulinzi went on to win three consecutive Kenyan Premier League titles between 2003 and 2005, almost seven years after making their KPL debut.
Though Ulinzi's physicality and imposing technique made them flourish between 2003 and 2010, the soldiers have been a pale shadow of their former selves since lifting their last KPL title in 2010.
However, with the recent commissioning of the construction of an ultramodern Ulinzi Sports Complex at Lang'ata Barracks, the management appears to be putting everything in place to help the club restore their lost glory.
Interestingly, it is their former strikers Birgen and Nyangweso (coaches) who guided them to their maiden (2003) and last (2010) league titles respectively.
David Mwangi, another former Ulinzi player, led the club to their back-to-back league triumphs in 2004 and 2005.
first ever title
But having joined KDF in 1986 as a soldier, made 28 appearances with the national team, helped Waterworks earn promotion to the Super League in 1992 (Now FKF Premier League) and won KPL title with Ulinzi both as a coach (2003) and Officer in Charge (2010), Birgen has seen it all.
And even as he recalled how he miraculously led Ulinzi to their first ever league title barely a year before retiring from playing football, Birgen, who was part of the national team that featured at the 1992 Africa Cup of Nations finals in Senegal, says that playing for a Disciplined Force is a great honour.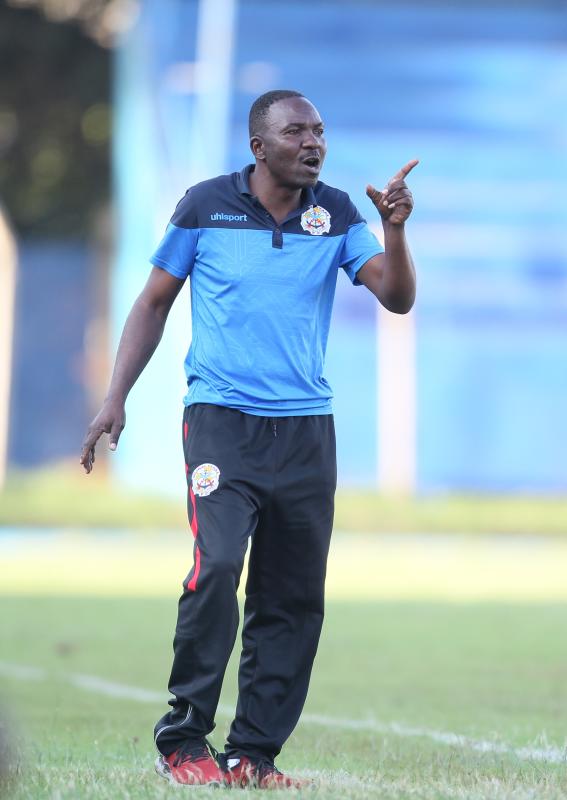 He singled out Sammy Simiyu, Fred Ogot, Francis Onyiso, Ken Lugalia, Polycarp Odhiambo, Peter Kamau, and David Mwangi as the key players behind Ulinzi's historic league title victories (2003-2005).
"It was a great feeling to win the league title after a very challenging season. I remember that season we had finished 17th in the first leg but we managed to turn around the tables and clinched our first ever league title without losing a match in the second leg.
"When you are employed as a soldier, it's an honour to the country. I have come a long way with this team and I'm really indebted to my former Waterworks team manager Sergeant Peter Kanga and coach, the late Warrant Officer Two William Nyongesa. But I am more than happy to have won two titles with Ulinzi as a coach and Officer in Charge, something that I didn't do as a player," said Birgen.
While Birgen revealed how KDF are always in pursuit of creating a conducive environment for an all-round soldier, not just footballer, he feels most footballers are not given the honour they deserve in the outside world.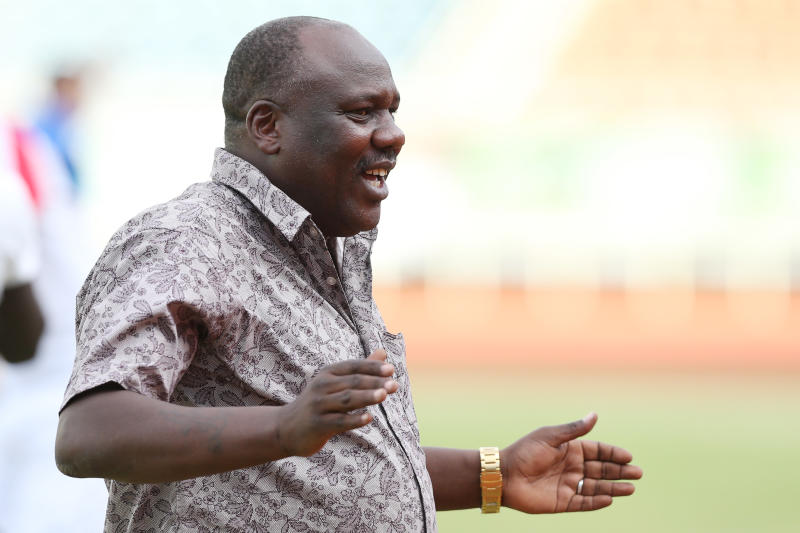 "It's always a great honour to play for KDF. But as you are aware, playing for KDF is a secondary role after joining the military. There is no better place for one to take part in sports in a conducive environment than in KDF. The good thing about KDF is that if you are a talented individual in any field, they will exploit it to the maximum," said Birgen, who last served as Ulinzi's vice-chairman in 2018.
"After going through soldiering in 2007 after my efforts with the team and hard work, I was honoured by being commissioned to become an officer. I'm actually one of the highest ranking footballers; a Major."
"As much as we have had so many players doing duty for the national team, most of them are unsung heroes. We are privileged because we have got four top scorers in the league (Nyangweso, Waruru, Makwata and Enosh)."
"We can always have a history to tell but most of us feel excluded yet we have many players who have contributed a lot to the national team."
Just like Birgen, Nyangweso and Nyaudo, who were part of the squad that formed Ulinzi in 1995, failed to win the league titles with Ulinzi as players only for Nyangweso to lift it as a coach in 2010.
Nyangweso took an early retirement due to illness in 2002, the same year when Nyaudo hung up his boots.
But Nyangweso, who was re-appointed last year replacing Nyaudo as head coach, is one of the former Ulinzi and Waterworks players enjoying the fruits of turning out for military teams.
"Ulinzi Stars have changed the lives of many players as they are given better training and offered jobs. And being a discipline force, you deal with players who are disciplined," said Nyangweso.
"It is a great honour to have played for Ulinzi and now working with them because I'm better off than most of the players I played against. Unlike most former players who are struggling outside there, I'm comfortable and stable with a permanent job."
"The advantage here is that even if you get injured or retire from playing football, you will still have your job or even venture into coaching."
Nyangweso's sentiments were echoed by Nyaudo, who was elevated to the Technical Director's role last year, saying that the military prepares players for post-football life.
"There are a lot of benefits one gets when playing for the military side. First of all, it's employment. These days, most players are on contract but once you play for a military side, you are permanent and pensionable. So, it depends on what you want for your future," said Nyaudo, who joined KDF in 1993 from Gor Mahia.
"Of course, players get a chance to progress in the military through the courses that are offered within. So, if you are interested to specialise in a particular course, you can always apply and get enrolled."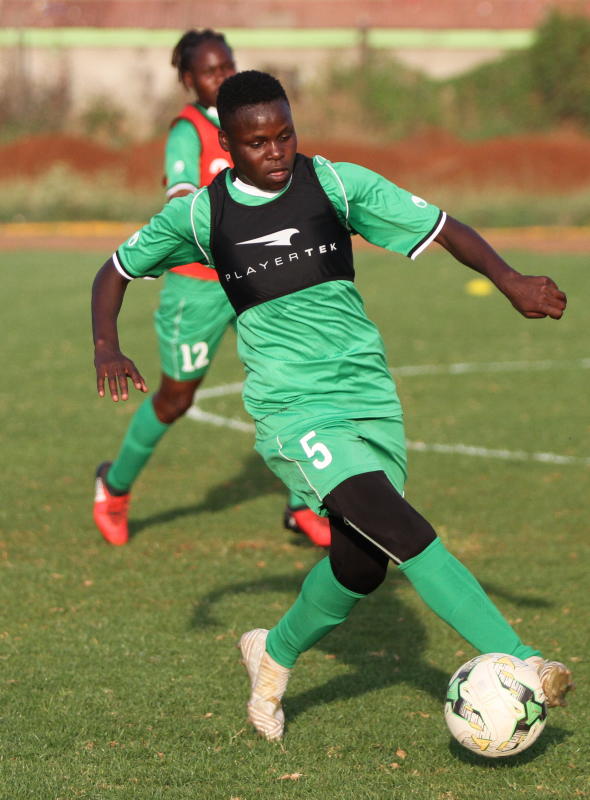 Ulinzi Starlets have also benefitted from the services of some top women players including Neddy Atieno, who inspired Harambee Starlets to the 2016 Africa Women Cup of Nations in Cameroon.
The duo of midfielder Siliya Rasoha and defender Lucy Nato are part of the current national team that is preparing for the upcoming 2022 AWCON qualifiers in June.