No legs, no problem for football coach Geoffrey Wanyama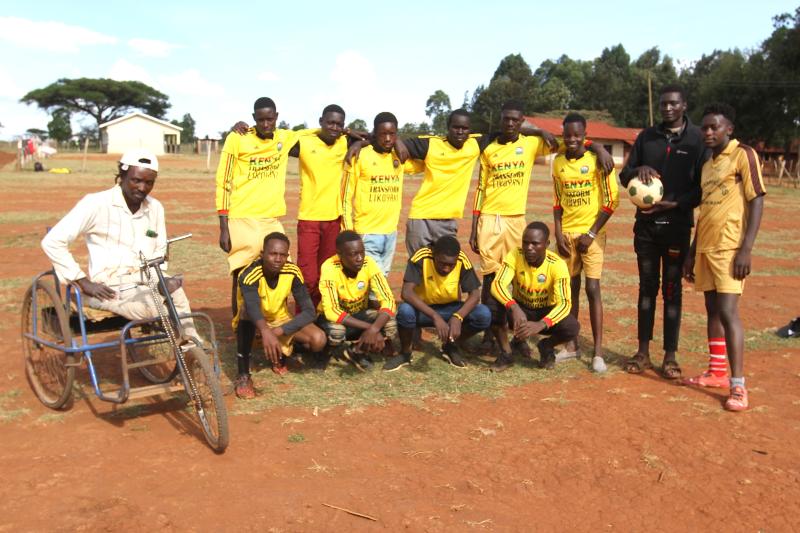 The name Geoffrey Wanyama sounds like any other, but to the people of Likuyani in Kakamega County, it's not.
The football coach has been bound to a wheelchair since 1993, but his passion, authority and comprehension of the game is close to none.
His unique coaching skills and prowess have made him a darling to fans in Kakamega and he does all these with enthusiasm that permeates to players and fans around him.
His is a touch of humankind. Enviable concern. True in his trade. His disability has never discouraged the 46-year-old in achieving what he wanted in life.
He does what he loves most with much finesse and a touch of greatness. Wanyama leaves nothing to chance. He's that dedicated.
The tactician always take pleasure in mentoring and nurturing young talented footballers in his home area.
In 1993, Wanyama fell from a guava tree and lost the use of his legs and has been using a wheelchair since then.
"The accident occurred while in school just as we were preparing for an inter-schools competition. I was a dependable striker then," Wanyama told The Standard Sport.
He was a pupil at Kipsomba Primary School and was part of the team that had just competed in inter-schools zonal competitions.
Doctors confirmed the worst. Wanyama had suffered a broken spinal cord and that he would not be able to walk again.
"The accident left me hopeless. But with confidence, determination and encouragement from my peers, parents and teachers, I remained focused," says Wanyama.
A life in wheelchair meant he could not run after the ball anymore and Wanyama says he knew it would not be possible for him to associate with the sport he loved most.
Wanyama was happy and confused at the same time. Seven years after the accident, he was invited to the technical bench at Small Tiger, a local football club in Kakamega.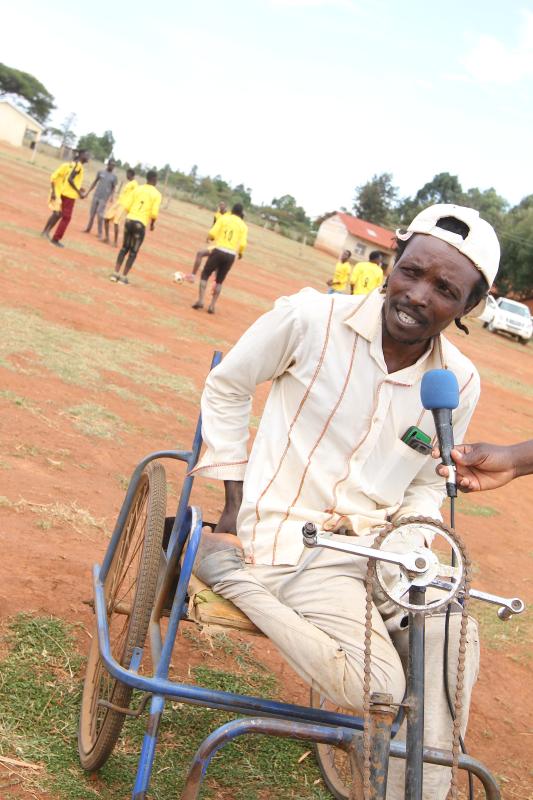 The accident also denied him a chance to continue with his education.
"I literally cried; tears of joy albeit I did not understand how they (Small Tiger) expected me to help the team achieve good results given my condition."
Nonetheless, he accepted the offer in 1997 and it did not take Wanyama long for him to get attached with the club management and players.
In 2004, he took up the position of an assistant coach and before he knew it, the club's head coach Enos Inyanji Mutoka asked Wanyama to succeed him because he wanted to retire as coach.
To Wanyama, things were happening rather fast, but later, he appreciated that everything that happened prepared him for even huge responsibilities both at the club and in the society.
Any victory for his Small Tiger FC team makes Wanyama a happy man.
"I derive pleasure in nurturing young talents and lifting players' spirits," said Wanyama.
Wanyama is a tactician who blends practicals and theory. He's a man after a complete player.
Using a blackboard, he illustrates a point while training the players. They all listen keenly as every point is essential.
"After jogging on the pitch, we go to class where I inculcate critical skills in my players. The captain ensures everything taught is implemented on the pitch," said Wanyama.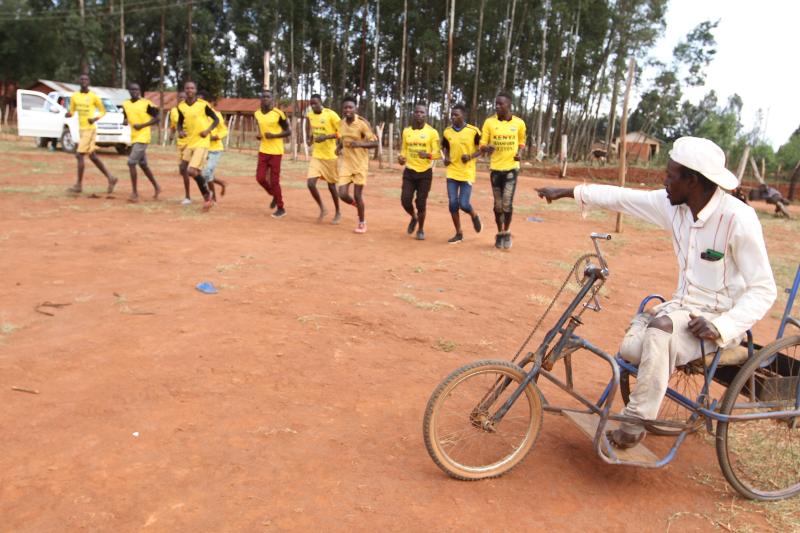 Sometimes, institutions and small clubs around Likuyani seek Wanyama's services particularly when he is not actively involved with his own club.
"They acknowledge and appreciate my work as a coach and they never hesitate to seek my services whenever they deem it necessary, sometimes at a fee," he said.
The coach has led his team to winning several trophies in numerous competitions.
The achievements have definitely made him stand tall among football tacticians from Western Kenya.
"Though being on a wheelchair, thus denying him the ability to run and kick ball on the pitch, Wanyama is an incomparable coach. He's never failed to amaze with how he has been able to sharpen and nurture football talents among youths in this county," said the club manager, Moses Kibet,
Small Tiger captain Allan Makali, also has kind words for his coach, saying Wanyama has played a big role in shaping the lives of many players, including himself.
"He is an adorable coach who is ready to listen to all of us and too willing to offer advise even off the pitch. He has ensured that young people concentrate more on football and their education as opposed to engaging in unbecoming behaviours," said Makali.
But even before he joined Small Tiger FC, Wanyama would always accompany the team to tournaments whenever they were playing.
"My love for the game saw me accompany them to almost all tournaments they took part in. I rarely missed to watch them practice every evening and sometimes, early in the morning."
He believes his undying support of club activities coupled with his mastery of the rules, made the club appreciate his abilities.
Wanyama has won regional championships for a record four times.
Asked about the force behind his success, the coach identifies good working relationship between his technical bench and the playing unit.
"My players freely express themselves and perhaps this is where some coaches fail. As a coach, you don't need to behave like a Mr know-it-all," said Wanyama.
Some of the challenges he has faced as a coach is lack of pay. He has had to rely on meagre proceeds from his shoe repair job to put food on the table.
According to him, sometimes his colleagues, some referees and even players would look down upon him because of his disability, however, that remains a non-issue to Wanyama.