Leopards sharpen claws, ready to attack league title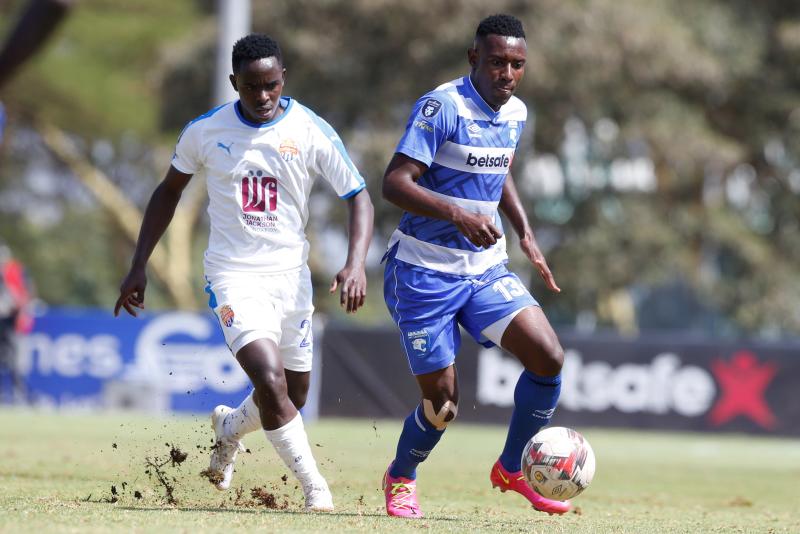 Belgian coach Aussems believes Ingwe have what it takes to restore its lost glory.
There is a growing sense of belief within AFC Leopards' den that this could be their season of glory after 22 years of Premier League title drought.
AFC Leopards, who last won the title in 1998, have been considered as one of the 2020/2021 FKF Premier League title contenders following their recent impressive performance.
Having watched his 10-men Ingwe beat Nairobi City Stars 1-0 on Saturday to close the gap on league leaders Tusker (35) to seven points, Belgian coach Patrick Aussems is optimistic of helping the third-placed Ingwe restore their lost glory.
Leopards were reduced to 10 men in the 49th minute after their captain Robinson Kamura was sent off for a reckless tackle on Oliver Maloba before Hansel Ochieng' came off the bench to net last gasp winner.
"Of course I think this kind of wins against tough teams show the character of fighting for the title. These players know the exact time to defend, fight for the ball and attack," Aussems told Standard Sports.
"We never gave up even after playing with 10 men for the better part of the second half. We had that feeling on the bench that we will have one opportunity and the good thing is that it came in the last minute of the game."
Though it is still a bit premature to talk about the title, former Simba SC coach appears to have slowly but surely transformed the team after winning three matches on the trot since losing 2-1 to Bandari on his debut.
He was, however, quick to credit the versatility of his playing unit which has seen the likes of Marvin Nabwire and Clyde Senaji redeployed to new roles.
"When a new coach comes to a team, he sees something different from each player and that is why the likes of Nabwire (Marvin) are enjoying their new roles in the team. I have learnt about the players' strengths and how they can perform. It is really important to have players who can play in different positions. So, I'm happy for his progress so far."
Just like his coach, Austin Odhiambo, who has mostly been influential from the bench since the arrival of the Belgian, says the current generation want to rewrite history with the club.
"We had to win it for Kamura (Robinson) for taking one for the team. It is difficult to play against 'small' teams because they always give their best when they face us," said Odhiambo.
"I think we have the quality and a strong bench that can win the title."