Football Kenya Federation unveils gaming firm Odibets as Harambee Stars partners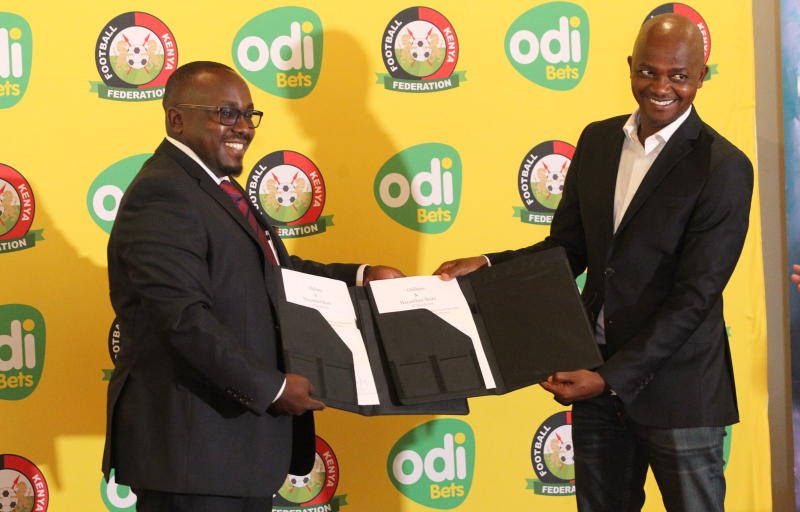 Online gaming firm Odibets were on Monday unveiled as the official betting and motivational partners for the national team Harambee Stars ahead of the upcoming back-to-back 2021 African Cup of Nations Qualifiers against Egypt and Togo.
As part of the deal, the gaming firm will give the Football Kenya Federation Sh 5 million to cater for the team's preparations for the next five matches.
Stars, whose local-based players resumed non-residential training on February 8th, will play three friendlies against South Sudan (March 13th ) and Tanzania (March 15th and 18th) in Nairobi before hosting joint Group G leaders Pharaohs at Kasarani Stadium on March 25th.
Kenya will then fly out to Lome for their final group match against bottom rooted Togo on March 29.
Speaking during the launch, Odibets General Manager Dedan Mungai assured the team of his company's continued support.
"We are committed to supporting Harambee Stars through sponsorship and cash as they represent our country and make us proud. This will be continuous sponsorship depending on their progress in the competition. But let's try and be kind to the team regardless of the performance," said Mungai.
While expressing delight on the return of international football, FKF President Nick Mwendwa thanked Odibets for sticking with the national team and supporting the federation's projects.
"The final game of the FKF Premier League will be on March 11th, after that we will get into a busy schedule with the national team. We will play five matches in a period of 20 days that is how serious we have taken this. The good thing is that Odibets have decided to stick with us," said Mwendwa.
"They will walk with the team during that period where we will play five matches. Based on some conditions they will also motivate the team with cash."