Mudavadi: Open stadia to fans, re-examine taxation to help sports get back to its feet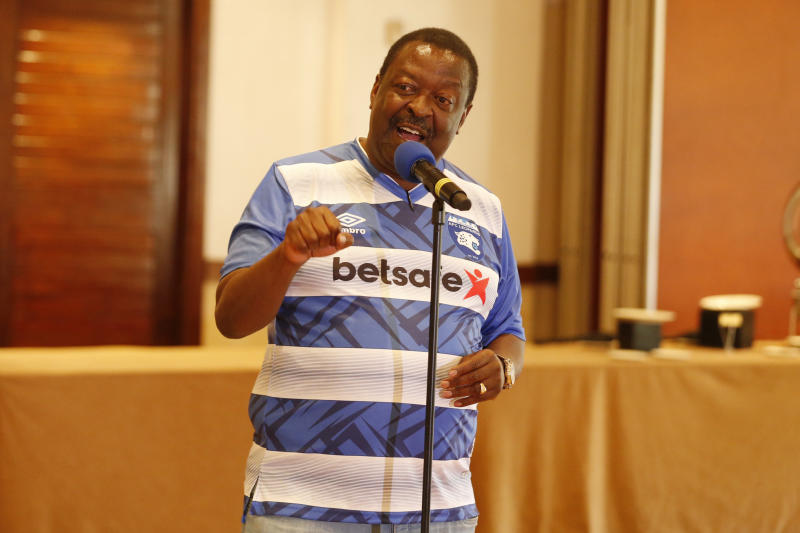 Former Vice President and Amani National Congress leader, Musalia Mudavadi, has urged the Ministries of Sports and Health to develop Covid-19 protocols to ease fans back into stadia so as to help sports entities to get back to their feet.
Mudavadi, who was speaking yesterday in Nairobi during a luncheon he hosted for FKF Premier League giants AFC Leopards, said Covid-19 pandemic has crippled many clubs financially but a way has to be found to allow limited number of fans to watch sporting activities.
He said no effort should be spared to help the sports industry, including examining punitive taxation policies that were stifling growth of sports.
"Protocols around the Covid-19 are improving systematically, perhaps the ministry of health together with the ministry of sports and the relevant committees, can and indeed should, start facilitating say up to 3000 fans in the stadia for each team.
"These should give the clubs some reasonable amount of money, which can pay allowances of the players at any one time rather that this idea of keeping everybody out and straining all people," said Mudavadi, who was accompanied by Sabatia MP Alfred Agoi and Nairobi Senator Johnson Sakaja.
He added: "After all people are asking, I am not saying that two wrongs make a right, but people are asking tunaona politicians wameanza kuzurura in areas where there is no iota of covid-19 protocols.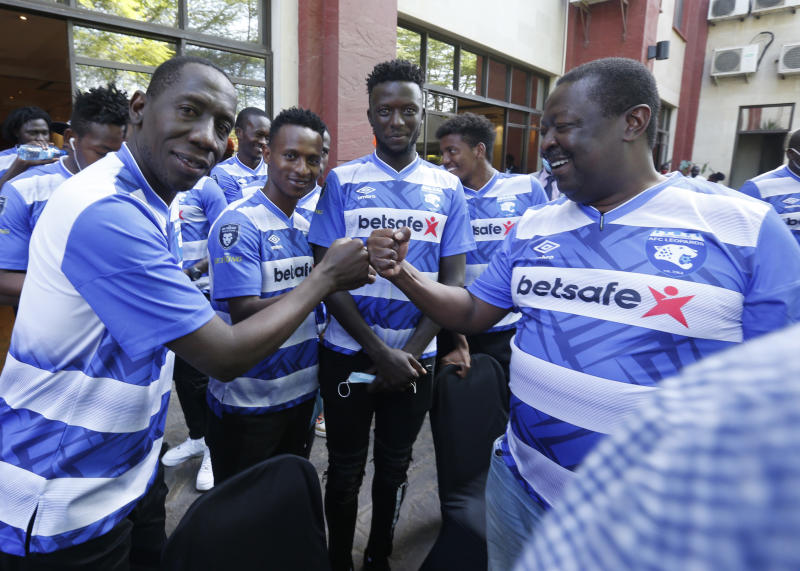 "Wanarundikana kama kitu kingine…wakizurara kwa mambo yao ya siasa to the extent that you wonder is the risk higher there or is it possible to open up systematically for some of the players so that they can survive." (Politicians are going around addressing public rallies where no covid-19 protocols are observed.)
At the same time, Mudavadi called for re-examining taxation policies that have hampered investment in sports.
"Sometimes the taxation structure that is pushed to sports does not make sense. These are issues that
We need to look at. How do we help to grow sport whether it is rugby, soccer or athletics? Sometimes you end up punishing your own people," he said.
"We must think seriously as to why our sports people run away to go and compete for other countries. Yes, there must be something. The earnings are better on the other side. Why don't we figure out how to sort out these things?
"If I am a policy maker let us look at it critically, let me not bring you a wheelbarrow. Let us look at a policy framework that can have a multiplier effect from sports."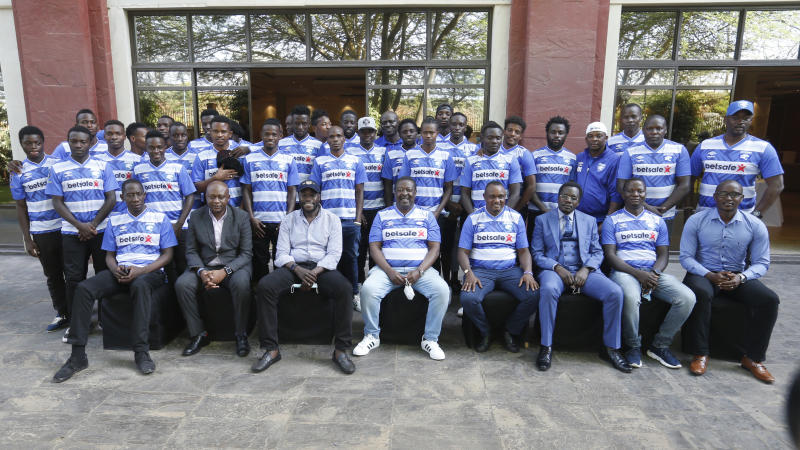 Mudavadi agreed to attend AFC Leopards' fund-raiser on February 12, but challenged the club to find ways to be self-sustaining.
"It is for this reason that we are working to ensure AFC Leopards gets the 20 acres to develop their permanent home. We have paid the stand premiums of Sh600,000 to the Ministry of Lands will pay an additional Sh700,000 by the time we come for the Harambee," Mudavadi said.
Nairobi Senator Sakaja, who is also the club's patron, challenged AFC Leopards to translate the goodwill it enjoys across the country into resources.
"AFC Leopards has a lot of goodwill, but unless we harness it, we will just be talking. And talking will not pay your rent, will not put food on the table and will not raise your training standards.
"We need to translate that goodwill to resources," he said.