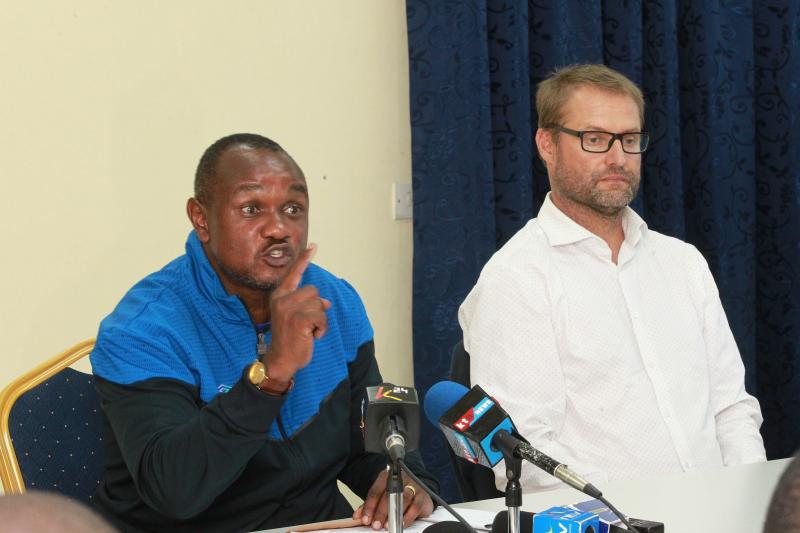 Malaysian football club Penang has unveiled former AFC Leopards coach Tomas Trucha as their new coach, Standard Sports has learnt.
The Czech, who joined AFC in October, confirmed his resignation in Thursday's press conference alleging fear for his life and external interference of his job with a section of fans accusing his agent Prince Channis of influencing the coach's decisions.
However, on Friday, Penang FC took to Facebook to confirm that they have signed a new head coach.
OFFICIAL! Tomas Trucha is Penang FC's new head coach for 2021!
(Pic by @fa_penang FB)#HariaPenangHaria #LigaSuper2021 pic.twitter.com/Ce4wQp5NEZ — FC Penang (@FCPenang) December 4, 2020
"Welcome Tomas Trucha!," Penang wrote on their official Facebook page.
"Penang Football Club [PFC] officially announced 49-year-old Czech Republic coach Tomas Trucha as Chief Coach of Super League competition season 2021.
"Starting a career as a coach as early as 25 years old, Trucha had a wide experience working in Europe before gaining a new experience with some troops in Africa.
"Although it was initially reported to be with a club in Kenya, Penang became Trucha's destination as a new challenge. He will be assisted by Manzoor Azwira Abd Wahid who will continue with the team as Assistant Chief Coach.
"The club believes the combination and experience both will give the team positive and competition next season."
Trucha's immediate deputy Anthony Kimani has been elevated back to the head coach role ahead of this Sunday's match against Bidco United.
AFC Leopards chairman Dan Shikanda said: "We tried to convince the coach, but he had already made up his mind due to his safety. Kimani will take over the coaching role again. There is a lot of infighting in the club, but we will try to manage it."
His decision to throw in the towel looks to have opened a can of worms in the den with reports further indicating that Channis had pushed him to sign more foreign players against the required quota of five players.
Though he showed some glimpses of his tactical nous on his debut last Saturday, the Czech had a confrontation with one of the technical bench members, who had questioned the inclusion of an unregistered Ghanaian player Ibrahima Ganiu in the match day squad.
Prior to that, Ganiu's fellow countryman Gideon Waja had failed to show up for the Tusker match claiming to be ill despite being in the final squad.
This complicated the technical bench's plans as they had to play with less one (six instead of seven) on the bench after the late inclusion of youngster Omar Somobwana who had gone to watch the match. Both Ganiu and Waja are reportedly managed by Channis. Interestingly, Channis who has allegedly been threatened by the fans, has not terminated his contract with the club.