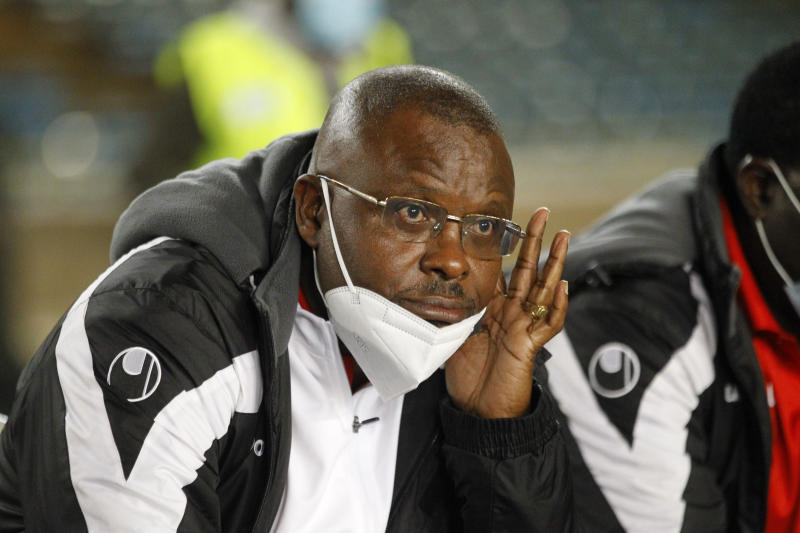 National football team Harambee Stars have a mountain to climb in Sunday's return leg of the 2021 Africa Cup of Nations qualifiers in Moroni following their disappointing 1-1 draw against 10-man Comoros on Wednesday night at Kasarani Stadium.
Though head coach Jacob 'Ghost' Mulee has always been optimistic since returning to Stars' dugout as Francis Kimanzi's replacement last month, he seemed to be worried of the threat posed by the Group G leaders at their backyard.
The draw, Kenya's third of the campaign after identical stalemates against Egypt and Togo, saw the East African side remain second in the group, one point ahead of Egypt who clash with visiting Togo in match day three tomorrow.
While Kenya's attack looked lethargic at times on Wednesday night, the Islanders defended bravely even after losing their captain and goal scorer Youssouf M'changama through a red-card in the 40th minute (second bookable offence).
Despite Masud Juma saving Stars' blushes with a brilliant 65th minute team goal, the Kenyans have their profligacy to blame for the result.
And even as he appeared to be satisfied with his boys' performance, Mulee admitted they still have a lot of work to do before the reverse fixture.
"Comoros is a very solid side that has been together of over eight years. So, they just have what we call automization in football and they were quite impressive. We now need to just plan how it is going to be in Moroni. But the fact is, it is not going to be an easy game in Moroni. Although football being what it is we can turn the tables there," said Mulee.
"It is tight, because Moroni is a very difficult hunting ground. However, we will still compose ourselves and try to prepare because we leave on Friday (today) to see if we can be able to turn the tables."
He added: "I think the game went on as planned. First of all we need to appreciate the fact that Comoros is a good team and they lead the table. However, we were here to try and stop them from moving ahead.
"And in that, we created a lot of chances in the second half when they had one man down but we just couldn't make use of those chances. We tried all efforts from the wings and the middle but sometimes you can't score yet you are there many times. But all in all, I'm satisfied with the efforts that the boys have put. I think I played the game wanting to win; I didn't sit back because we are playing at home and what we were expecting was three points."
But for the man of the match, Brann goalkeeper Ali Ahamada getting a point in Nairobi is vital in Comoros' Afcon qualification journey.
"I think it's a good away point because it was difficult starting as they (Kenya) put a lot of pressure on us. But it was very important to be patient, stay in the block and wait for them. We knew for sure the game would be open because they had to attack us.
"But we stayed compact and it was important not to leave each other. We wanted to win this game, but we are also satisfied with one point," said Ahamada.
Ahamada knows that it will not be easy at home, but they will take comfort in the fact that they will they already beat Togo there, a team that held Harambee Stars to a 1-1 draw at Kasarani.