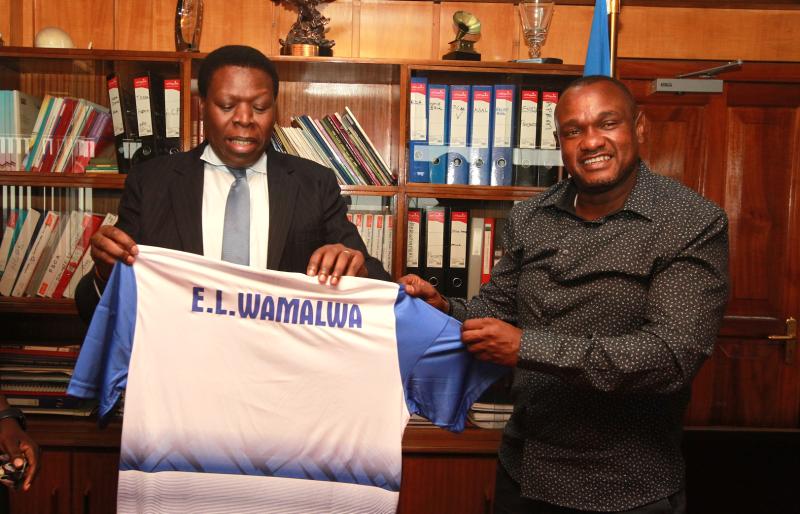 Having been in the cold for over three seasons, Ingwe has returned with a bang. Their Umbro-made home kit (Rio Tinto-blue and white) for this season is a big hit and has been trending on social media since its unveiling.
Fans rushed to buy their signed kit from Sawa Mall along Moi Avenue in Nairobi.
The fans including Nairobi Senator Johnstone Sakaja, Upper Savanna MCA Stazo Omung'ala, former FKF vice president Robert Asembo and former Kenyan international Matthew Ottamax Owino, all of whom couldn't hide their joy sharing photos as they put on the blue and white jerseys.
In three days after the launch, the club had sold over 400, with each going for Sh2,600 (branches) and Sh3,000 (non members).
AFC Leopards chairman Dan Shikanda, who believes that a good kit boosts players' confidence, said they target to procure and sell over 10,000 jerseys this season to earn the club Sh30 million.
"It is true that a well-kitted team performs better than a poorly-kitted team. A kit gives a team an identity and that's where we are going as AFC Leopards. It's unfortunate that we have not had proper merchandise in the last few seasons. Last year, we didn't have any merchandise in the market," Shikanda told The Nairobian.
"The merchandise will be our key revenue stream. We have invested heavily in merchandise this season and expect to make money to boost our operations. We were pleased with our fans' reaction when we unveiled the new jersey. We want to have a reliable supply of merchandise across the country. We expect to clear our first stock of 1,000 pieces this week."
The jerseys are of superior quality than previous merchandise.
"We made some slight improvement to make the jersey more appealing. Fans should expect high quality and attractive jerseys. We urge the fans to purchase them from authentic shops or our offices. We are trying to fight counterfeits," Shikanda said.
Like Leopards, Gor Mahia vice-chairman Francis Wasuna also believes that a quality kit has a direct impact on the performance of a team as he reflects on their partnership with Macron.
"One of the things we considered was quality. We entered into partnership with Macron and they give us European-quality jerseys customised for our club. We didn't clear our previous season's stock of 1,200 pieces, so we will maintain Macron before Umbro comes in later. We can only change the shade but maintain our traditional green colour," said Wasuna.
Gor has also to battle with the proliferation of counterfeits in the market.
Keeping a balance between quality and affordability, after fans' complained, forced Gor Mahia to reduce their price from Sh5,000 to Sh3,500.
"It was too expensive for fans. We can reduce it further to Sh2,500. We have to look decent and some fans will not wear what's not quality. We've to balance quality and affordability," Wasuna said. "We sold about 1,000 jerseys and we didn't exhaust the stock from the previous season. But I think we are going to have a more coordinated and better business-approach to sales this year by rationalising the prices as well as patenting our products. We are going to be strict with unregistered vendors who counterfeit and sell our merchandise."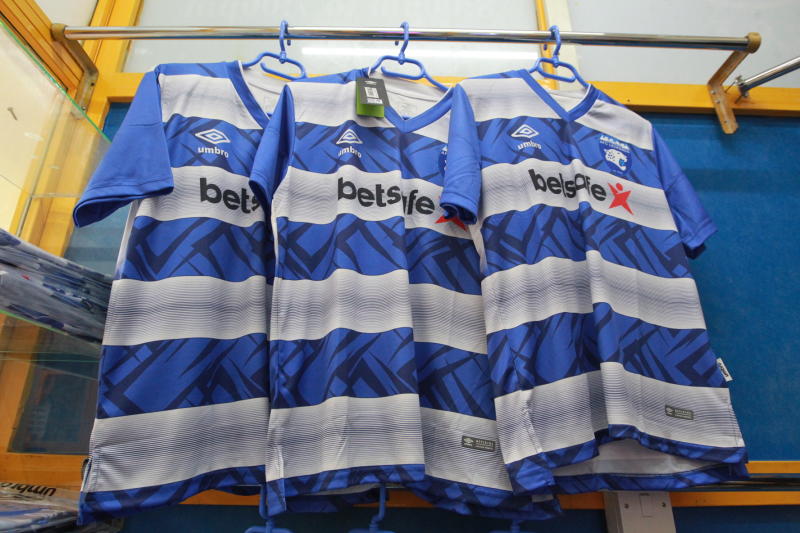 European culture
For growth of local football, Wasuna urged fans to copy their European counterparts.
"Fans want the jerseys, but they are not prepared to dig deep into their pockets; they want it cheaply. When we buy a jersey at Sh1,000 in Europe, by the time it arrives in Kenya, we've spent over Sh2,000," he explained.
"In Europe, fans are always willing to pay a premium to own a club-branded jersey. But here, our people want to buy things cheaply, meaning the club can't profit from merchandise. The culture of paying a premium to own a club's jersey is still alien to us. Even now, I don't expect us to make money out of merchandising; it's just about building our brand. We are not going to make profits any time soon.
"In Europe, it is a tradition that every summer people buy their clubs' jerseys. But here in Kenya, things are totally different. Once someone buys a replica jersey, they will wear it until they die."
Though Wazito don't enjoy a big fan-base, the club's CEO Dennis Gicheru said a good sales strategy, combined with the simplicity and uniqueness of their Spain-made jerseys, has helped them break into the market.
"It's down to how you market it. At Wazito, we've deployed an online strategy because we don't have a huge fan-base that we will leverage on and make a profit. But we are trying to make it as easy as possible. Anyone can access the jerseys," said Gicheru.
"The quality and colour of a jersey matters a lot. When we were making the jersey, we had to do three sampling of those materials. That colour is very appealing; if you look at our purple neutral colour you will realise that it is very unique and most teams don't have it.
Despite challenges, Sofapaka president Elly Kalekwa is confident his club will start reaping from the merchandise business too. Batoto ba Mungu made about Sh4 million from jersey sales last season.
"It is high time KPL clubs started making money from jersey sales. Jerseys play a big role in branding and creating a strong image of the team as well creating a fan base," said Kalekwa.
"We are only 10 years old in KPL and we cannot have same jersey sales like Gor Mahia or AFC Leopards, but with a good strategy, we can still get some mileage.
"We've already made new orders for the new season after clearing last season's stock of 2,700 pieces. But we don't get a lot of profit from them because we use them for marketing and promotional campaigns."