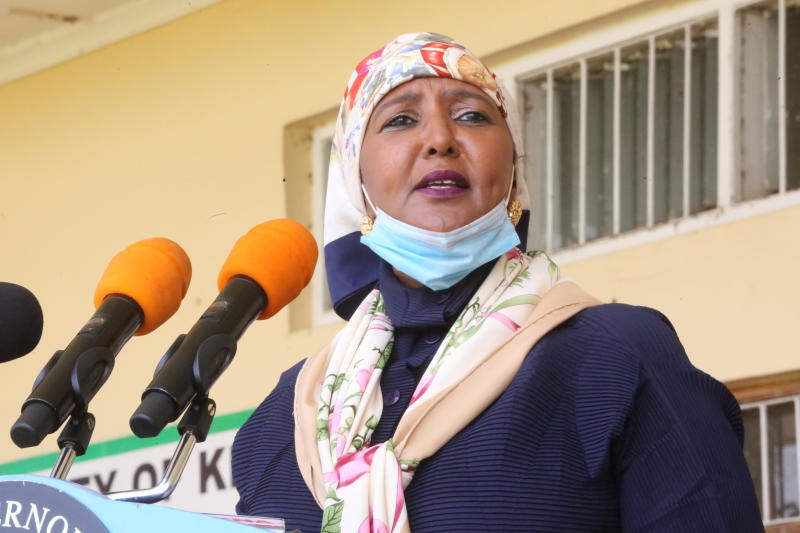 Sports Cabinet Secretary Amina Mohamed on Friday announced that all contact sports including football and basketball will remain closed while non-contact sporting activities will reopen immediately.
Sporting activities in Kenya were halted in March as the nation took steps to stop the spread of covid-19 that has wreaked havoc around the world.
While unveiling the final guidelines for sports resumption in Kenya, the CS said covid-19 testing will not be mandatory but where required, the cost shall be met by Federations, Sports Organisations, participants or event organizers as applicable.
"All Federations are required to submit their respective revised International Team Kenya event calendars to the Principal Secretary for Sports on or before 30th September 2020 for planning purposes," CS Amina said.
"Private fitness clubs may re-open immediately and observe all the containment measures including strict social distancing, sanitization, handwashing among other measures as provided in the Guidelines.
"Strict adherence is expected from gym owners and users in this respect."
Non-contact sporting activities like athletics, golf, tennis, horse racing , weightlifting, badminton, cricket cycling, equestrian, motorsport, fencing, shooting will re-open in a phased manner.
However, all water and Under 18 Sports will remain suspended until further notice.
All contact sporting activities like football, hockey, handball, team building, basketball, netball, wrestling, wheelchair basketball and volleyball will remain closed.
Amina further said that the management of all Sports Federations, Management of Training Camps, Sports Academies, Sports Facilities and other Sports Institutions shall ensure enforcement and compliance of these Guidelines in order to secure the safety of our athletes, athlete support personnel, all staff, event organizers, and spectators.
All sports events shall also be planned and executed in accordance with the Ministry of Health COVID-19 Directives.
"The Commissioner of Sports will work with National Teams and Athletes representing Kenya in international events to advise and guide on national and international compliance of COVID-19 regulations before departure and re-entry into the country," said Amina.
"Support from Government will prioritize Team Kenya events in a manner to be determined by the Ministry in consultation with individual Federations."