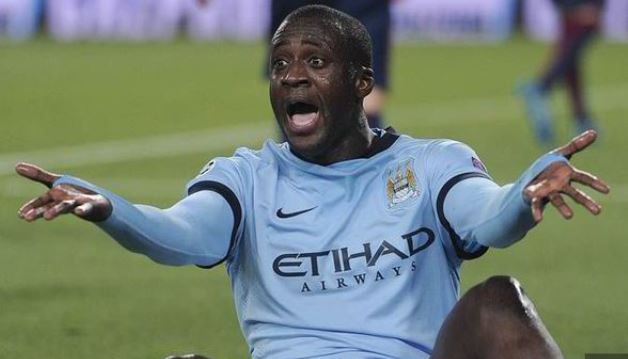 Former Manchester City and Barcelona midfielder Yaya Toure was left with an egg on his face after a prostitute 'joke' backfired on Saturday.
Toure was invited to play in Sunday's (today) Soccer Aid charity match at Old Trafford, England, but was axed from the team after his offensive comments.
The midfielder is alleged to have boasted he could bring 19 girls to the side's five-star hotel on the team's WhatsApp group, accompanied with a pornographic video.
Toure had to issue a lengthy apology, insisting it was wrong to deflect the focus from the charity match, which is fundraising for the children's charity UNICEF.
"I would like to apologise to everyone involved in Soccer Aid for an inappropriate joke I deeply regret," the Ivorian footballer posted on his official Twitter account.
"It was meant as a joke however I lacked thorough consideration for the feelings of all the other participants. That being said I deleted the jokes within minutes and I immediately apologised to all inside the group.
"We gather for a good cause and this deviates the focus of the game which is to bring everyone together to help children around the world. It's sad to see an inappropriate joke I made attract the attention which should be fully devoted to the beauty of the charity game.
"Regardless of the circumstances, I want to take full responsibility. I am a grown man who should not be engaged in such jokes.
"I am very sorry for my mistake and wish everyone all the best with Soccer Aid on Sunday in raising awareness and funds for important causes," Toure concluded.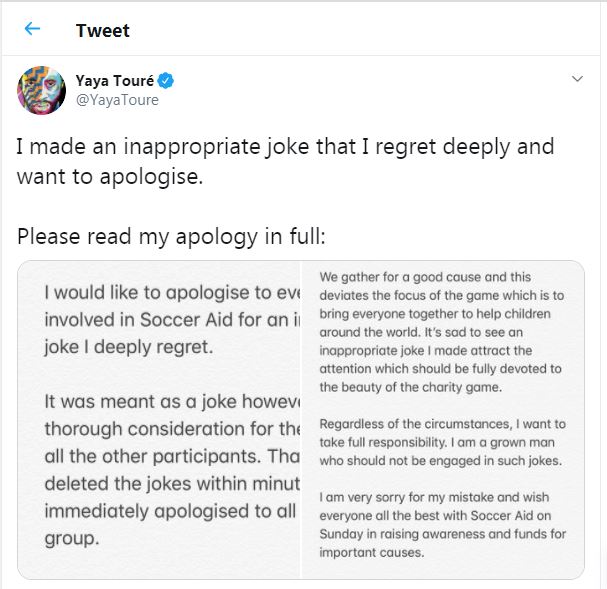 The popular midfielder last played for Chinese Super League club Qingdao Huanghai.
Toure aspired to be a striker during his youth and has played centre-back, including for Barcelona in the 2009 UEFA Champions League Final.
However, he has spent the majority of his career as a box-to-box midfielder for club and country, where he has been regarded as one of the world's best players in his position.
One of the greatest African players of all time, Toure was voted African Footballer of the Year in 2011, 2012, 2013 and 2014.