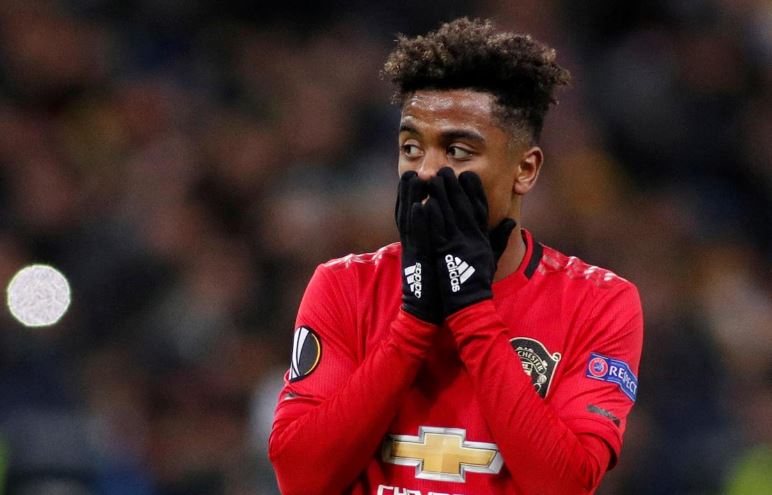 Angel Gomes is finally leaving Manchester United after 14 years at the club.
It was reported on July 1 that Gomes would leave Old Trafford after he rejected a contract at Man United.
Gomes will now join Lille in the Ligue 1 but will go on loan to Portugal to play for Boavista.
On his Instagram on Tuesday, August 4, Gomes confessed his love for the club, thanked those who helped him develop as a player and wished everyone the best of luck.
GOMES' INSTAGRAM MESSAGE:
"It's took me a while because it's not been easy to put my emotions into words. Sadly the time has come to end a beautiful chapter that has been my life for 14 years. Being from Salford, Manchester United is all I have ever known. I went from playing on my estate, pretending to be Wayne Rooney to being in the academy and doing the same. May 21st 2017 I made my premier league debut for the club of my dreams aged 16 replacing the legend himself 'Wayne Rooney'."
"I want to thank every single individual at the club for the help and encouragement I received, from the very first time I signed at the club. I want to thank all the coaches from every age group that looked after me from 6 to now. To all the kit men, Kath the receptionist, The media team, the security, the staff at the cliff, the staff at Littleton road, the staff at Carrington to the cleaners, you all played a part in getting me to where I am today."
"It is time I take the next step in my career, I hope you can all be proud off what I go on to achieve. I wish the club and everyone involved the best of luck, you will all be missed more than you can imagine. I also want to thank the fans, your SUPPORT hasn't gone unnoticed. Once a RED always a RED.
He made his debut for the Red Devils at old Trafford against Crystal Palace in 2017.
Man united boss Ole Gunnar Solskjaer admitted the club offered Gomes a new contract. "We've offered him a deal and hopefully he'll take that and if not I wish him all the best. From what I understand it's not too far away, if not we'll wish him all the best," Solskjaer told press
Angel Gomes visited Nigerian prophet to cure injuries – responded to attacks on social media
A video surfaced a month ago on social media showing Gomes receiving 'healing' from a controversial prophet in Nigeria.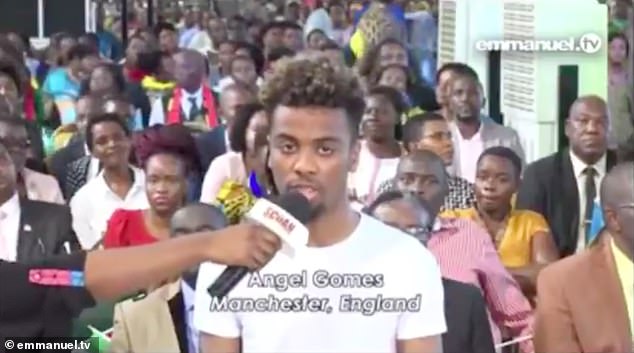 The video, which was reportedly recorded four years ago when Gomes was only 16 years old, shows the Man United attacker paying a visit to T.B. Joshua's Synagogue Church of All Nations in Lagos.
Gomes is seen in the viral video making a testimony in front of a large congregation, explaining the injury problems he's had to encounter, which included injuries to his groin, ankle and hip.
"My name is Angel Gomes, I'm from Manchester. I'm sixteen. I play for Manchester United Football Club. And I've been struggling really with injuries," Gomes says, in the clip seen on from the church's Emmanuel TV channel.
"I've been having injuries around my hip and groin which have been affecting me playing. I also suffered an ankle injury not long ago which kept me out for a long time. These injuries would come at hard times for me, times when I was having a breakthrough or times when I had to go to a tournament or playing games, these injuries would happen quite frequently. I play for Man United, I also represent the England national team under-17 level as captain. I've known about the Synagogue Church of Nations for a long time. As my family follow the prophet, my parents are big fans. So we though it would be a good time for me to come and be touched by the prophet,' the Man United star continues to explain in the video.
T.B. Joshua then performs a healing ritual on Gomes, even placing his foot on the teenager's.
Following the emergence of the video online, Gomes moved to Twitter to respond, saying he was practicing his faith at the time.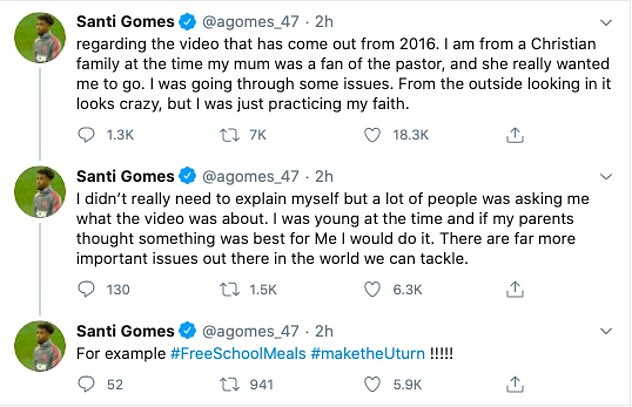 "Regarding the video that has come out from 2016. I am from a Christian family. At the time my mum was a fan of the pastor, and she really wanted me to go. I was going through some issues. From the outside looking in it looks crazy, but I was just practising my faith. I didn't really need to explain myself but a lot of people was asking me what the video was about. I was young at the time and if my parents thought something was best for me I would do it. There are far more important issues out there in the world we can tackle," Gomes posted.
HERE IS THE VIDEO:
Gomes has gone to make 10 senior appearances for Man United.