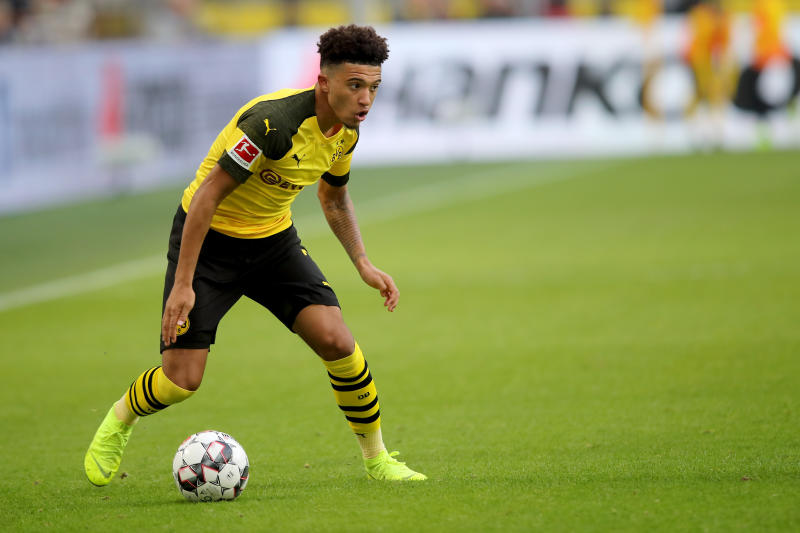 If English tabloids are anything to go by, Manchester United could make Jadon Sancho their biggest transfer of the summer.
Sancho, 20, currently at Borussia Dortmund used to play in England for Watford and Manchester City, but at youth level, before making a move to the Bundesliga, where ever since, made a name for himself.
Born on 25 March 2000, Jadon Malik Sancho grew up in the south side of London, where he chose football as early as the age of seven to stay away from 'bad company, as he described to BBC in a 2019 interview.
"After school, I just wanted to play football. All around me, there were people who did bad things, but I never wanted to deal with them. What might have happened if I hadn't chosen football is with me all the time," said Sancho.
His implausible ability to move with the ball, his creativity and imagination immediately caught the attention of Watford scouts, soon after Manchester City, who secured his services in 2015 when he was just 14.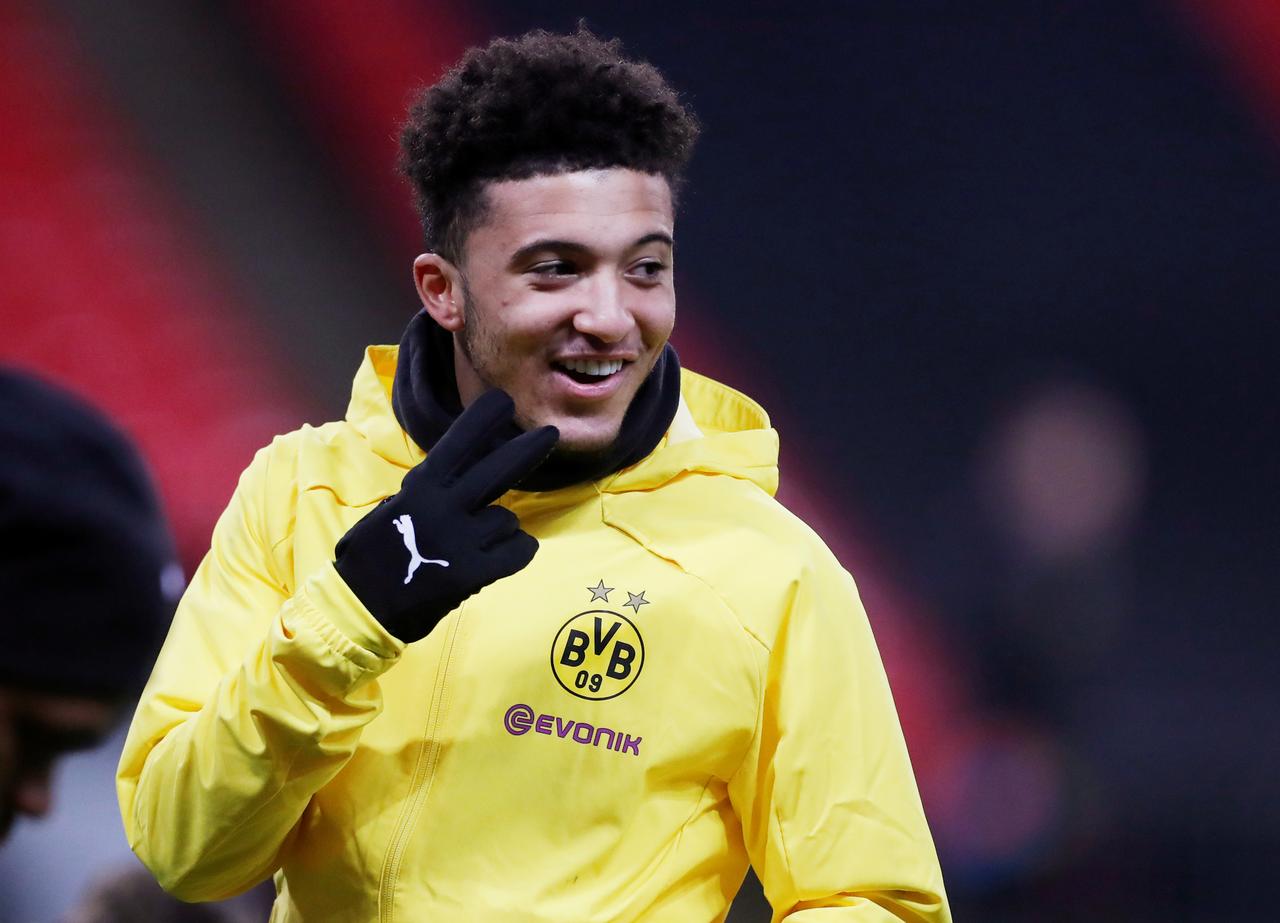 "He had this flair, creativity and imagination and a bit of street football within him. What we gave him was a bit of discipline within his play but without hopefully killing his flair. We surrounded him with better players that pushed him and put him in an environment that probably got him closer to seeing what professional football looked like," said Man City's Youth Coordinator Mark Burton.
Sancho loves Ronaldinho – Sancho was born when his footballing icon Ronaldinho was his age [20]. "Years ago, I used to watch videos of Ronaldinho juggling a ball doing tricks on his way to the training pitch, to help him get a feel for the ball. I thought, 'That's what I want to do," said Sancho in 2019 via FourFourTwo.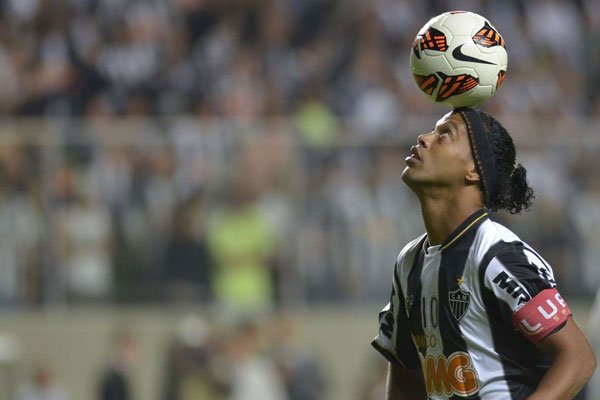 Sancho also became the youngest player in the Bundesliga to score 22 times, breaking a 51-year-old record set by former-Stuttgart and Borussia Mönchengladbach striker Horst Koppels.
???????????????????????????? Jadon Sancho broke a 51-year Bundesliga record tonight, becoming the youngest ever player (19y 267d) to reach 22 Bundesliga goals. pic.twitter.com/ystlCzt5DB — Oddschanger (@Oddschanger) December 17, 2019
He became the youngest ever player in Bundesliga history to score 30 goals. Back in May, Sancho became the first Englishman in 25 years to score 15 goals and provide 15 assists in a single season Europe's top leagues.
Across Europe's top five leagues this season, only one player has registered 15+ goals and 15+ assists.

Jadon Malik Sancho. ???? pic.twitter.com/Ri7IXlJGOG — Statman Dave (@StatmanDave) May 31, 2020
In the course of his blissful career, Sancho has 58 goals and provided 54 assists in 143 appearances.
Sancho has 30 goals and 34 assists in 78 Bundesliga games.
Sancho refused to sign for Man City and joined Dortmund instead - "We offered him a huge deal and we shook hands. But before we went to the States, he said 'I am not going to sign'. In the last two or three weeks he didn't appear in the training sessions. He should come but he didn't. We tried a lot. We met the father and his manager but if the player says 'no', what can we do?" Guardiola told reporters in 2017.
Guardiola has ruled out a return for Sancho to Man City saying the player made the decision to leave and does not see reasons why he should come back to the Etihad. He decided to leave. Why should he decide to come back?
"We wanted him to stay like Eric Garcia and Phil but he decided like Leroy now and myself, when I decided to move to other countries to be a manager, to move. When he decided to move to Dortmund it's not because he is going to decide to come back one year later. It would make no sense. He didn't want to be here, so that is why I think he doesn't want to come back here," said the City boss.
Sancho also became the first player born in the year 2000 or later to score a goal for England when they thumped Kosovo 5-3 in a Euro Qualifier group match on 10 September 2019.
He has cartoon tattoos on his right arm - The Simpsons and Sonic Hedgehog – perhaps signifying how much he enjoys a laugh and his speed on the pitch. He also has another Spiderman tattoo.
On his left arm is a tribute to his late brother, who tragically passed away when he was five years old.
"All I want is to make him proud. He is my inspiration," said Sancho in 2019.
"You and me will stay together, you made us happy, you brought us joy, you were a special baby boy. I couldn't wait till you grew up, teach you football and win the cup. But you're gone what can I do? Baby brother, we love you," reads the poem.
For Dortmund
Sancho has made a total of 102 appearances for Borussia Dortmund II and then senior team in all competitions, scoring 34 times.
For the senior team only, he boasts 30 goals in 78 matches.
For England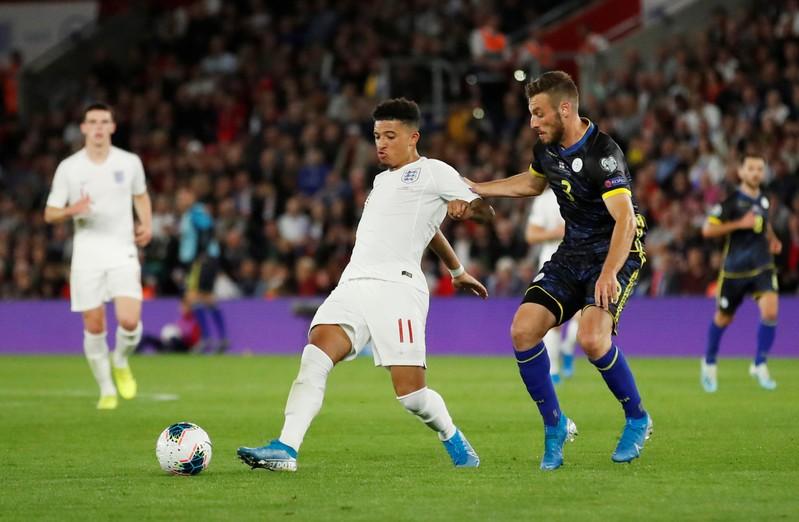 Sancho was part of the England under-17 team that played in the final of the European Championship and was named player of the tournament.
He was called up to the U-19 squad for the first time in 2017 and joined them for 2018 European Championship qualification matches against the Faroe Islands, Iceland and host-nation Bulgaria. He scored against Bulgaria to help England top the group, later scoring in a 4-1 thumping of Hungary in the elite round match.
In 2018 Sancho got his first call up to the England senior squad in groundwork for the UEFA Nations League fixtures against Croatia and Spain. He made his debut as a substitute against Croatia. He started their 5–0 win over the Czech Republic at Wembley Stadium in a Euro 2020 qualifier. He scored a brace on his debut in a 5–3 home victory over Kosovo.
As of Tuesday, August 4, Jadon Sancho is said to be in advanced talks with Manchester United, who are reportedly willing to pay more than £100 of the England international, on a five-year contract.
Man United interest
Dortmund are reportedly willing to accept less cash up front from Man united, who want to make Sancho their biggest transfer of the 2020 summer window.