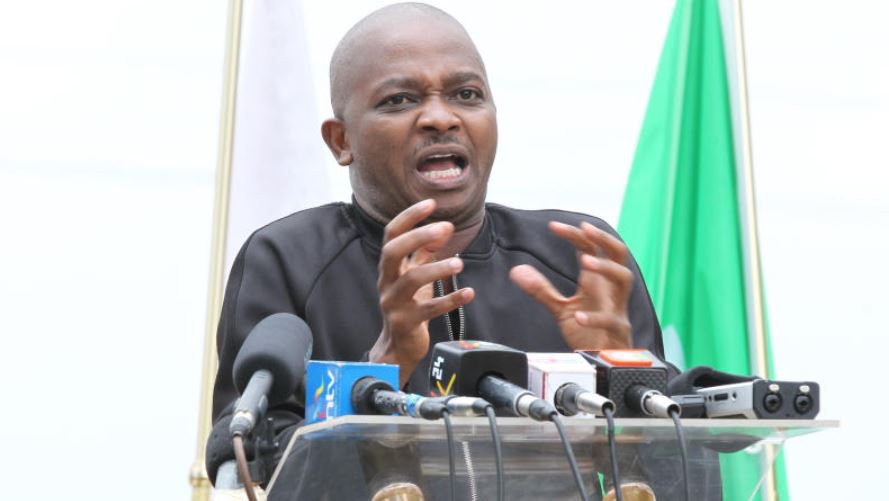 A damning audio recording has emerged of beleaguered Football Kenya Federation (FKF) president Nick Mwendwa re-assuring his scared supporters of Fifa's protection in the impending FKF elections.
The leaked audio has elicited sharp reactions from football stakeholders who now allege a conspiracy by out-going FKF officials and certain persons in Zurich to seek for Fifa's protection in the impending elections.
SEE ALSO: FKF to publish Elections Guidelines on Tuesday
This comes in the wake of an anticipated direction from the world football governing body Fifa on the roadmap for the stalled FKF elections.
The independent Sports Disputes Tribunal (SDT) of Kenya has twice nullified the intended elections, first on December 3 last year and on March 17 this year, citing the flouting of the Fifa Standard Electoral Code and the FKF and the Constitution of Kenya.
SEE ALSO: FIFA, Infantino pledge to co-operate with Swiss prosecutors
The audio recording suggests elections are to be repeated from the grassroots, but it appears FKF are unhappy with the new development.
Reacting to the leaked audio, presidential aspirant Lordvick Aduda said their attention has been drawn to it adding that they will seek to register their displeasure with what seems to be a conspiracy.
SEE ALSO: Swiss prosecutor to open criminal proceedings against FIFA president Infantino
"The assurance (by Mwendwa) is clearly based on the ruling rendered by the SDT on March 17, which nullified section 4 of the FKF Electoral Code, which was found to be wanting in terms of eligibility of candidates and the clubs originally omitted from the electoral register."
In the audio, Mwendwa seems to be calming his supporters christened 'Team Blue' to stop fearing with an assurance that there will be no changes to the Electoral Code.
Mwenda says in the audio: "I have told Fifa clearly that the risk we face is people going to the court again. Fifa have understood and told me that if anyone goes to the court again, it is them who will handle."
The leaked audio comes on the same week it has emerged Mwendwa has been reported to the Investigatory Chamber of Fifa's Independent Ethics Committee for alleged indulging in inappropriate financial transactions from the FKF accounts, some of which includes the transfer of funds into his personal accounts.
This is despite the absence of the FKF National Executive Council as well as the Finance Committee that would as a matter of procedure approve such transactions.
In a letter to a whistleblower seen by Standard Sports that Fifa through….. appreciates that such complaints have been filed in the context of art. 58 par. 1 of the FIFA Code of Ethics (FCE).
More so, given that Fifa bears a special responsibility to safeguard the integrity and reputation of football worldwide and confirms to the whistleblower that the complaint shows commitment to Fifa's values and principles.
Following the receipt of the complaint, Fifa has undertaken in accordance with Article 59 of the Fifa Code of Ethics to initiate preliminary investigations.
The leaked audio has caused concern to the football stakeholders some of whom say that they believed Fifa is committed to ensuring the conduct of free and fair electoral processes in all their Member Associations.
Herbert Mwachiro, who has declared to contest for the presidency, in reacting to the contents of the audio, said: "Electoral Board needs to call a meeting with stakeholders to domesticate an acceptable election procedure and calendar agreed upon by all the interested parties."
Mwachiro further suggested that the need for an independent body to oversee elections given that the appointed Electoral Board has twice failed to achieve the threshold of holding a fair poll.
According to former FKF president Sam Nyamweya, the leaked audio lays bare the behind the scenes intrigues to stage-manage the elections.
"The intended FKF elections were nullified by the Sports Disputes Tribunal when they declared Section 4 of the FKF 2020 Electoral Code as being unconstitutional as it offends and violates Article 81 of the Kenyan Constitution 2010. The said section 4 deals with eligibility of candidates clubs and their representatives."
He added: "This decision by the SDT by inference means the voter register prepared by FKF was rendered a nullity as its foundation collapsed with the nullification of Section 4 of the code."
Here is the full text of Nick Mwendwa's leaked audio
"Members of Team Blue, let me go through it again so that everybody listens and understands. When you were here, I explained to you that you need to be confident in order to surmount any challenge.
We have seen the challenges so far and the challenges have not put us down. So this is not the time to panic.
So point number one: Elections will be repeated from the branch coming up to the national office. Whoever had already presented his papers and paid will not present papers again and will not pay.
What it means is that only opponents in every county will bring their papers, if there will be an opponent.
We have done an analysis and we have seen that in over 30 counties there will still be no opponents.
That is the first point.
Secondly, there will be no changes to the Electoral Code. Why will there be no changes in the Electoral Code? Because there is no mechanism to change the Electoral Code. These people removed the NEC and I will not call an SGM to change that Code again. So, the code will remain the way it was.
What will happen is, those people who wanted to run for the national office, those who were former players, former officials will be allowed to run but nothing after that. At the Branch, there is no change.
On the part of clubs, no register will change because since then, there has not been any football. The register will be the same that was there. Clubs at the Sub-branch level will not vote. So I don't see the reason to fear. Because in any case most of you were saying we start all over again so that our opponents will not have any reason.
I have told Fifa clearly that the risk we face is people going to the court again.
Fifa have understood and told me that if anyone goes to the court again, it is them who will handle.
My final point is this; we cannot appear weak to Fifa. Fifa are being told that we are fearing elections, that we are locking people out.
If we show Fifa that it is true what they are being told that we are fearing to start the elections all over again from the grassroots, although I explained to them why we have to start at the national, if we show them we are opposed, what do you think they will think of us? They will think we have actually locked out people when we have actually not done so.
So you need to understand where we are and stop fearing. I have seen some of you have challenges. But we have walked with every one of you and we have held you.
Now I am wondering, if you Kakaa has spent Sh150,000, what do you think I have spent?
Secondly, if you think you can lose, how much do you think I will lose when you lose?
Everybody should be calm, the way we have been working. Let us hold our hands together, we go back to these elections. We will win and we must win so as our activities continue.
You see, the President (Uhuru Kenyatta) has shutdown counties. He has extended the curfews again. Let us see how these curfews will be like so as to see if we will be able to conduct the elections so that we know how it will be.
Thank you so much. Let everyone concentrate and know that nothing will change at the branch. If those opponents of yours come, they will find the same Board there. They will find us there and the same clubs only. So don't fear and let us do this thing again because we cannot afford to have Fifa opposed to us. Thank you very much."