Tanzanian club fires Belgian coach over 'racist' remarks
FOOTBALL By AFP | July 27th 2020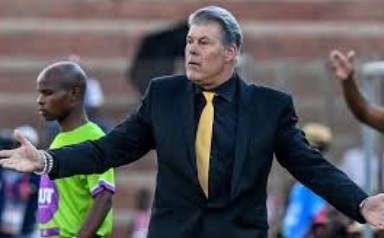 A popular Tanzanian football club on Monday fired its Belgian coach for making racist comments, after he was recorded referring to unruly fans as "monkeys or dogs"
Luc Eymael, coach for the Young African (Yanga) Sports Club, made the comments after a 1-1 draw last week against Mtibwa Sugar angered fans of his team.
"We have been saddened by unfair and racist remarks made by Luc Eymael and we decided to fire him effective July 27, 2020," the team said in a statement signed by its acting secretary general Simon Patrick.
"The management of the club apologises to the Tanzania Football Federation, members, fans and the citizenry in general for the remarks. Our team believes in respect, dignity and is against any kind of racism."
In the recording, which circulated on social media, Eymael said: "These fans don't know anything about football....It's like monkeys or dogs when shouting."
According to local media, Eymael apologised for his comments, telling the Mwanaspoti sports newspaper he "was not in a good mood" and was not a racist.
Tanzania's premier league ended on Sunday with Yanga finishing second, and Simba Sports Club coming first.
Meanwhile South African officials voted Monday to restart the Absa Premiership - the richest football league in the continent - on August 11 after it was halted in March by the coronavirus.
An official involved in the online decision-making meeting told AFP that the 2019/2020 campaign would conclude on September 5.
The remaining 54 league matches will be played behind closed doors in the central Gauteng province, whose main cities are Johannesburg and Pretoria.
Gauteng is the epicentre of the pandemic in South Africa but the national association says health protocols will ensure there is only a "one percent chance" of anyone being infected.
By last Sunday, South Africa had confirmed 445,433 Covid-19 cases.