Athens marathon to go on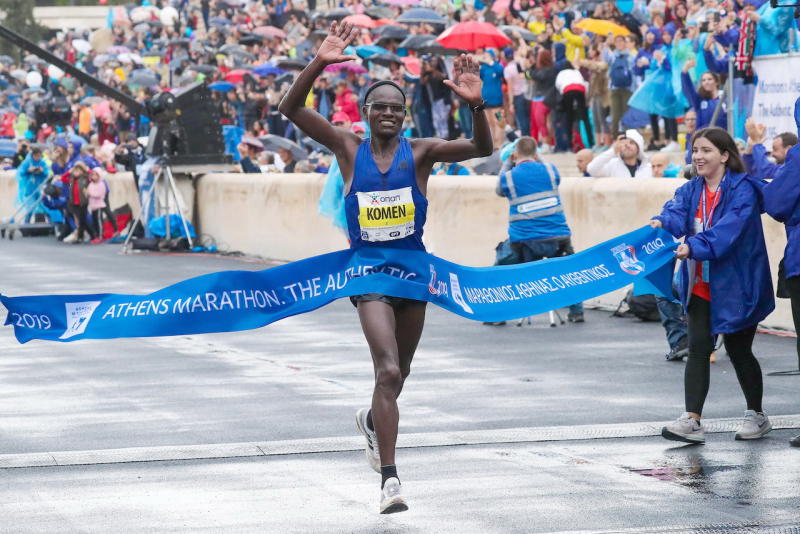 About 10,000 athletes expected in the Greek race that Kenyans have dominated in last four years
At least 20,000 runners lined up at the historic start line in the marathon village.
The 2020 Athens Marathon will be staged in November as scheduled even as athletics competitions face cancelations and postponements because of coronavirus.
Organisers have said the 38th edition of the race set for November 7 and 8 will take place under strict guidelines to prevent spread of the disease.
Kenyans athletes have dominated Athens marathon since 2001, with men clinching the titles four years in a row since 2016.
The event had been cancelled in March, but the organising committee changed mind after seeking advise from health authorities.
Last year, 42-year-old John Komen beat 25-year-old Rwandan Felicien Muhitira to win the race in 2:16:34.
Luka Rotich, Samuel Kalelei and Brimin Kipkorir won the 2016, 2017 and 2018 races respectively, making the Athens marathon a Kenyan affair.
Happening in the face of Covid-19, the race will be staged under strict guidelines postulated by Greece's health authorities.
Greek athletics federation Hellenic Athletics Federation said each of the races — full marathon, 10km and 5km will be split into two to minimise crowding among athletes.
"In accordance with the Protocol for Road Races approved by the Health Committee of the General Secretariat of Sports for Sports and the Ministry of Sports, Hellenic Athletics Federation and its partners have taken up further actions. Given the current circumstances, the 2020 Athens Marathon will be staged as planned on November 7 and 8, 2020," organisers said in a statement.
The full marathon, 10km and 5km races, organisers said, will be divided into two to achieve social distancing.
"The Athens Marathon Race participants will be divided into two different smaller Marathon races (Marathon Race A and Marathon Race B), with 5,000 participants each and a one-hour difference in starting time," the statement said.
Allotment of runners in one of these two marathon races and the relevant starting block will be made by the LOC.
The organising committee indicated that the marathon will be held on Sunday 8, and that the exact starting times will be announced ahead of the competition.
A day to the full marathon, participants in the 10km race will also be split into two different 10km races (A and B), with 5,000 participants each and one hour difference in starting time to limit contacts on the course.
"The same pattern will be followed for the 5km rto be held on Sunday 08, meaning that again there will be two different 5km races with 5,000 participants each and one hour difference as to starting time," the committee said.
To reduce the number of participants this year, the organising committee said available entries will be fewer this year compared to the 2019.
Furthermore, and in order for all participants to be fully and dully informed in advance, the Athens Marathon Organizing Committee have updated the event's Cancellation Policy after the decision to proceed with the race.