Mr President, where are the nine stadiums, 500, 000 houses?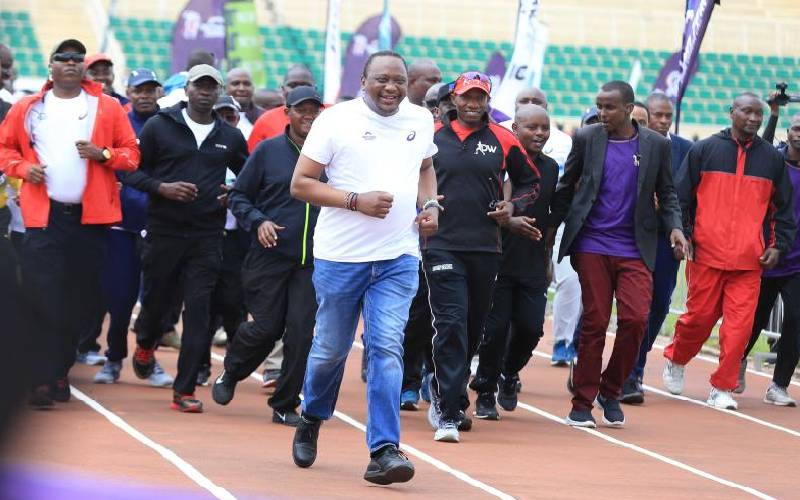 President Uhuru Kenyatta has less than two years to the end of his second and final term. The Jubilee government hasn't managed to build nine stadiums as promised.
Uhuru's Big 4 Agenda for his second term included providing affordable universal health coverage, housing, manufacturing and food security as his legacy projects. It is evident Uhuru won't build half a million homes in the time left. Food security was anchored on the Galana-Kulalu project where Sh5 billion was planted and watered, but with little harvest registered.
The Big 4 Agenda entails economic renewal to accelerate broad-based economic growth while addressing challenges like unemployment, poverty, and income inequality to improve the standards of living by 2022.
This was Uhuru's roadmap for his final term in State House, but it now appears we didn't use the tarmac road, but a weather-beaten village path.
To muddy the path are looming positions being taken by politicians ahead of 2022. Development economist Geoffrey Omwela reckons that "Given Kenyans' preposition to start campaigns one year or more to an election coupled with the BBI and anticipated referendum campaigns, it is unlikely that the environment will be conducive for the realisation of the Big 4Agenda."
However, the journey started on a torrid trajectory thanks to a cocktail of factors including a widening budget deficit, political upheavals in the Jubilee Party and an economy performing below predictions.
Then came the mother of all distractions: Covid-19. That was five months ago when things only moved from bad to worse.
The affordable housing dream was the first to become complicated after workers successfully fought back an attempt to make contributions to the Housing Fund mandatory at the rate of Sh5,000 per month to be matched by employers.
The contributions were then made voluntary but even then, the uptake has been poor.
Now, even the most optimistic among Kenya's economists are unsure Uhuru will realise his dream with barely two years left especially in light of the devastating pandemic which has crippled almost all sectors of the economy.
However, in a joint radio interview on April 22, Uhuru remained upbeat that the Big 4 Agenda will come to fruition "during the time that I still have. Even as we fight the disease, we are still proceeding with our targets and I am optimistic that our Big 4 Agendas will be fulfilled," he said.
But it remains unclear how Uhuru intends to achieve his objectives with the National Treasury having almost no financial legroom to wriggle itself.
While various levels of progress have been reported in the last two and a half years, the Parliamentary Budget Office warned it is not easy keeping track of the Big Four Agenda projects. Reason being they are scattered in the entire budget and their manner of reporting differs from year to year. To make matters worse, some targets from previous years were missing this year, and it's unclear whether they were completely dropped off or were already achieved.
In this year's Budget, the Big 4 Agenda had reduced budgetary allocations both to some of the implementing ministries and priority projects.
Despite President Uhuru partially opening the country on Monday, including allowing air travel from mid-July and lifting cessation of movement into and out of Nairobi, Mombasa and Mandera, it will take quite a while for sectors hard hit by the pandemic restrictions to pick up their pieces.
Omwela, the development economist, argues the burden of ensuring the safety of Kenyans in Covid-19 times rests with Uhuru, but so does the duty of prosperity despite uncertainties in the unforeseeable future.
"It was a catch 22 scenario for him. And I suspect he spent sleepless nights and held endless consultations before arriving at the decision to relax some of the measures to safeguard livelihoods," says Omwela. "But it still falls on the government to ensure the spread of the virus is under control. In such a situation, no meaningful economic activities can be realised. The priority will be to continue saving lives."