AFC Leopards legends meet ANC leader Musalia Mudavadi [PHOTOS]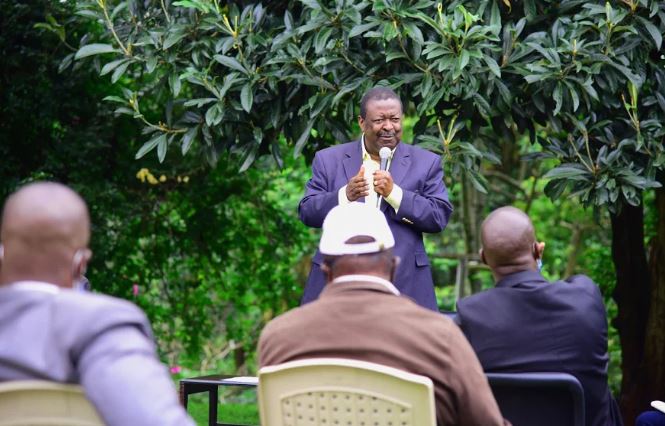 AFC Leopards legends have pledged to continue supporting the current AFC Leopards management as the club thrives to regain its dwindling glory in the Kenyan football.
The team of at least 26 legends were hosted by Amani National Congress Party (ANC) leader Musalia Mudavadi Thursday at his Musalia Mudavadi Centre led by the legends of AFC Leopards chairman Josphat Murila. They lauded the support being offered by Mudavadi to the team.
The legends had paid Mudavadi a courtesy call to deliberate on issues that are of concern to the team including how to build capacity in the team and strengthen their financial base to support the club and at large matters related to the Players Welfare.
Mudavadi agreed to partner with the team moving forward saying that Leopards is one of the greatest clubs with a huge following in Kenya and East Africa.
"I am ready to partner with AFC Leopards moving forward and I remember during my days when I was the Patron our players were very committed to the club, a virtue that we continue to cultivate amongst our players and also supporters," said Mudavadi.
Legends of @AFCLeopards club led by their Chairman Josphat Murila and the current AFC Chairman Dan Shikanda paid me a visit today. They lauded the continuous support being given to the club saying it has enhanced the morale in the team. pic.twitter.com/PHcgZOIoFa — Musalia W Mudavadi (@MusaliaMudavadi) July 2, 2020
He emphasised on the need for supporting football in the country to make the sport a profitable venture that can help in creating job opportunities for the young generation apart from only developing talent.
Murila also called on other well-wishers to come up and pledge their support to the team.
Take a quick survey and help us improve our website
Take a survey
Leopards chairman Dan Shikanda used the opportunity to extend the club's gratitude to Mudavadi and gave the feedback about the progress of payment of the Sh633,000 offered to the club early in June this year.
AFC Leopards, one of the oldest Kenyan football clubs with a massive fan base in the country, was recently supported by Mudavadi to clear its land charges of the 20 acres piece of land next to Kasarani Stadium which was donated to the club years ago by the Late Retired President Daniel Toroitich Arap Moi.
Others present were, former players Aggrey Lukoye, Nahashon Busuru, Mickey "T9" Weche, Mike Amwayi, Reginald Asibwa, George Sunguti, Robert "Coaches" Matano, Patrick Shilasi, Edward Lisamula, Benard Musuku, Peter Lichungu, John "Shoto" Lukoye, Ezekiel Akwana, Zablon Amanaka, Nicholas Muyoti, Maurice Khayota, Maurice Sunguti, Gilbert Olumasai, Kevin Wandera, Patrick Shim, Shabani Omar, Said "Wash" Kamadi, Oscar Kadenge and Charles Okwemba.
ANC Party Secretary-General and Chairman Kelvin Lunani were also present.
Photos of Musalia Mudavadi with AFC legends: