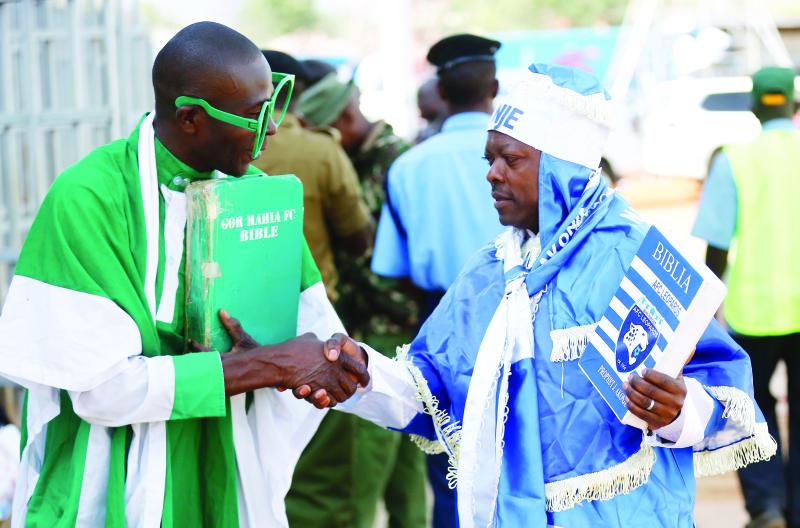 Europe-based betting firm, Betsafe, has come to the rescue of Gor Mahia and AFC Leopards after announcing a joint three-year sponsorship deal with the two Kenyan Premier League (KPL) giants worth an estimated Sh285 million.
The lucrative deals, which will be effective from the yet to be confirmed new 2020/21 season, will see Gor Mahia receive Sh55million per year as AFC Leopards get Sh40 million.
This should come as a huge relief to the two archrivals who have been struggling financially since SportPesa withdrew their sponsorship in August 2019 following a prolonged tax dispute with the government.
With a huge annual budget of Sh200m (Gor) and Sh100m (AFC) that comes with a monthly wage bill of Sh5.5m and Sh4.2m respectively, the two oldest clubs in the country have been in dire financial straits.
The coronavirus pandemic had worsened the situation for Gor and AFC. Both clubs had literally been reduced to beggars as they grapple with a combined debt of over Sh 35m in unpaid player salaries and bonuses.
While K'Ogalo have not paid the players their salaries for the last five months, Ingwe players have not received pay in the last four months.
But with the arrival of the Malta-based firm, who will operate under Bet High Kenya Limited, Gor Mahia chairman Ambrose Rachier is confident the timely sponsorship will help to cushion them.
"We are very happy to announce this deal with Betsafe. A very welcome message to all our fans that we have secured long term financial support from a strong and safe partner. With Betsafe, we get an engaged and reliable partner with a focus on responsible gaming," said Rachier.
His AFC Leopards counterpart Dan Shikanda was equally excited with the new partnership that he believes will help change the fortunes of the Kenyan football.
"There is so much negativity round our football but it's high time we try and turn that around. This is just but the beginning and we must continue working hard to take our football to the next level. These are some of the baby steps that need to be done," Shikanda told Standard Sports.
"We want to use this sponsorship to stabilise the team as we go forward.
Betsafe are just shirt sponsors and we are still in the market looking for more partnership. But this depends on how we position our football, not a chaotic industry like what's happening now.
"We just don't want to conquer Kenya, but conquer the entire continent. We would like to see a continental final match between Gor Mahia and AFC Leopards like we did in Cecafa some years back."
Gor Mahia treasurer Sally Bolo said they will use part of the sponsorship to clear the players' salaries.
"Our first priority is to make our players happy. But it is the duty of the technical bench to advise us on how to handle the cases of those players whose contracts are running out as we come up with a payment plan to settle their salary arrears," said Bolo.
"But we need to continue working hard because there is a financial hole at Gor Mahia. Looking at our annual budget of Sh 200m and with a monthly wage bill of Sh5.5m I think any sponsorship of less than Sh 100m is very little for us. This huge budget is based on our participation in the continental football for the last three seasons."