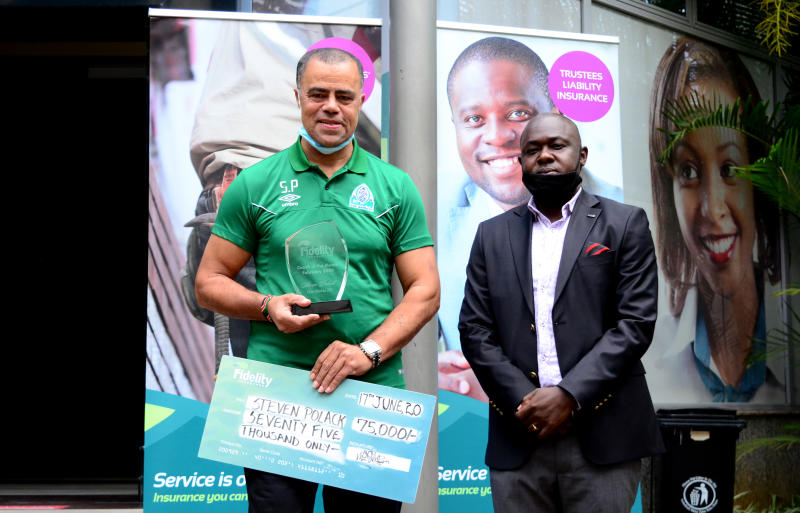 Gor Mahia head coach Steven Polack claims it is realistically 'impossible' for the 2019/20 Kenyan Premier League (KPL) season to be played to its conclusion.
The conclusion of the current KPL season has been thrown into doubt owing to the coronavirus that is ravaging the world.
KPL which was supposed to end on May 23 was suspended in March with Gor Mahia sitting at the top with less than ten round of matches to go.
While Football Kenya Federation (FKF) president Nick Mwendwa cancelled the league and declared Gor Mahia the champions as well as announced Nairobi City Stars' promotion back to the topflight football in April, KPL Limited whose mandate to run the league expires on September 24 2020, have maintained that the league will not rush a decision over how this season will finish.
This is subject to a ruling by the Sports Disputes Tribunal (SDT) on the status of the current season slated for June 30
But President Uhuru Kenyatta's recent decision to extend both the nationwide dusk- to-dawn curfew and the cessation of movement in to and out of Nairobi and Mombasa counties to June 30, has further thrown the league and FKF Betway Cup's conclusion into doubt.
And it is on this premise that the British-Finnish tactician has urged the concerned football authorities to make a quick decision on the fate of the current season.
"Let KPL and FKF sort themselves out. But if they say we play, we will play. I'm confident in my players and staff. So, if they say we are playing tomorrow or we are starting in a few weeks then we will start," Polack said after receiving his delayed February coach of the month award yesterday.
"But I think they need to look at the bigger picture before they make a big decision like that because they said the new season is supposed to start in August. So, if we have to wait for the president to make the decision on June 30, then we will have to train for four to five weeks and that takes us to August.
He added: "That means, the season won't finish until either September or October. By the rules which I have read, after the last game of your season, you need to have 60 days before the first game of the new season starts.
"So, basically that means we will start the new season in January. So, they need to take a good look at that and make the decision very quickly not only for Gor Mahia but for the whole football in Kenya.
"I don't know what they are waiting for because this has been going on for three months now yet you tell me that you don't have a plan A or B in case of a lock down."
Asked about Gor Mahia plans ahead of next season's CAF Champions League, the former Asante Kotoko coach said: "First of all, we have to look at the players' contracts. Some of their contracts are running down, so we need to know those ones we are going to keep or release. But we need to learn from the last CAF competition, we need to strengthen our squad because it's not easy to play in those competitions.
"Basically, from my coaching experience, we need to get stability to go forward. If you look at the big teams in the world, they don't keep on changing ten players every year because it's impossible.
"But if you keep doing that, I don't care which club you are, you won't win anything. Therefore, it is my hope that we will keep hold of most of the players we have and make a few additions for next season."