Sports Memory: The day football officials were arrested over tackling of Nkurunziza at a match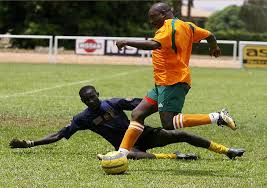 Burundi President, Pierre Nkurunziza, described by his friends and family as a man who loved sports, died on June 9 following heart failure.
The official statement announcing the president's death said he was taken ill the evening after helping out at a volleyball match in Ngozi, northern Burundi, on Saturday.
Outside politics, the 55-year-old was well known for his love of football and there is plenty of internet footage of him playing football across Burundi where he usually organized matches with his football club, Halleluja FC.
But despite being an ardent lover of football and scoring regularly for his own team, there was one interesting incident that he will always be remembered for by football fans.
In a match in 2018, Nkurunziza team faced a team from the northern town of Kiremba made up of Congolese refugees.
Normally, the opposition is well aware they are playing against the Burundi's president, and it had been said they go easy in the games, even perhaps allowing Nkurunziza to score.
But as the Kiremba team, who did not know they were playing against Burundi's president, they "attacked each time he had the ball and made him fall several times"
The Congolese refugees did not get carded despite bringing down the president on several occasions.
According to AFP news report citing a judicial source, Kiremba's administrator Cyriaque Nkezabahizi and his assistant, Michel Mutama, were arrested for "conspiring against the president."
Take a quick survey and help us improve our website
Take a survey