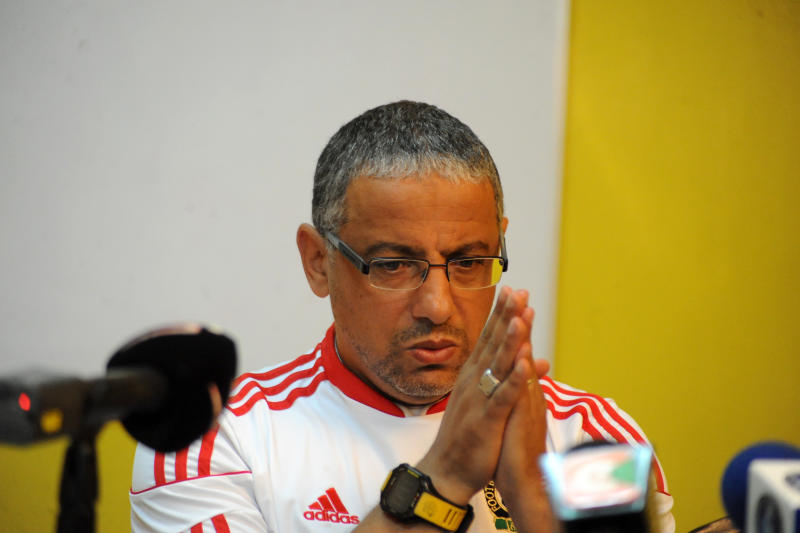 Former Harambee Stars coach Adel Amrouche has instructed his lawyers to clear the way for Kenya to take part in the FIFA 2022 World Cup qualifiers saying "he will not live with the regret of shattering the dreams of the same players he nurtured and gave hope."
The Belgian said he will pursue his compensation, but will not request FIFA to take drastic action against Kenya for a mistake committed by an individual.
SEE ALSO: How Kenya registered two wins in Chess Online show
The world football governing body has been waiting for Amrouche to give the green light for sanctions to be imposed on Kenya after the Football Association missed several deadlines to pay the Belgian tactician.
The FIFA Disciplinary Committee had warned on the fate of Kenya after Football Kenya Federation (FKF) defaulted to pay the former coach Sh109 million.
SEE ALSO: FA Cup final: Kenyan fans forced to watch action at home
"The matter will, upon request of the Creditor (Amrouche), be re-submitted to the Disciplinary Committee to impose harsher sanctions on the Football Kenya Federation. The sanctions may lead, amongst others, to expulsion from FIFA competitions," the letter from FIFA reads in part.
Speaking to Standard Sports on Monday, Amrouche said: "It's a tough decision to take, especially after my family suffered immeasurably as I pursued my right, and which the Court of Arbitration for Sports ruled I should be compensated Sh109million."
SEE ALSO: Chess: Kenya set to compete in Olympiad
"I will not be able to look into the eyes of Kenyans and still tell them how much I love them and Kenya when I will have dashed the dreams of the players who look up to me for inspiration," Amrouche said.
"Because of my love for Kenya, I delayed the decision to allow Harambee Stars play at the 2019 Africa Cup of Nation in Egypt," he said.
FIFA Disciplinary Committee has been waiting on the former Harambee Stars to instruct them to activate sanctions against Kenya, which would have included the removal of the national football team from the World Cup qualifiers.
October 19 last year, the Court of Arbitration for Sports (CAS) awarded the Belgian Sh109 million for wrongful dismissal by the Football Kenya Federation (FKF).
The figure rose to Sh113million after the Fifa Disciplinary Committee imposed a Sh4million fine when the case was resubmitted to the chamber on March 23.
"I was overcome by emotion after I met a group of Kenyans in Gaborone (Botswana's capital) shopping mall, who quickly recognized me. All they had was admiration for the work we did with the boys and despite knowing I am owed Sh109million, they said they stand with me but that we should find a way out," Amrouche said.
In 2013, the Belgian won the hearts of Kenyans with an exciting brand of football leading to Harambee Stars' victory in Cecafa Senior Challenge Cup victory, the first time since 2002, and holding Nigeria's Super Eagles to 1-1 draw away in Calabar.
"I am still in touch with the same crop of players I brought on board. I made the decision to install Victor Wanyama as captain and look I am happy at the way he has developed together with his teammates.
"For me, I bring life not death and so, I will pursue my compensation but allow Harambee Stars players to chase their dream of qualifying for Qatar 2022. I remain Kenya's fan. I want them to go as far as their talent can take them," Amrouche said.
Kenyan football fans had to weigh in on the matter on social media. Here are some reactions captured by GameYetu: