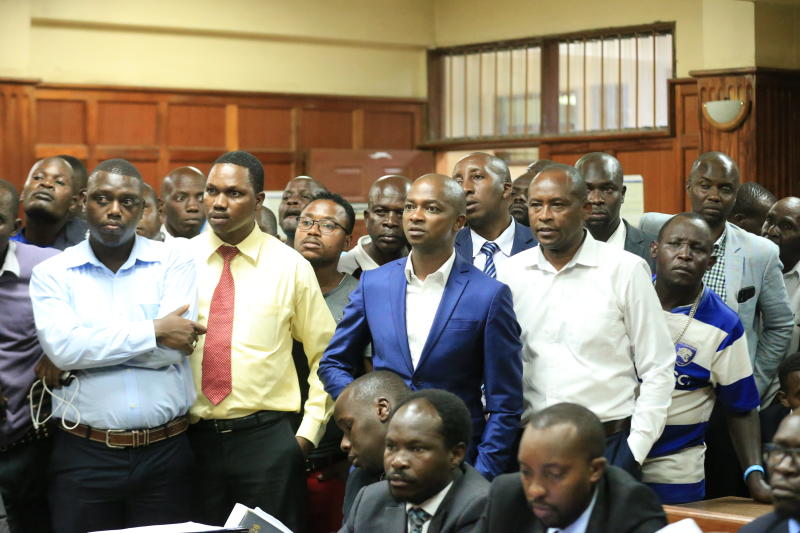 Pressure to resolve election crisis mounts after meeting
Stakeholders call for electoral justice as Mwendwa skips meeting called by SDT.
SEE ALSO: Leaked audio of FKF president Mwendwa puts FIFA on the spotlight
Calls for electoral justice dominated a football stakeholders' meeting yesterday chaired by the Sports Disputes Tribunal (SDT) Chairman John Ohaga, this even as Football Kenya Federation president Nick Mwendwa distanced himself from the process.
The meeting called to formulate mechanisms to break the FKF elections deadlock, in view of two Sports Tribunal rulings that annulled the intended exercise, also heard that question of eligibility at three levels must be resolved for free and fair polls be conducted.
SEE ALSO: Sports Disputes Tribunal has jurisdiction over FKF, High Court rules
The participants also called for a clear interface between the process and the FKF Constitution be established in order for credible elections be conducted.
On Thursday May 28, the Sports Tribunal, citing Section 59 of the Sports Act 2013, had called for a broad stakeholders' meeting.
SEE ALSO: Mombasa High Court stops Sport Dispute Tribunal from hearing FKF matters
It said: "In exercise of the powers conferred on it by Section 59 of the Sports Act, 2013, the Tribunal will convene a virtual round-table discussion on Tuesday June 2, 2020 from 2:30pm for all stakeholders to discuss and formulate a mechanism for creating a road-map in view of the urgent need for the FKF to hold elections one the Covid-19 pandemic is behind us."
FKF president Mwendwa, however, skipped the exercise when he wrote to the Sports Tribunal on Monday evening saying he would not be taking part in the process, which he called a "mediation process".
In doing so, Mwendwa argued: "Any process to be initiated or undertaken under section 59 of the Sports Act would essentially be a mediation process coming after a hotly contested adversarial litigation process rather than at the beginning of the contest.
He added: "Ideally, a mediation process is party driven and voluntary. Usual negotiations in mediation are undertaken before impartial and neutral third party without decision making powers. In any event, the stakeholders of football in Kenya comprise of many other parties and entities outside these proceedings."
Instead, Mwendwa said he would wait for a meeting called by world football governing body, Fifa.
Ohaga, however, said the meeting was not a mediation rather based on powers conferred to it apply alternative resolution mechanisms by providing its expertise and assistance.
The meeting, which adopted an open discussion via video conference saw stakeholders from all parts of the country engage in a cordial conversation.
The players, who the meeting agreed were the focal point of the game of football, through their association chairman Jerry Santos called for quick, clear roadmap for elections to protect them from drawn-out political grandstanding by the protagonists.
The meeting moderated by Ohaga and panelists Njeri Onyango and Mary Kimani agreed that there was need for protagonists to reach out to each other in order for elections to take place as soon as the Covid-19 pandemic allows.
Asked to clarify at what point the electoral process would commence, given that FKF insist they conducted County elections on March 14, Ohaga said: "It is the FKF that petitioned the SDT for an interpretation before the electoral could start. Therefore, it is impossible that they had an election before then."
The speakers also called for the mapping of stakeholders eligible to take part in the electoral process with clubs participating at different levels starting with the players' Association, Kenyan Premier League, the Women Premier League, the National Super League and lower division leagues.
Some of the key speakers were lawyers CBG Ouma and Nelson Odongo.