The five Frenchmen of Bayern Munich, as they gallop towards 8th title
FOOTBALL By AFP | May 31st 2020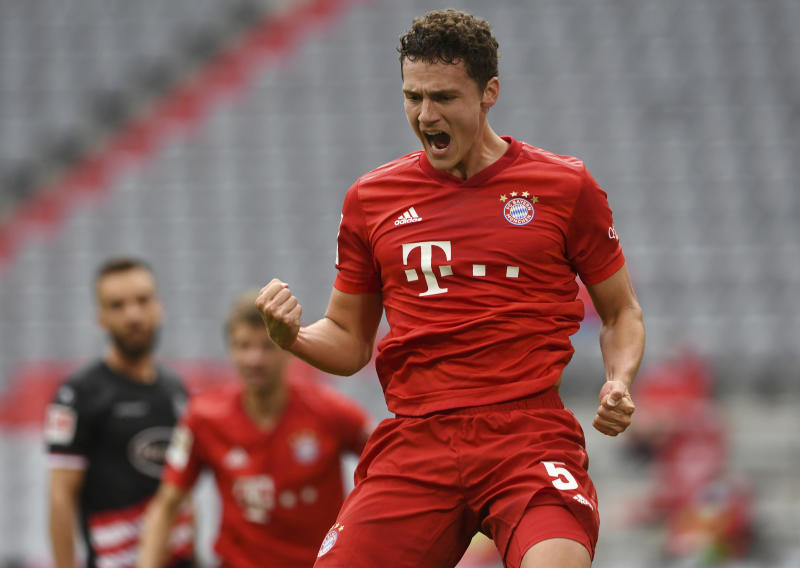 A great Benjamin Pavard.
The French world champion was able to be decisive during the crushing victory of Bayern Munich over Dusseldorf (5-0), Saturday on day 29 of the Bundesliga, while Lucas Hernandez, replaced at the break due to injury, n ' has barely had time to illustrate for his return to the Bavarian eleven.
Benjamin Pavard
Very active from the start, the three-color defender fired all means, including three shots on goal in the first period alone. A time credited with the opening score for Bayern (15th) on a recovery in the area of ??a strike from Gnabry, before the VAR intervenes to demonstrate that it was a counter-sound- Danish camp Mathias Jörgensen, known as Zanka, he allowed the Bavarians to make the break from half an hour of play (29th, 2-0) on an unstoppable header that passes over Kastenmeier before landing at the bottom of the left goal window of Dusseldorf. Pavard thus scored his fourth goal of the season and his 2nd since the recovery in mid-May.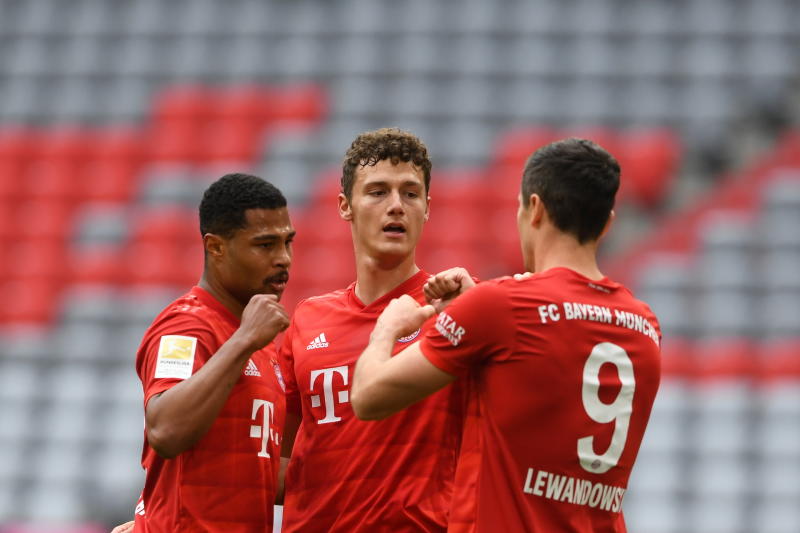 He had already nodded for the recovery match against Union Berlin (2-0) and therefore confirms its indisputable holder status since November for the leader of the German championship. Author of a nice half-volley at the start of the second period, diverted to a corner by Kastenmeier (56th), the French left the lawn four minutes later, replaced by Odriozola.
Lucas Hernandez
The world champion had not held since February 21, before the forced break due to coronavirus. Last week, he spent 85 minutes on the bench for the "Klassiker" against Dortmund. The central back, deflector of Atlético Madrid, hardly had the occasion to be highlighted in a match arch-dominated by his team. Wounded, he was forced to leave the field at break, replaced by Michaël Cuisance. "He had adductor problems and the risk was too great," said coach Hansi Flick.
Michaël Cuisance
The 20-year-old ex-Nancy, who arrived in Bavaria last summer after having illustrated in Mönchengladbach, had so far only made 5 appearances in the very last minutes of the matches. This time he was offered for the first time a full half-time with the "Rekordmeister". Visibly wanting to do well to live fully "his dream" of playing Bayern, the midfielder from Alsace has rather succeeded in getting started, with a few well-felt assists. Not yet enough to make a name for itself, but already a beautiful promise.
Kingsley Coman
The French international was relatively discreet in attack. He was replaced in the 61st minute by Perisic.
Corentin Tolisso
Still recovering from an ankle operation suffered in April, the French midfielder has still not replayed since the post-coronavirus recovery