Football has found its audience in Hungary
FOOTBALL By AFP | May 31st 2020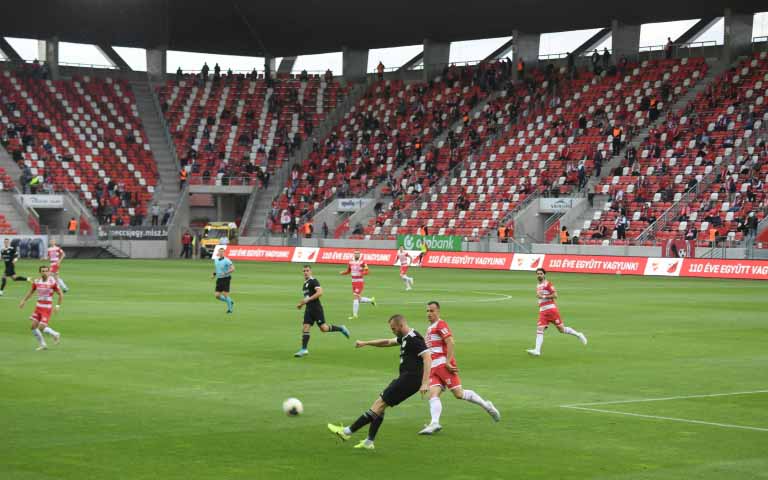 Football found its spectators this weekend in Hungary, where the stadiums reopened their doors to the public for the first time in more than two months after the stop in March of competitions caused by the pandemic of new coronavirus.
The Hungarian Football Federation (MLSZ) decided on Thursday to allow the public to come back to populate the stands, provided they do not occupy more than one seat in four and leave at least one horizontal row of separation between them.
"We will abide by the rules because if we break them they could re-impose closed doors," said Richard Kovacs, 36, one of 2,255 spectators who watched his team's match, Mezokovesd, on Saturday evening. a small town of 17,000 inhabitants a hundred kilometers east of Budapest.
The meeting of his club in Diosgyor, a club in a district of Miskolc, a city of about 150,000 inhabitants about fifty kilometers north of Mezokovesd, was one of the six to be on the program of the Hungarian Championship this week. end.
"The virus has not gone away, so we have to keep our distance," said Csaba Gasparics, a cautious 18-year-old student, his face behind a mask in Diosgyor's colors.
"What matters to us is the outcome of the match, not the coronavirus," said Gabor Lengyel, another 41-year-old spectator.
Aside from Ferencvaros, the Budapest club that drains a large audience, the other teams in the country attract significantly less crowds, with an average of 3,000 spectators per match last season.
With the exception of Belarus in eastern Europe, where meetings with the public have never stopped since the start of the Covid-19 pandemic, Hungary is the first country in Europe to allow spectators to frequent again the stages.
It will be imitated from June 19 by Poland, which has decided that from this date, the matches of its championship will take place before a quota of spectators limited to 25% of the stadium capacity.
Hungary, a country of 9.8 million, lists 526 victims of the coronavirus on Sunday, and 3,876 cases of people infected with Covid-19.
Take a quick survey and help us improve our website
Take a survey