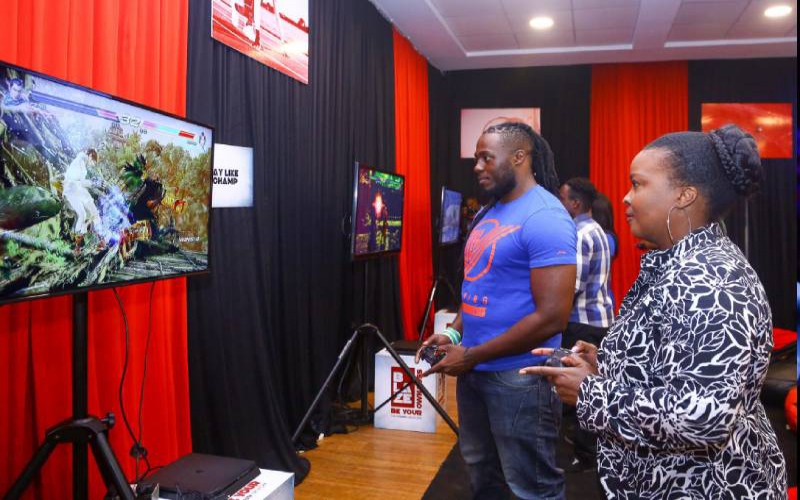 With the coronavirus pandemic bringing most of the sporting activities to a halt, online gaming has taken charge.
Electronic Sports or E-sports is basically competitive video gaming. It involves single or multiplayer video games played by teams or individuals.
Electronic sports is currently the talk of town.
With the novel coronavirus having compelled governments to order lockdowns and curfews, most people are staying at home. consequently ending up bored, thereby spending most of their time on their computers.

Although many play these games for fun, just to pass time, others have found a gold mine in the area - playing it professionally and winning prizes.
It is a competition like any other that gives participants a run for their money. Streaming services enable gamers to show their prowess and build fan bases online. Fans can even place bets on teams.

According to a report by NewsZoo, over 380 million people watch and participate in electronic gaming. Majority of these enthusiasts are from North America and parts of Asia.
Here in Kenya, the E-sports Kenya Federation (ESKF) launched the country's first e-sports league last year. This was aimed at promoting the country's participation in global e-sports competitions.
According to Babong Ojwang who is the ESKF National Chief Executive, there are 16 teams in the E-Sports league in the country, which compete for the top prizes.
"We are letting corporates own the (league) teams and run the teams to make them as competitive as possible and giving the athletes the chance to showcase themselves," explained Ojwang.
But how does one participate in this game?
We spoke to Moses Wakhisi who is an ardent player of the elite game and he explains more.
"The game can be played locally with friends, but it is also played in professional leagues. It is simple, once you connect to the game you can choose a player or a team to compete against and set prizes for the winner," says Wakhisi.
He further explains that when the league is played in a national or international stage, there is a need for the participants to meet at the venue where the game is officiated.
One of the first steps in starting e-sport is by finding your area of interest. Then practicing regularly in order to perfect the art.
Just like conventional games, one can participate in different sporting activities, such as football, volleyball, basketball, horse racing among others. It is virtually all other sporting competitions moved to the online space.
Presently, the game is a new trend especially now that many sports leagues have been cancelled.
Sylvia Gathoni is the first female pro gamer in Kenya to be signed by BDG E-sports, UK. This is after she posted sterling results in the inaugural international multiplayer game tournament in Kenya 3 years ago.
Sylvia in a recent statement hopes that she will become one of the best in the new game as she tries to achieve her best.
Globally, some of the best players include Johan Sundstein, who is a Denmark national followed closely by Jesse Valnikka of Finland. Pro Series Gaming (PSG) is one of the organizations that have invested in the sport in Kenya. PSG has vowed to help Kenya become the e-sport hub in Africa.
Some of the popular gaming events include; Call of Duty, Counter-Strike, Dota 2, FIFA 20, Mortal Kombat XL and Call of Duty: World War II.
Similarly, one of the best paying e-sport game is Dota 2.
Even as the coronavirus cloud continues to cover the global sporting activities, it is not all gloom and doom. Some sports can continue at home. You can still stay home and stay sporty.