Why Dan Shikanda is a traitor to some AFC Leopards fans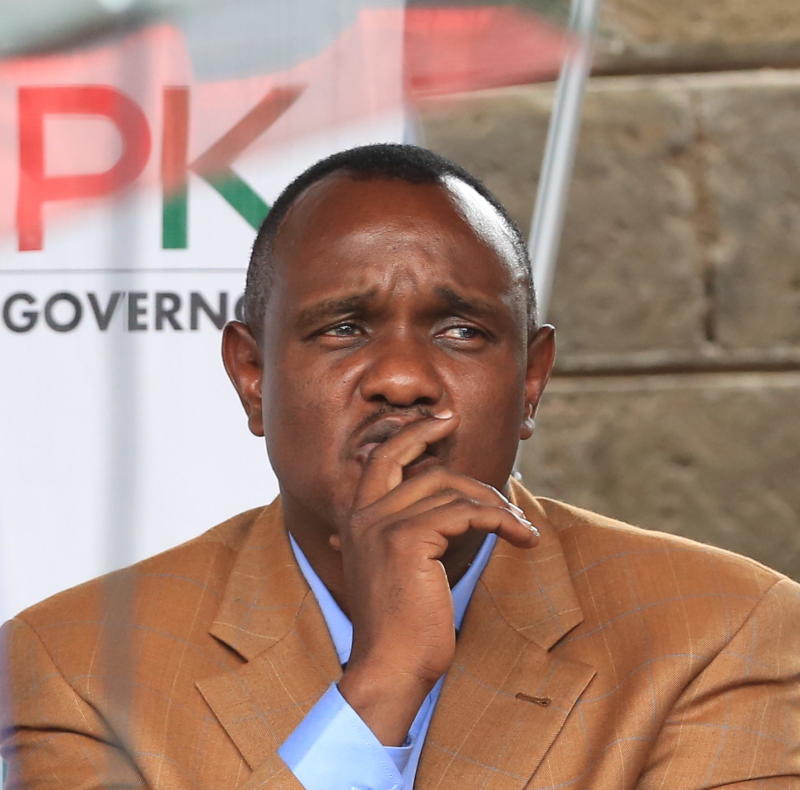 It's the legendary Gor Mahia coach Len Julian's who brought Shikanda to Gor Mahia
Ingwe boss belongs to the exclusive club that has won the league title both with AFC Leopards and Gor Mahia
Dan Shikanda is one of Kenya's most underrated football players.
In fact, if one would rank the top 50 greatest Kenyan footballers, he may not make the cut.
Yet, he prides to be in the exclusive club that has won the league both with AFC Leopards and Gor Mahia.
If a heart could be divided, Shikanda's would be green (Gor Mahia) on one side and blue (AFC Leopards) on the other.
He has previously donned a K'Ogalo jersey yet today he sits as the president of AFC Leopards, the first former player to achieve this feat at the club.
The original owners of AFC Leopards, then known as Abaluhyia, would turn in their graves were they to know a former Gor Mahia player today leads their beloved club.
But then again, gone are the days when rivalry between these two clubs was so intense, it could be equated to that of Celtic and Rangers in the Scottish league or that between Red Star Belgrade and Partizan in Yogoslavia.
Those days, an AFC Leopards player could not dare think of ever playing for Gor Mahia or even an Ingwe fan attending a Gor Mahia game.
But after John Okello "Zangi" broke the cardinal rule and joined AFC Leopards after falling out with Gor Mahia management in 1988, many players switched their allegiance, Shikanda being one of them.
"I am proud I played for both teams and know their traditions and pressures that come with it. I think this is what made me go for AFC Leopards presidency," he said in an interview.
But deep down, he also has some feelings for K'Ogalo. He contemplated vying for Gor Mahia top seat three years ago when Ambrose Rachier, the long serving Gor Mahia president said he would be stepping down.
That would have been a first. A luhyia playing for Gor Mahia is acceptable to Gor Mahia followers, but being a Gor Mahia official would have been a different case.
"I knew this was going to be a long shot for me winning over Gor Mahia followers," he said.
In fact, Shikanda was considered a traitor by some AFC Leopards fans opposed to his candidature as chairman of the club in last year's elections, simply because he played for Gor Mahia.
"This is a Gor Mahia player, it would be an abomination to have him as our chairman. He is a traitor," one fan wrote on his Facebook account.
"He is a Gor fan, we cannot allow him to lead us," another said.
But Shikanda managed to marshal support from the younger generation of fans and won the chairmanship by a landslide.
Shikanda played for AFC Leopards between 1986, 1989 winning the league three times; in 1986, 1988 and 1989. But it is in 1989, when he actively played in the title winning team.
"In 1986, I was among the young boys recruited by the club alongside my elder brother Hezekiah (R.I.P). We had a star-studded team that had the likes of Wilberforce Mulamba, Dan Musuku, Peter Zimbo Owade, Patrick Shim….name them. These are some of the greatest names to have donned the Ingwe jersey. I was a junior to them."
He as a schoolboy at Mangu High when he joined Ingwe and says that was the turning point of his footballing career.
"Training with these big stars, who I would only watch on TV, was very motivating and inspirational," he said.
Interestingly, it is some of these ex-players who welcomed him into Ingwe then, who played a big role in his victory of the chairmanship seat.
"I appreciate and thank them for the support they game me," he says.
In 1988 when the likes of Mulamba were exiting the scene, Shikanda and the new breed of players among them Mickey Weche, John "Shoto" Lukoye, Wycliffe Anyangu, David Akoi, John Busolo and Thomas Omboko were emerging.
And while Shikanda had to balance between studies and playing, he would find time to train and play for the club.
"It was not very easy because I was also in the university. But the technical bench would give me a game or two."
Shikanda was in the winning team of 1988 and 1989 before he committed the ultimate crime and moved to Gor Mahia in 1992.
"There was a lot of politics in the club around that time. Politics that ripped the club apart from the management to the playing unit. I opted to leave and Gor Mahia was there to welcome me," he said.
It is the legendary Gor Mahia coach Len Julian's who brought Shikanda to Gor Mahia.
"I missed a crucial game for Ingwe against Gor Mahia, which K'Ogalo won. I was doing my final exams on the eve the derby and could not attend the training sessions and the game. After finishing the exams on a Friday, that evening, the university team played a friendly against a visiting Zimbabwe youth team, which we won 4-1 and I scored a hat trick."
"The following day, Gor beat Ingwe and were declared champions. Leopards suspended me for being part of the players who had sabotaged the team. Gor offered me a home and that is how I ended up a K'Ogalo."
His transition to Gor Mahia was so smooth that he broke into the first team, joining the likes of Zedekiah Otieno, Paul Ochieng, Pius Wamaya, Mike Otieno, Tom Ochieng, among others.
Just like AFC Leopards, Gor Mahia squad was going through a transition. The great squad of the 80s was exiting and a new crop of players coming in.
Shikanda was in the squad, captained by Zedekiah Otieno, which won the league in 1995, the last time K'Ogalo won the league until 2013.
"It feels great having won the league with the two most successful, oldest and the most followed clubs in this country. I am very proud of this," Shikanda said.
Now 53, Shikanda is in the murky football management.
He has tried his hand in politics with no success. He first plunged into elective politics in 1997 when he vied to be MP for Makadara. He lost to the late Dick Wathika. He did not stop there and was back on the ballot for bigger things. In the 2017 General elections, he was a running mate to Peter Kenneth in the Nairobi Governorship race, which they lost.
His moment of glory came when he was elected AFC Leopards chairman beating Bernard Musundi in the last year's elections at Kasarani.
"I came into football management because I saw the gaps when we were playing," said the doctor cum business development consultant.
"While we had the talent, which has never lacked, poor planning has been our Achilles heel. If proper management would have been put in place during our playing days, or even earlier, we would not be dreaming of winning Africa club championships or winning the Africa Cup of Nations."
"But because of poor leadership at club and federation level, we find ourselves where we are today. We had no strategic planning."
He added that it's a shame for clubs like AFC Leopards or Gor Mahia not to have the basics.
"Fifty years down the line, the two oldest clubs do not have training grounds, club houses or even their own stadiums," he said.
"This season alone, AFC Leopards have played their home matches in eight different stadiums and at one time, there was no venue to host the derby because Nyayo Stadium is under renovation and we had been barred from playing at Kasarani."
Already, Shikanda's impact is being felt at the club. Under his leadership, the club acquired a modern bus, though it was a donation from President Uhuru Kenyatta.
"But we want to move beyond that. We want to be financially stable, be able to buy the best players and retain them," he said.
"It is a shame that in this day and age, AFC Leopards is competing with lightweight clubs to sign players. That should not be the case. Every player should be fighting to play for Ingwe."
Shikanda said he has a strategic plan for the club, which will help it win the Kenyan Premier League within the next two years and the Africa Champions League in five years.
"Its ambitious, but achievable," he said. "I know there are those who have come before and promised so much and left with nothing to celebrate about. But I want to leave a legacy at this club."
"Football is a big industry, we have to commercialise our football and turn clubs like AFC Leopards and Gor Mahia into profitable and attractive entities."
"I know the future is bright for AFC Leopards and by extension Gor Mahia, but we must set up the right structures and have achievable goals."
"If AFC Leopards and Gor Mahia do not work closely and set up structures, our football is doomed because the other clubs do not attract any passionate following."