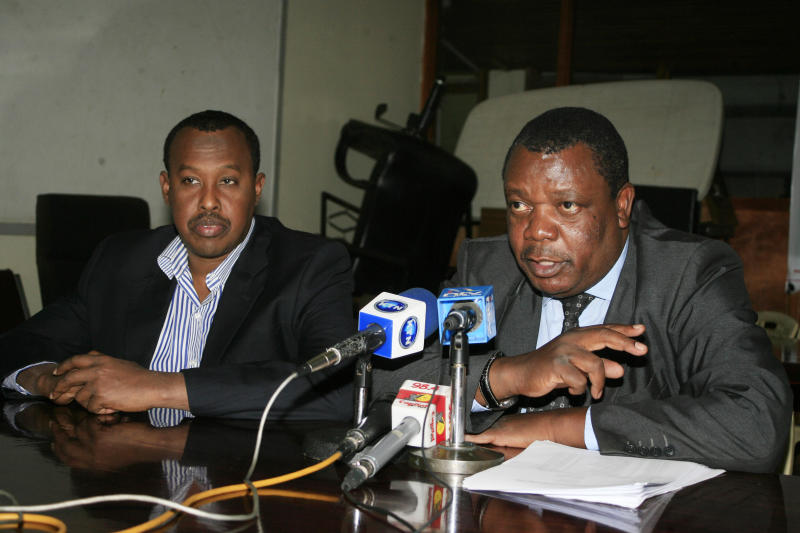 Former Council for East and Central Africa Football Associations (Cecafa) General Secretary Nicholas Musonye admits he is weighing up prospects whether to contest for the Football Kenya Federation (FKF) presidency in the stalled elections.
This is after some former footballers urged Musonye, who recently stepped down as the regional body's boss after two decades in charge, to vie for the top seat.
In an interview with Standard Sports yesterday, the 55-year-old former sports journalist-turned football administrator said he could join ex-FKF supremo Sam Nyamweya in the race to replace Nick Mwendwa.
"People have the right to propose who they want to propose, but I will make the decision at the right time when the environment is conducive for everybody. Right now, we are dealing with coronavirus as a country. Football politics will be discussed at the most appropriate time, and that will be when we are done with this mess. You cannot run for a post when people are dying or are in danger," said Musonye.
"But it's something that I can consider and I will put into perspective the proposals from the stakeholders. I've read what people have said and I will come up with my clear position at the appropriate time. The most important thing right now is to support the government in the fight against Covid-19. So that even if I become the FKF president I will still have players. I don't want to be a president without people to lead."
He added: "We are praying and hoping that normalcy will return soon so that we can start talking about football politics. I can't talk about football politics now when people are in danger. I want to follow the government's directive."
Asked if he will shelve his initial ambitions to vie for the Kakamega gubernatorial seat in 2022, Musonye said: "When I take a position I stick to it. But there is no relationship between the Kakamega governorship race and FKF presidency. The governorships elections is in 2022, right?"