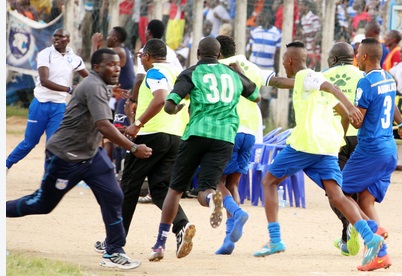 Bandari coach Ken Odhiambo has reminded his players to strictly stick to the home training programme he gave to them before the team took a break due to the COVID-19 pandemic.
The virus caused a worldwide postponement of sporting calendars on medical grounds.
"I direct all the players to stick to the training program at their homes and gardens to remain fit before the league resumes," Odhiambo said.
"My first assignment is to restore faith in the team and win games. This will help us to prepare well for next season," said Odhiambo in an interview yesterday.
Odhiambo returned as the head coach of Bandari recently to take over from Twahir Muhiddin who has been acting as coach cum Technical Director after the departure of Bernard Mwalala in January.
It's good I'm returning home. I call it home because I've been here before and I know the culture and traditions of Bandari FC," said.
Odhiambo, who left the dockers in 2018 for further training, replaced Muhiddin, who has been in charge on an interim basis. Muhiddin has retained his Technical Director assignments. He has been holding brief since Bernard Mwalala was sacked early this year for poor performance.
At the same time, midfielder Mohammed Katana has signed a two and half-year deal with a top Belarusian side, Smovelechi.
Katana, who played four matches for the Coastal side after joining the team last year had a three-month trial with the European side before penning the lucrative deal before the closure of the Belorussian transfer window.
"This is a dream come true. I will give my best," said Katana after joining the Belorussian top tier club.
However, Katana fondly known as Messi Agege has not started training with the team due to the global coronavirus pandemic.