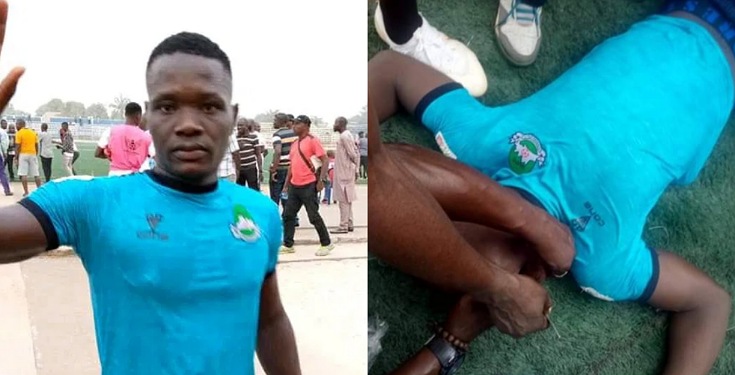 Nigeria Premier League side Nasarawa United player Chieme Martins died on Sunday evening on the pitch after collapsing.
According to media reports, the defender went down when the game was still goalless after he collided with an opponent during their top-flight game against Katsina United at the Lafia Township Stadium in Nasarawa state.
A team of medical personnel tried to revive him but without success- leading to calls for an ambulance to take him away from the pitch.
However, the ambulance which was stationed at the stadium reportedly failed to start, causing a delay in seeking medical treatment for the 22 year-old player.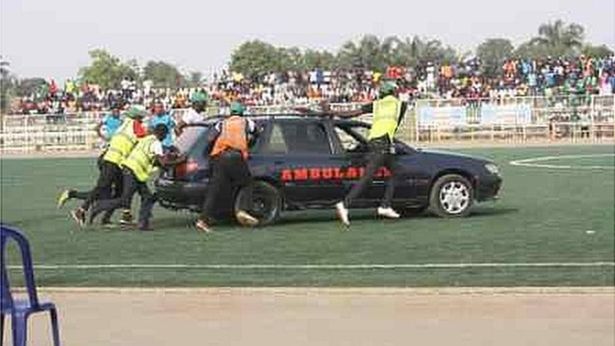 It is understood a press vehicle was later used to take him to the hospital, but medics failed to save his life and he was pronounced dead shortly after arrival.
News of his death filtered back through to the game, which ended 3-0 in favour of Nasarawa, leaving his team-mates inconsolable as they learned of their tragic loss.
A video of his teammates crying after the unfortunate incident has since gone viral on social media.
AGONY! Nasarawa United players in tears after Chieme Martins was confirmed dead after Sunday's NPFL clash vs Katsina United. Martins slumped following a collision, however, he gave up the ghost stranded as the Peugeot 406 ambulance stationed match venue did not start ?????????????????????? pic.twitter.com/PbIms2NkXP — Shina Oludare (@sportingshina) March 8, 2020
Confirming his death, a statement from the Nigerian Professional Football League (NPFL) said that Martins' body will undergo an autopsy to determine his cause of death.
"The League Management Company (LMC) has confirmed the report of the death of Chineme Martins, a defender with Nasarawa United FC, who slumped during NPFL tie against Katsina United in Lafia," the statement read.
"The player was attended to by medics of the two clubs when he slumped and was later rushed to Dalhatu- Araf Specialist Hospital in Lafia where he was later pronounced dead.
"The LMC expects that there would be a standard autopsy to establish the cause of the player's death.
"Furthermore, the LMC will keep engaging the club and the player's immediate family to find the best way possible to offer support in this sad moment for the family and the Nigeria football family at large."
Nasarawa united fc also on its official Twitter account confirmed his death.
We lost a player today against @fckatsinaunited. A great professional and a gentleman. #RipMartins #NasarawaUnitedmourns pic.twitter.com/rWGcJotNqf — Nasarawa united fc (@NasarawaUnited) March 8, 2020
Martins before his death, played for FC Abuja, Gabros, and then FC Ifeanyi Ubah before he joined Nasarawa United.