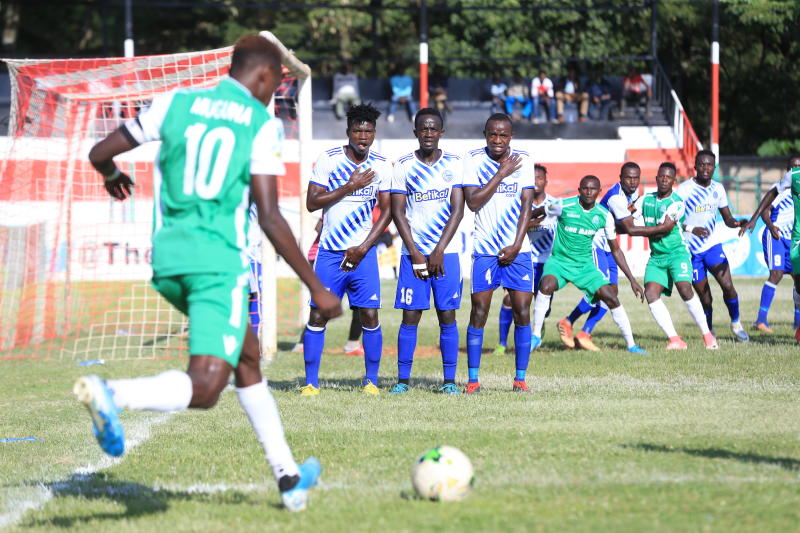 The once vibrant Kenyan Premier League is in a dire financial crunch and is slowly losing its luster if the latest development in the domestic league is anything to go by.
The league organisers are yet to pay record champions Gor Mahia their Sh4 million title-winning prize money for last season as well as procure a trophy for the on-going 2019/2020 season.
Things have not been rosy in KPL since their official title sponsors, SportPesa, pulled the plug on all its sports sponsorships in the country in August following a prolonged tax dispute with the government.
SportPesa were in their third year of their Sh259.7 million title sponsorship deal with KPL before they cancelled it. This move left the league in an awkward situation forcing clubs to start catering for referees' officiating allowances.
SEE ALSO: PHOTOS: President Uhuru gives KPL club new team bus, donates Sh2m
Gor Mahia and AFC Leopards were directly affected by SportPesa's exit as they were both sponsored by the betting firm.
Even as the league enters round 21 this weekend, KPL CEO Jack Oguda says they are not sure if there will be prize money at the end of the season. Unlike the previous seasons, they will source for the trophy locally.
SEE ALSO: Stadia without good sports bosses really mean nothing
"We still don't have a title partner on board. We have been trying to knock doors, but there is no concrete feedback yet. The only partnership we've at the moment is LaLiga through free to air broadcast KTN News," Oguda told Standard Sports.
"I can't confirm if there will be prize money this season because we are yet to find a sponsor, but in regards to a trophy there will be one.|
"We are sourcing for the trophy locally. The league is going on but we are struggling financially. We are hopeful it will conclude well."
Though the league's financial crisis is well documented, Gor Mahia treasurer Sally Bolo said they are only participating in the league as an avenue to get a ticket to represent the country in Caf competitions.
"KPL have not paid us last season's prize money and we have not received any communication from them regarding the same. Probably, they will say they don't have sponsorship which we understand, but they should have done something by now," said Bolo.
"The league has lost its value and we (Gor Mahia) are just participating in it to give us a foundation to playing in Caf competitions."
She added: "Basically, right now we are playing in a league that has nothing; no trophy and prize money. We kept last season's trophy for good after winning it three times in a row."
The outspoken official further accused KPL of poor marketing strategy with the LaLiga broadcasting partnership deal not benefiting the players — key stakeholders of the game.
"KPL should do their job well. You can't say Gor Mahia and AFC Leopards' value is the same with other teams in the league when it comes to TV rights. Our value preposition is much higher than other teams," said Bolo.
"The current free to air broadcasting deal is only benefiting a few individuals and not the players, who are the main stakeholders. Though it gives clubs an opportunity to market themselves through social media (Facebook and Youtube), at the moment there is no monetary value we are getting from the deal."
But Oguda differed with Bolo's opinion and said: "We recently got a report from GeoPoll showing the audience figures for the league to be close to 450-500 eyeballs every weekend. The reason why we decided to be on free to air is so that we can have many people watching the league and try to sell that to potential sponsors. "This has been part of our presentations to the potential sponsors we have been talking to."