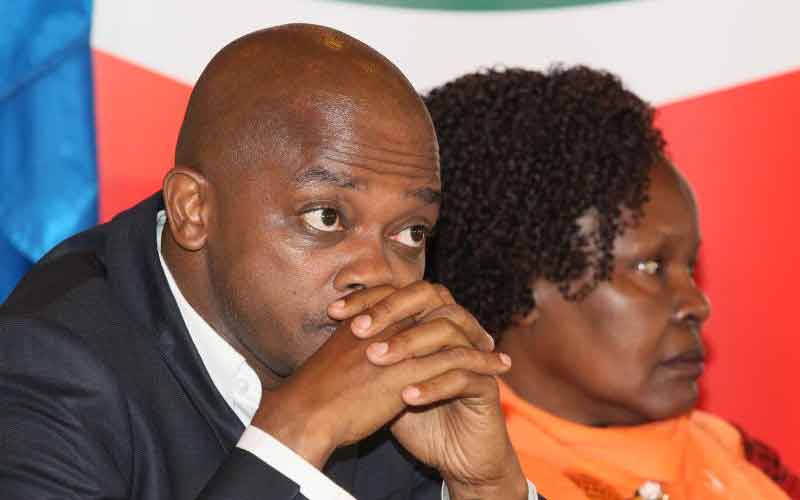 Two clubs have moved to Sports Tribunal further complicating football association's case against Sports Act custodian.
The plot is thickening. Yet, the time for Football Kenya Federation (FKF) to deliver credible elections is fast running out.
Days after FKF moved to the Sports Disputes Tribunal seeking to have directives issued by the Sports Registrar stopping its elections declared as "mala fides, unreasonable and unlawful", two clubs have now also lodged a petition in the same court accusing the FA of excluding them.
The clubs, Bondeni FC and Cheptiret United FC have among other complaints said their exclusion from the election exercise is unconstitutional
"The exclusion of clubs participating in Sub-branch organised or Sub-branch authorised football competitions violates sections of the Sports Act 2013 as read with Article 81 of the Constitution of Kenya 2010 in that the same are neither free nor fair, nor based on universal suffrage," the clubs said through their lawyers, Charles B.G Ouma & Co Advocates.
With FKF having inaugurated an elections board and the electoral timetable that has kicked off and expected to end on April 4, the clubs want the Tribunal dispose of the case before elections are conducted.
The move comes a day after FKF published a public notice in a national daily, as ordered by the Tribunal on February 6. The notice challenges among other issues, the Sports Registrar's directives demanding the registration of constituent clubs/members of the sports federation as a mandatory requirement before conducting elections.
The clubs' contention that the 2020 FKF Elections are being held in contempt of the Tribunals Orders on compliance with the provisions of the Sports Act 2013 could further complicate FKF's quest.
The clubs have also contest that FKF has not complied with previous Tribunal orders: "The Respondent (FKF) has not complied with the orders of this tribunal in SDT Nos. 21 and 24 of 2020 on the mandatory requirement of public participation on the FKF Electoral Code," the clubs insist in documents seen by Standard Sports.
The clubs further want the Tribunal to find FKF to have no valid Appeals Board.
"Article7(1)A of the Electoral Code violates the principles and provisions of Fifa Statutes, Fifa Standard Electoral Code on the independence and impartiality of the Appellate Body."
The suit could set off a chain reaction that could see FKF miss out on March 30 deadline as advised by world football governing body, Fifa.
In a letter on November 15, the Sports Registrar said: "It is not proper for FKF to hold elections for County Sports Associations that have not registered in my office and also use non-existent County Sports Associations to vote in officials."
The football association, however, wants the Tribunal to declare: "That a branch of a national sports organization is not synonymous with a county sports association and consequently, a national sports organization has no obligation in law to register county sports associations but to create and maintain branches as an organizational unit as it may from time to time deem fit and as provided for in law."