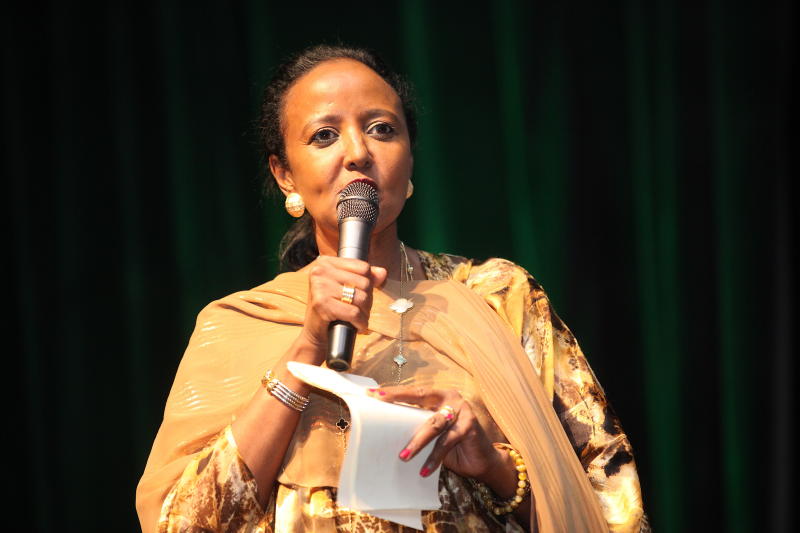 Sports Cabinet Secretary off to Zurich, Switzerland, with FKF boss, Sports Registrar and Tribunal chair in tow as FA's election headache persists.
Sports Cabinet Secretary Amb. Amina Mohamed is staring at a legal quagmire of monumental proportions touching on the sanctity of Kenya's Constitution 2010 as she heads to Fifa today to make a case for a FKF electoral process that the Sports Disputes Tribunal nullified on December 3 last year.
SEE ALSO: Amina: You must finish Kinoru Stadium within 20 days, or else...
The Sports Registrar, Rose Wasike, had earlier also stopped Football Kenya Federation from conducting the same elections vide a letter dated November 15, 2019 citing serious breaches of the Constitution of Kenya and the Sports Act 2013.
The term of the current FKF office expires on February 10 while the Sub-branches and Sub-branches expired on January 26.
SEE ALSO: Wilfried Zaha teases Arsenal transfer with clear message
In a visit to Nairobi on December 12 last year, Fifa's Governance Services Manager Sarah Solemale reiterated that elections must be held before the current term of FKF office holders expires.
Solemale told Goal.com: "Fifa is closely monitoring the situation to ensure the compliance of the SDT decision is done and also within a reasonable amount of time. It is important for FKF to know that at the end of the presidential and the National Executive Committee term, which is to end on February 10, 2020, elections must be held."
SEE ALSO: Serena to step into US Open in style
However, in a letter dated December 13, 2019, FKF requested CS Amb. Amina to allow it proceed with elections and thereafter comply with Constitution of Kenya 2010 and Sports Act 2013 despite having been in office since 2016.
The letter reads in part: "FKF wishes to request your good office to allow the federation start the process of complying with the Sports Act fully, immediately after its elections scheduled for March 28, 2020."
This, in spite of Sports Court finding that the FKF election process failed to "adhere to the national values of public participation as set out in Article 10 of the Constitution of Kenya 2010 in formulating and adopting the electoral Code."
The Tribunal chaired by Ohaga had also found that FKF "failed to adhere to the requirements of the Fifa Statutes in constituting the Electoral Code."
Emboldened by a Special General Meeting held yesterday in Nairobi, which one of FKF member clubs said was illegal as it was attended by branch officials whose tenure ended on January 26, FKF President Nick Mwendwa will accompany CS Amb. Amina to Zurich, Switzerland together with Sports Disputes Tribunal chair John Ohaga and Sports Registrar Wasike.
"All our eyes will be on CS Amina whether she will defend our Constitution or sacrifice it at the altar of selfish interests," said Evans Rono, an aspirant for FKF NEC Upper Rift seat.
"The situation is made worse by the fact that FKF has no legal operational constitution because by their own volition, they repealed the FKF 2012 Constitution on November 17, 2017 and adopted a new one effective February 1, 2018. Unfortunately, the said new Constitution is not aligned to the 2010 Constitution of the Republic of Kenya and Sports Act 2013 as confirmed by the Sports Registrar's letter of November 15," Rono said.
According to Andrew Amukowa, an aspirant for FKF NEC (Western), should the CS Amb. Amina give FKF the latitude to hold elections at the behest of Fifa, she will have trashed the letter by the Sports Registrar, Rose Wasike, that reminded the local FA of Constitutional obligations and the Sports Tribunal's findings.
Wasike, in her November 15 letter to FKF President Mwendwa, said: "It is not proper for FKF to hold elections for County Sports Associations (read branches) that have not registered with my office and also use non-existent County Sports Associations to vote in officials of Football Kenya Federation." To date the Branches are yet to be registered.
FKF yesterday approved a new Electoral Board in a controversial Special General Meeting, which a Presidential aspirant Lordvick Aduda said had no legal bearing.
"In the absence of legal operational constitution, all processes are invalid because they are not founded on any legitimate constitution," he said. He added:"Never mind that public participation as odered by the Tribunal has not been conducted."