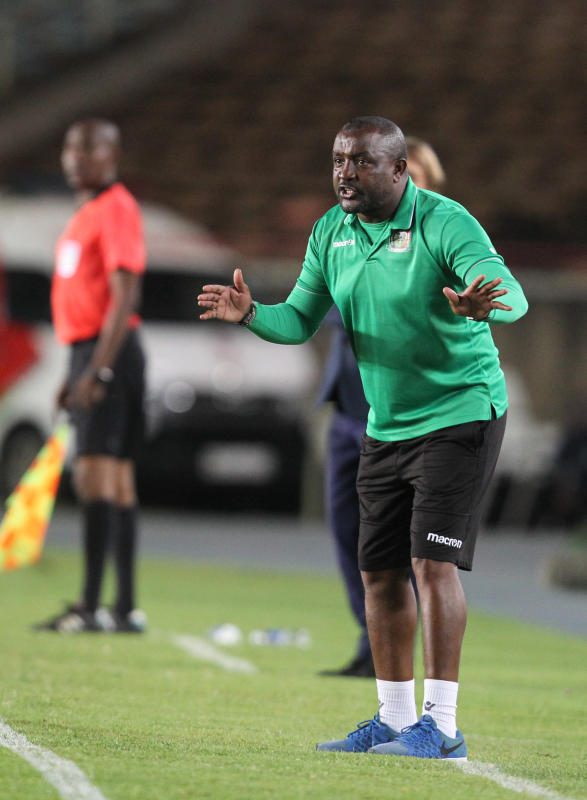 Harambee Stars head coach Francis Kimanzi will have to watch the next two Cecafa Senior Challenge fixtures from his hotel room's television after being handed a two-match suspension by the regional tournament's Organising Committee for unsporting behaviour.
Kimanzi's ban starts today at 1:30pm when the defending champions battle Sudan at Lugogo Stadium, Kampala in their second Group B match.
SEE ALSO: Next year's Africa Cup of Nations finals could be postponed
The Dutch-trained coach will also be missing from the touchline during Harambee Stars' final preliminary round tie against Zanzibar on Saturday.
But victory today against Sudan will see Kenya qualify for the semifinals with a match to spare.
SEE ALSO: About Noah Wanyama as his son Victor Wanyama wishes him happy Father's Day
Kimanzi was suspended after he allegedly chased the fourth official, Mohamad Guedi, from the dressing room moments before Kenya's 1-0 win over Taifa Stars of Tanzania on Sunday.
Kimanzi and his technical bench members are also accused of mobilising the players to boycott the match by locking them in a dressing room over claims that three Tanzanian players had no valid passports.
SEE ALSO: Plight of former Stars coach Mulwa shocks nation
In addition, the Kenyan team allegedly broke the dressing room's door lock during the protests, which saw the kick-off of the match delayed for over 10 minutes.
And after discussing the incidents surrounding the encounter, Cecafa's Organising Committee suspended Kimanzi for two matches with immediate effect, while his assistant Zedekiah Otieno received a reprimand.
"Mr. Francis Kimanzi, the team head coach is suspended from the technical bench for two consecutive matches of this tournament and should not appear anywhere in the stadium while serving the punishment," read a statement signed by Cecafa Secretary General Nicholas Musonye.
"The Assistant coach Mr. Zedekiah Otieno is hereby heavily reprimanded for his unprofessional character."
The statement added: "The rest of the team officials are also warned against such unsporting behaviour that sets bad examples to the players and painted a bad picture to other participants."
"You are required to submit to the Organising Committee, the list of the five officials sitting on your technical bench before your next fixture."
In a further phone interview with Standard Sports, Musonye said Kimanzi should consider himself lucky as the consequences would have been worse if he was not in the meeting.
"Kimanzi should consider himself a lucky man because I was in that meeting and I really tried hard to shield him. He would have been skinned alive," said Musonye.
"From the reports I got, what he did was very unprofessional. Were it not for me, he would be in Nairobi right now."
Kenya are currently top of the group with three points, two ahead of joint tied Zanzibar and Sudan who played out to a 1-1 draw in their opening match on Sunday.