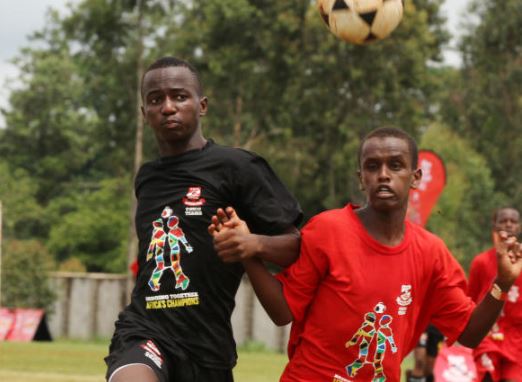 Kenya yesterday edged out Botswana 1-0 to reach the semi-final of this year's Copa Coca Cola Under-16 Africa Cup currently on at the M-Pesa Foundation Academy, Thika.
Mohammed Mbaruk's 66th-minute penalty kick was enough to see the hosts inch closer to retaining the title they won last year.
National champions Serani who are flying Kenya's flag in the tournament are tasked with ensuring that the trophy remains home as they square off with neighbours Tanzania in the semi-final.
Tanzania whipped Uganda 6-2 in the quarters to qualify for the last four. The second semis tie will also be a neighbours affair as Zimbabwe square out with Zambia for a place in tomorrow's final.
Zimbabwe thumped Namibia 4-1 while Zambia drubbed Angola 8-1 to set the book the semis date.
Kenya's Nassoro Mwinyi said they will be looking to stage a brilliant show against Tanzania. "We are not afraid of their high scoring in the quarters because we are determined to reach the final and we are looking to having a good game," Mwinyi said.
He added that despite a slow start to the competition and poor finishing against Botswana they were still confident of going all the way to the final.
"We created many scoring chances but our finishing was blunt. However, it is behind us now and what matters is what we do in our next encounters and we will surely rise to the occasion."
His Tanzanian equal Gerald Kapanga made their intentions to win this year's trophy known saying before embarking on the trip to Kenya they promised to go back home as champions.
"Before we came for this championship I made a promise to Tanzanians on behalf of the team that we will win the trophy and we are keen to remain true to our course. We genuinely respect Kenyans, but it doesn't mean that we will let them have their way," Kapanga said.
Against Botswana, Kenya would dominate in every aspect from the whistle but fell short in attack. Botswana were totally subdued and pinned in their own half as Kenyan shot-stopper Ismael Tole enjoyed what seemed like a off day in goal.
On the other end of the pitch his equal Busang Manson was under frequent attacks as Elisha Joel, Mwinyi, Leonard Okuku, Marcos Odhiambo and Fredrick Onyango put Botswana defence under the test.
Even so, the Kenyans would continue firing blanks for a barren draw at the breather. Kenya outplayed Botswana in the second half but once again failed to kill off the game.
The gods of football favoured the hosts with a penalty following an infringement in the 66th minute. Mohammed Mbaruk did not disappoint scoring the all-important goal minutes to the final whistle.
Paul Nyerere was on fire hitting a hat-trick while Kassim Ibrahim netted a brace as Tanzania came from a goal down to halt Uganda's hopes of bagging this year's title. Frank Sephania scored the other goal.
Patrick Ouke and Abasi Kyeyune scored Uganda's consolation goals.