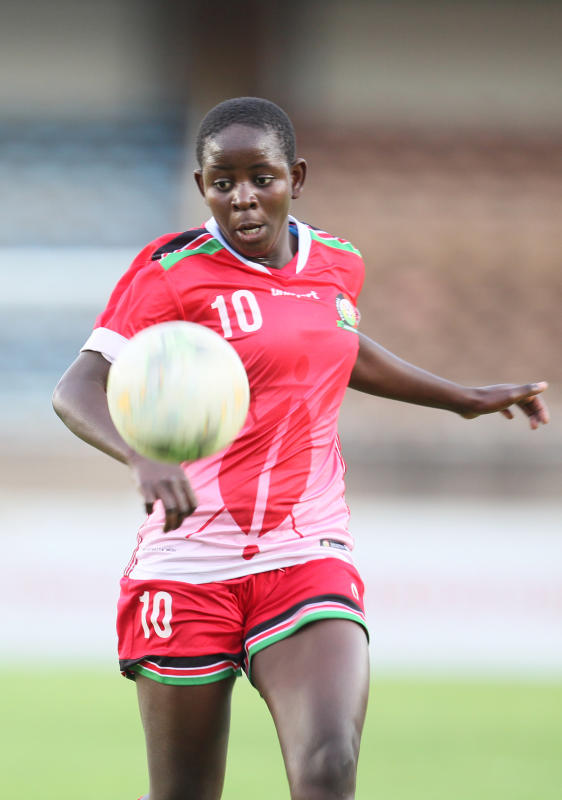 Women football in Kenya faces a number of challenges that range from underfunding to lack of proper facilities. But the new Harambee Starlets and Vihiga Queens striker Jentrix Shikwanga beat huge to shine a sport she has an unbridled love for.
At only 18 years, Shikwanga's star is already shining bright and has made history by emerging top scorer at the 2019 Cecafa Senior Women challenge that ended on Monday in Dar es Salaam, Tanzania.
The Standard Sports caught up with the budding star to share about her life, plans, and career aspirations.
HOW DID YOU FEEL WHEN YOU EMERGED TOP SCORER IN THE JUST CONCLUDED CECAFA SENIOR WOMEN CHALLENGE CUP?
It was an indescribable feeling; it was my first time in the competition I had given my best and contributed to the team's success. No words could explain my emotions at that moment.
SO, YOU CAME OFF THE BENCH IN THE FINAL AND SCORED THE TWO WINNING GOALS AGAINST HOSTS TANZANIA, WHAT WAS YOUR INSPIRATION?
In everything I do, I strive to make an impact. While on the bench, I had watched carefully how Tanzanians played in defence and it gave me a rough idea of how to get the better of them. I was also inspired by the commitment of the entire team and the desire to win. We had fought a good fight throughout the tournament and we were only minutes away from achieving our objectives, so I resolved to compliment everyone's effort by ensuring that we seal the victory and snatch the regional trophy.
YOU HAVE BEEN CONSIDERED ONE OF THE MOST PROMISING FUTURE STARS IN THE COUNTRY, HOW DO YOU FEEL?
I feel challenged because it means that I must work harder to live up to the expectations of the entire nation.
WHO IS THE DEADLIEST DEFENDER YOU HAVE EVER ENCOUNTERED IN YOUR PLAYING CAREER SO FAR?
This is interesting, I just started playing in the women's Premier League but I must say that my schoolmate Sheila Kiprop is the toughest defender I have ever met so far and strikers must watch out because it is no ordinary player.
SO, DO YOU MEAN THERE IS NO A DEFENDER WHO TROUBLES YOU IN THE PREMIER LEAGUE?
I just joined Vihiga Queens and so far I haven't encountered one.
WHAT'S THE CRAZIEST THING YOU HAVE EVER DONE ON THE PITCH?
Funny! I almost ran off the pitch after I missed a penalty.
HOW DID YOU FEEL WHEN YOU WERE NAMED IN HARAMBEE STARLETS SQUAD FOR BOTH OLYMPIC QUALIFIERS AND CECAFA CHALLENGE?
That's the best thing that ever happened to me. I felt really excited and proud to have made the cut. As you know, it's a dream of every footballer to don the national team colours. We failed to qualify for the Olympics but made amends by winning Cecafa and I hope to maintain my place in the team because I want to play at both the Africa Cup of Nations and Women's World Cup.
WHAT ARE YOUR FUTURE FOOTBALL PLANS?
I want to finish school and college first thereafter I want to go big and play professional in Europe.
APART FROM FOOTBALL, WHAT IS YOUR DREAM CAREER?
I want to be a police officer.
WHY A POLICE OFFICER AND NOT ANY OTHER JOB?
I desire to join the Police because it is all about service, I enjoy serving people and I believe that a police job will provide me a platform to not only serve but protect the vulnerable in society.
WHAT'S YOUR FAVOURITE HOLIDAY DESTINATION?
Home of course! Kakamega is my favorite because when it comes to unwinding and relaxing Muliro Gardens does it for me.
WHAT'S THE BEST GIFT YOU HAVE EVER RECEIVED?
Mmmmm! I haven't received any gift yet, please be the first to buy me one.
GIVEN CHANCE, WHAT WOULD YOU CHANGE IN THE KENYAN FOOTBALL?
I would improve the standards and welfare of women footballers. I would also work towards bringing equality in men and women's football so that all players get similar treatment male or female in terms of allowances and opportunities.
WHO IS YOUR MOST TRUSTED FRIEND AND CONFIDANT IN THE TEAM?
Topister Situma, we play together at Vihiga Queens and Starlets and I can confide in her at any time.
WHO'S THE PLAYER YOU WATCH ON THE PITCH AND SAY, "HE'S SOMETHING SPECIAL TO WATCH?"
Liverpool and Egypt striker Mohammed Salah. He is a brilliant forward who is able to think and play at the same time. He is my role model.
WHAT IS YOUR FAVOURITE MEAL?
Rice served with Ndengu (green grams)
WHAT ONE THING CAN'T YOU LEAVE THE HOUSE WITHOUT?
I can't leave my boots I carry them so I can cease any opportunity to play football.
WHO IS YOUR FAVOURITE MUSICIAN AND WHAT KIND OF MUSIC DO YOU ENJOY MOST?
Tanzania singer Aslay is my favourite and I love Bongo music.
WHY DID YOU PICK ON YOUR CURRENT SPORT AND WHAT WOULD YOU HAVE BEEN IF NOT A SPORTS PERSON?
I chose football because my father was also a footballer, I wouldn't play any other sport. I would be a police officer but the good news is that I can do both so I don't have to give up football for police jobs and vice versa.
HOW DO YOU SPEND YOUR FREE TIME?
There is a lot to do because apart from training and playing football, I also help at home and work on my assignments but I listen to music whenever I get time to unwind.
YOU ARE A SECONDARY SCHOOL STUDENT, HOW DO YOU STRIKE A PROPER BALANCE BETWEEN CLASS AND FOOTBALL?
I have mastered the art of time management very well and I have my day planned out and I make sure I stick to the schedule. Discipline is also key to succeeding in both academics and sports.
WHAT ARE YOUR PRE AND POST-MATCH RITUALS?
Pray, I have personal prayers before joining everyone else for team prayer. After the match, we pray together once again to give thanks.
IF YOU HAD A CHOICE OF A COUNTRY TO BE BORN IN, WHICH ONE WILL IT BE?
Kenya. There is no better country than Kenya.
HOW DO YOU WANT THE WORLD TO REMEMBER YOU JENTRIX SHIKWANGA IN SPORTS?
I want to be remembered among the most disciplined, intelligent and hardworking players to have donned the national jersey.