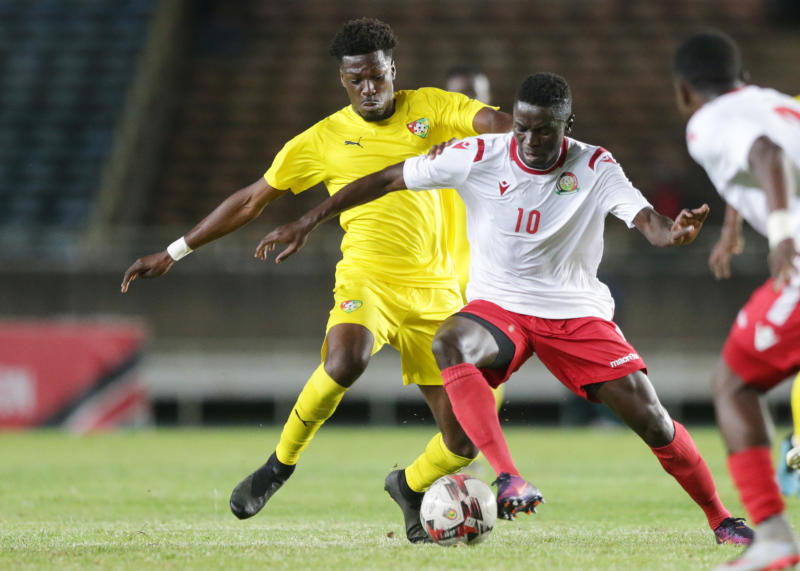 When Chadian referee Alhadi Allaou Mahamat blew the final whistle at Kasarani on Monday night several Harambee Stars players, including team captain Victor Wanyama, sunk on their knees.
A big opportunity to go top of Group G had just vanished into the illuminated, yet dark sky over Kasarani Stadium after Harambee Stars could only draw 1-1 with Togo in their 2021 Africa Nations Cup qualifying match.
Gloom and a justified sense of disappointment was written all over the faces of handful, but partisan fans that had trudged to Kasarani.
They had been buoyed by Kenya's creditable 1-1 result away to Egypt on match day one and expectations were sky-high that Harambee Stars would have Sparrow Hawks of Togo for dinner.
It wasn't to be. Belgium-based midfielder Johanna Omolo had whet the appetite of the fans when he unleashed a thunderbolt that went in off the underside of the crossbar.
It was to be the only highlight of note for the homeboys as Togo grew into the game and it was no surprise when Hakim Sama powered home the equaliser midway through the second half.
The fans waited for the spirit of Alexandria, Egypt, to no avail.
It was frustrating the more as the wounded Sparrow Hawks, who had lost 1-0 to group leaders Comoros (four points) in Lome on match day one, disrupted the hosts' rhythm to record a precious draw which threw their qualification race wide open.
Lowly-ranked Comoros had earlier in the day extended favour to Harambee Stars by frustrating record African champions Egypt to their second consecutive draw in Moroni.
And the images of Stars' players falling flat on their faces and holding their heads in their hands after the final whistle was blown summed up their disappointing performance.
Although coach Francis Kimanzi appeared equally disappointed with his side's poor defending, he believes there is a lot more to play for especially with a back-back tie with Comoros next year.
"We could have defended better in set-pieces but getting a point in the qualifiers is very important. All the four teams in the group dropped two points in the second match, so all the teams are still in the mix," said Kimanzi.
"Like you all saw, some of our best players were really exhausted but that's the nature of the back-to-back qualifiers."
Kimanzi added: "If we defend more and work as a team and everybody picks his responsibility we can achieve a lot."
"We have now seen Togo and we are aware of their tactics ahead of the return leg in Lome.
"Togo were worthy opponents with experienced players who have been together for long with the same trainer."
Kimanzi will, however, be concerned that even after a brilliant start that saw them force Claude Le Roy's men on the back foot before Omolo's screamer, Stars began losing possession easily in midfield. His charges struggled to string passes as striker Michael Olunga looked isolated upfront.
Harambee Stars' performance left Togo coach Le Roy believing they could have got more from their sojourn to Nairobi.
"I will only make a speech and I won't answer any question because it was not football today. I'm very sad for the African football to see what's happened with the refereeing tonight," said the Frenchman before walking off.
But just like their head coach, captain Wanyama and midfielder Johanna Omolo were equally disheartened by the draw.
"It is a bit disappointing but you know there is nothing we can do. We conceded from a set piece and we worked very hard. But that's football. Sometimes you lose concentration for one minute and then you concede but we live to fight another day," said Wanyama.
"But the point is vital and I think it will push us somewhere. We just need to know how to kill the game."
Omolo said: "It' s not really disappointing. Yeah, we were expecting to win like everybody else. But even Togo were expecting to get something. That's football and now the group is wide open. In the end it is not a bad result because we can always come back. The qualification is a marathon and we can still come back. So, it is not like it's finished."